Economic
Last Update: 30-Jan-15 10:32 ET
Mich Sentiment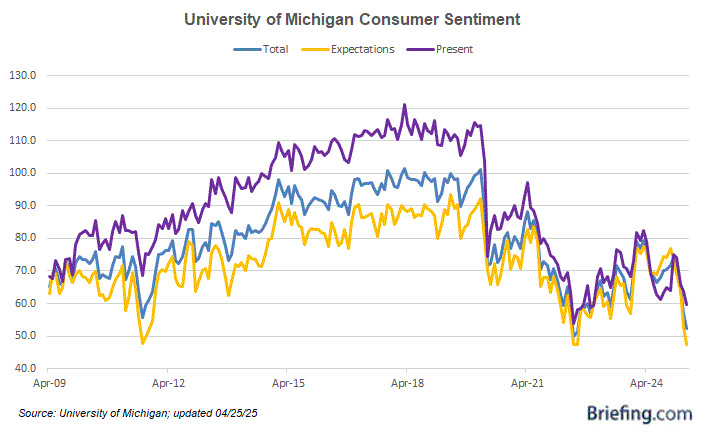 Highlights
The University of Michigan Consumer Sentiment Index was virtually unchanged in the January final reading. The final reading came in at 98.1, down slightly from 98.2 in the preliminary reading. The index is up from 93.6 in December. The Briefing.com Consensus expected the Consumer Sentiment Index to remain at 98.2.
Key Factors
Lower gasoline prices and improvements in the labor market were key for overall sentiment growth in January.
Continued volatility in the equity market could dampen sentiment next month.
Consumption trends are reliant upon income growth, not sentiment. Even though sentiment improved in January, another downward move in income levels will put negative pressure on consumption growth.
Big Picture
Consumer sentiment has little influence on consumption. As long as payroll levels continue to expand, the resulting income growth should keep consumption gains steady regardless of the monthly ebbs and flows in sentiment.
| Category | JAN | DEC | NOV | OCT | SEP |
| --- | --- | --- | --- | --- | --- |
| Sentiment | 98.1 | 93.6 | 88.8 | 86.9 | 84.6 |
| Outlook | 91.0 | 86.4 | 79.9 | 79.6 | 75.4 |
| Present conditions | 109.3 | 104.8 | 102.7 | 98.3 | 98.9 |