Economic
Last Update: 28-Feb-14 10:11 ET
Mich Sentiment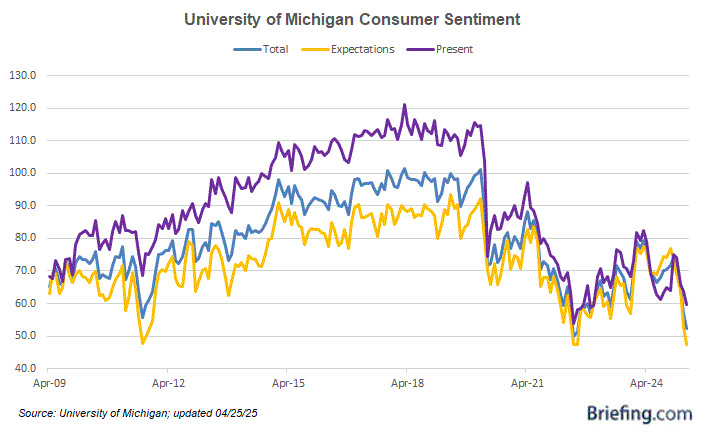 Highlights
The University of Michigan Consumer Sentiment Index was revised up to 81.6 in the final February reading from 81.2. The index was at 81.2 in January as well. The Briefing.com consensus expected sentiment to increase to 81.5.
Key Factors
While the index moved in the opposite direction from the Conference Board's Consumer Confidence index, overall sentiment trends were relatively flat this month.
Gains in equity prices offset slightly weaker employment conditions. Changes in gasoline prices and media reports likely had little effect on overall confidence values.
The Current Conditions Index strengthened to 95.4 in the final reading from 94.0 in the preliminary. The Expectations Index was revised down to 72.7 from 73.0.
Consumption growth does not rely on sentiment levels. As long as income continues to grow, consumption should follow regardless of sentiment trends.
Big Picture
Consumer sentiment has little influence on consumption. As long as payroll levels continue to expand, the resulting income growth should keep consumption gains steady regardless of the monthly ebbs and flows in sentiment.
| Category | FEB | JAN | DEC | NOV | OCT |
| --- | --- | --- | --- | --- | --- |
| Sentiment | 81.6 | 81.2 | 82.5 | 75.1 | 75.2 |
| Outlook | 72.7 | 71.2 | 72.1 | 66.8 | 62.5 |
| Present conditions | 95.4 | 96.8 | 98.6 | 88.0 | 89.9 |