Economic
Last Update: 26-Sep-14 10:07 ET
Mich Sentiment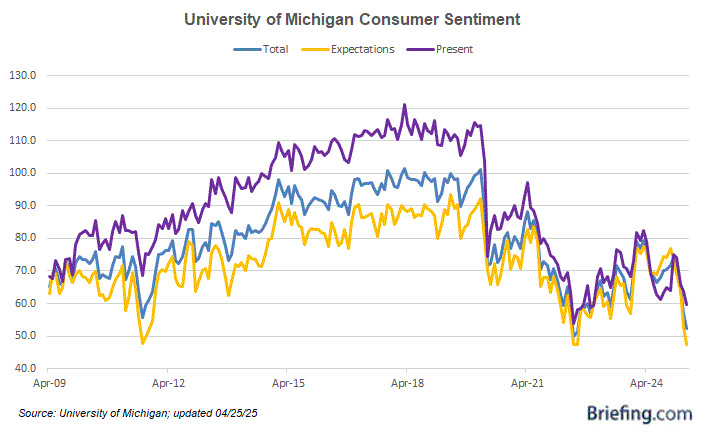 Highlights
The University of Michigan Consumer Sentiment Index was unchanged at 84.6 in the final September reading. That was up from a final reading of 82.5 in August, but below the Briefing.com consensus expectation of an increase to 85.0.
Key Factors
The overall improvement in sentiment in September was a result of strengthening employment conditions, historically high stock prices, and slightly lower gasoline prices.
Geopolitical problems, such as ISIS and the Ukraine/Russia conflict, have not had much of a negative impact on the consumer's outlook.
The Current Conditions Index was revised up to 98.9 from 98.5 in September but is still down from 99.8 in the final August reading.
The Economic Outlook Index was revised down to 75.4 from 75.6.
Trends in sentiment have virtually no influence on consumption growth. Consumption is reliant on income growth. As long as the employment situation continues to improve and income growth trends remain positive, consumption growth should follow.
Big Picture
Consumer sentiment has little influence on consumption. As long as payroll levels continue to expand, the resulting income growth should keep consumption gains steady regardless of the monthly ebbs and flows in sentiment.
| Category | SEP | AUG | JUL | JUN | MAY |
| --- | --- | --- | --- | --- | --- |
| Sentiment | 84.6 | 82.5 | 81.8 | 82.5 | 81.9 |
| Outlook | 75.4 | 71.3 | 71.8 | 73.5 | 73.7 |
| Present conditions | 98.9 | 99.8 | 97.4 | 96.6 | 94.5 |