Economic
Last Update: 17-Apr-14 18:14 ET
Mich Sentiment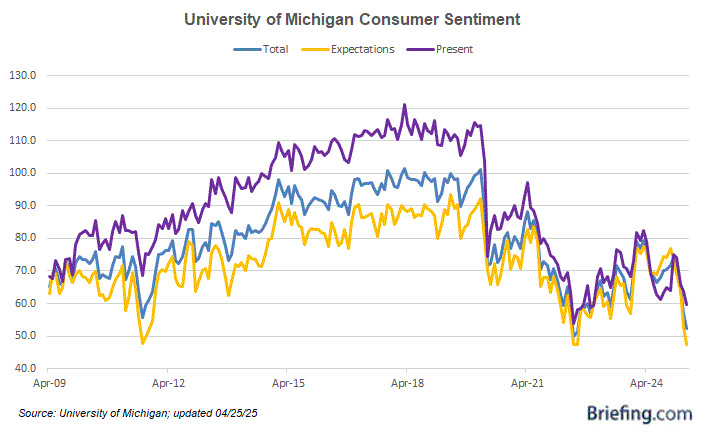 Highlights
The University of Michigan Consumer Sentiment Index increased to 82.6 in the preliminary reading for April from 80.0 in March. That was the strongest sentiment reading since July 2013. The Briefing.com consensus expected the index to increase to 81.0.
Key Factors
Consumer sentiment typically follows changes in the equity markets, unemployment, and gasoline prices.
The surveys were filled out prior to the drop in the stock market, so equity prices enhanced sentiment in the preliminary reading. If the market does not rebound, we would expect the final reading to be notably lower.
Labor conditions, especially the recent trends in the initial claims level, also contributed positively to April sentiment.
The Expectations Index increased to 97.1 in the preliminary reading for April from 70.0 in March. The Present Conditions Index increased to 97.1 from 95.7.
Consumption growth is reliant upon income gains, not changes in sentiment. As long as income continues to move higher, consumption growth will follow regardless of trends in sentiment.
Big Picture
Consumer sentiment has little influence on consumption. As long as payroll levels continue to expand, the resulting income growth should keep consumption gains steady regardless of the monthly ebbs and flows in sentiment.
| Category | APR | MAR | FEB | JAN | DEC |
| --- | --- | --- | --- | --- | --- |
| Sentiment | 82.6 | 80.0 | 81.6 | 81.2 | 82.5 |
| Outlook | 73.3 | 70.0 | 72.7 | 71.2 | 72.1 |
| Present conditions | 97.1 | 95.7 | 95.4 | 96.8 | 98.6 |