Economic
Last Update: 06-Dec-13 10:07 ET
Mich Sentiment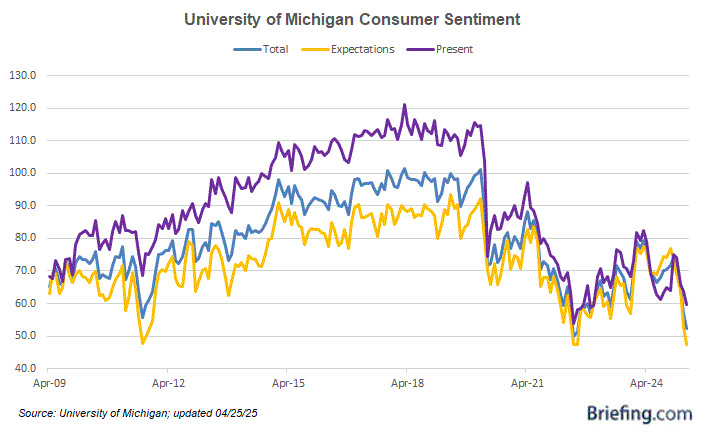 Highlights
Consumer sentiment improved in the preliminary December reading of the University of Michigan Consumer Sentiment Index. The index increased to 82.5 from 75.1 in November. The Briefing.com consensus expected consumer sentiment to remain at 75.1.
Key Factors
The Expectations Index increased to 72.7 in the preliminary reading from 66.8 in November. The Current Conditions Index increased to 97.9 from 88.0.
While the increase in sentiment was definitely a surprise, this was not a move that would support an underlying change in consumer attitudes. The sentiment index simply regained all it lost during the government shutdown. Current levels are back to where they were in August and July.
With the labor situation improving, consumer sentiment will likely continue moving higher, but at a slightly slower pace.
Consumer sentiment levels are not an indicator of consumption trends. As long as income growth trends higher, consumption will follow regardless of changes in sentiment.
Big Picture
Consumer sentiment has little influence on consumption. As long as payroll levels continue to expand, the resulting income growth should keep consumption gains steady regardless of the monthly ebbs and flows in sentiment.
| Category | DEC | NOV | OCT | SEP | AUG |
| --- | --- | --- | --- | --- | --- |
| Sentiment | 82.5 | 75.1 | 75.2 | 77.5 | 82.1 |
| Outlook | 72.7 | 66.8 | 62.5 | 67.8 | 73.7 |
| Present conditions | 97.9 | 88.0 | 89.9 | 92.6 | 95.2 |