Economic
Last Update: 18-Jul-14 10:12 ET
Mich Sentiment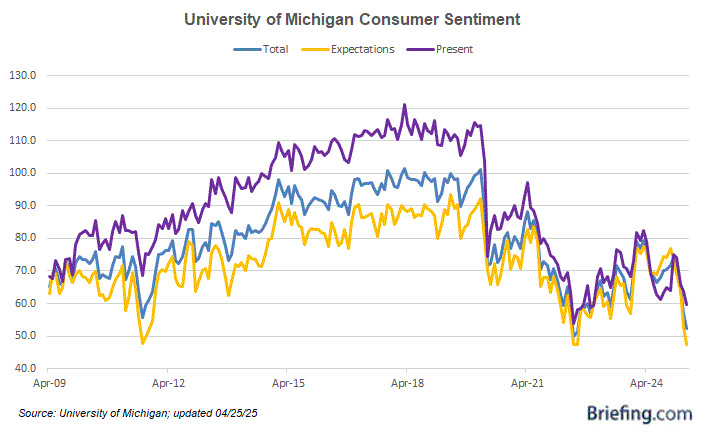 Highlights
The University of Michigan Consumer Sentiment Index fell to 81.3 in the preliminary reading for July from 82.5 in June. The Briefing.com consensus expected the index to increase to 84.0.
Key Factors
Typically, sentiment levels follow changes in employment, gasoline prices, equity prices, and media reports. All of those factors have been strongly positive so far in July.
The S&P 500 reached all-time highs, gasoline prices began a slow move downward, and layoff levels have fallen into a new lower range.
All in all, the improvements should have resulted in a large upward tick in sentiment.
Fortunately, the drop in consumer sentiment is unlikely to impact consumption trends. As long income continues on an upward trend, consumption growth should follow regardless of sentiment trends.
Big Picture
Consumer sentiment has little influence on consumption. As long as payroll levels continue to expand, the resulting income growth should keep consumption gains steady regardless of the monthly ebbs and flows in sentiment.
| Category | JUL | JUN | MAY | APR | MAR |
| --- | --- | --- | --- | --- | --- |
| Sentiment | 81.3 | 82.5 | 81.9 | 84.1 | 80.0 |
| Outlook | 71.1 | 73.5 | 73.7 | 74.7 | 70.0 |
| Present conditions | 97.1 | 96.6 | 94.5 | 98.7 | 95.7 |