Economic
Last Update: 26-Nov-14 10:23 ET
Mich Sentiment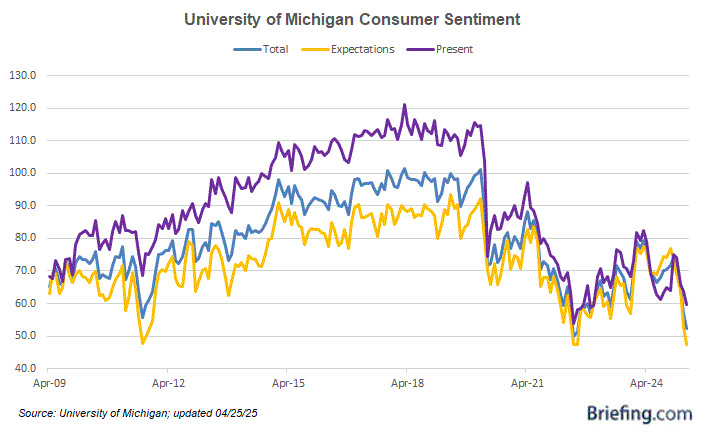 Highlights
The University of Michigan Consumer Sentiment Index was revised down to 88.8 in the November final reading from 89.4 in the preliminary reading. The Briefing.com consensus expected the index to be revised up to 90.0.
Key Factors
Like yesterday's Consumer Confidence report, improvements in gasoline prices, equity values, and employment conditions failed to drive consumer sentiment higher in the final reading for November. However, in a slight disconnect from the aforementioned confidence report, the Consumer Sentiment Index still improved upon the 86.9 reading from October.
The Current Conditions Index was revised down from 103.0 in the preliminary reading to 102.7. The Expectations Index was revised down to 79.9 from 80.6. Both sub-indexes strengthened from September (98.3 and 79.6) levels.
The taper in consumer sentiment should not impact consumption trends. Spending growth relies on income gains. As long as the employment sector continues to improve, spending growth should follow.
Big Picture
Consumer sentiment has little influence on consumption. As long as payroll levels continue to expand, the resulting income growth should keep consumption gains steady regardless of the monthly ebbs and flows in sentiment.
| Category | NOV | OCT | SEP | AUG | JUL |
| --- | --- | --- | --- | --- | --- |
| Sentiment | 88.8 | 86.9 | 84.6 | 82.5 | 81.8 |
| Outlook | 79.9 | 79.6 | 75.4 | 71.3 | 71.8 |
| Present conditions | 102.7 | 98.3 | 98.9 | 99.8 | 97.4 |