Economic
Last Update: 28-Sep-15 08:50 ET
Personal Income and Spending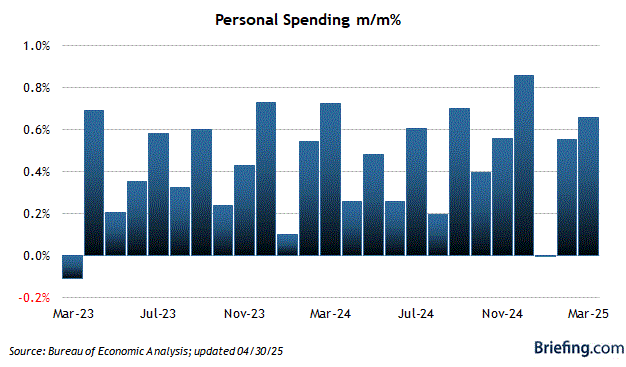 Highlights
Personal income increased 0.3% in August after increasing an upwardly revised 0.5% (from 0.4%) in July. The Briefing.com Consensus expected personal income to increase 0.4%.
Personal spending rose 0.4% for a second consecutive month in August following a small upward revision (from 0.3%) to the July data. The consensus expected spending to increase 0.3%.
Key Factors
Wages and salaries increased 0.5% in August, down from a 0.6% gain in July. That increase, however, was in-line with the 0.7% gain in aggregate earnings reported in the August employment report.
The big news in August was the modest decrease in the personal savings rate, from 4.7% to 4.6%.
A disappointing August retail sales report suggested that consumers were again holding off on spending in order to keep a higher savings rate. While goods spending growth did slow in August to 0.4% after increasing 0.7% in July, the softness was offset by an unexpectedly strong 0.5% increase in services spending.
Combined with inflation levels that reported no change in August, real consumption growth increased by its largest amount (0.4%) since a 0.6% gain in May.
PCE-core prices increased 0.1% in August for a fourth consecutive month. Year-over-year, core prices are up just 1.3%. That is well below the Fed's target of 2.0% inflation growth. Headline year-over-year PCE prices were up only 0.3% in August, and have remained steady at 0.2% or 0.3% yearly growth for all of 2015 thus far.
Big Picture
A slight decline in the savings rate gives hope that consumption growth could accelerate soon.
| Category | AUG | JUL | JUN | MAY | APR |
| --- | --- | --- | --- | --- | --- |
| Personal Income | | | | | |
| Total Income | 0.3% | 0.5% | 0.4% | 0.4% | 0.4% |
| Wage and Salary | 0.5% | 0.6% | 0.2% | 0.4% | 0.2% |
| Disposable Income | 0.4% | 0.5% | 0.4% | 0.4% | 0.4% |
| Savings Rate | 4.6% | 4.7% | 4.5% | 4.5% | 4.9% |
| Personal Consumption | | | | | |
| Total (Nominal) | 0.4% | 0.4% | 0.3% | 0.9% | 0.3% |
| Total (Real, Chain $) | 0.4% | 0.3% | 0.1% | 0.6% | 0.3% |
| Core PCE Deflator | | | | | |
| Month/Month | 0.1% | 0.1% | 0.1% | 0.1% | 0.2% |
| Year/Year | 1.3% | 1.2% | 1.3% | 1.3% | 1.3% |