Economic
Last Update: 26-Nov-14 09:09 ET
Personal Income and Spending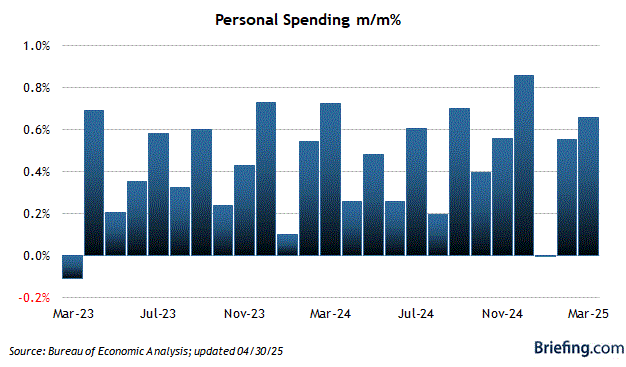 Highlights
Personal income increased 0.2% for a second consecutive month in October. The Briefing.com consensus expected personal income to increase 0.4%.
Personal spending increased 0.2% in October after an upward revision resulted in no change (from -0.2%) in spending in September. The consensus expected spending levels to increase 0.3%.
Key Factors
According to the October employment data, aggregate earnings increased 0.6%. That translated into a 0.3% increase in wages and salaries, which suggests there may be a downward revision to the employment data when the November numbers are released next week.
The increase in spending was in-line with the 0.3% increase in October retail sales.
Goods spending increased 0.1% in October following a 0.6% decline in September. Services spending increased by 0.3% for a second consecutive month.
Big Picture
Without a sizable acceleration in income growth, sustainable consumption growth will be difficult.
| Category | OCT | SEP | AUG | JUL | JUN |
| --- | --- | --- | --- | --- | --- |
| Personal Income | | | | | |
| Total Income | 0.2% | 0.2% | 0.4% | 0.3% | 0.4% |
| Wage and Salary | 0.3% | 0.2% | 0.5% | 0.3% | 0.2% |
| Disposable Income | 0.2% | 0.1% | 0.3% | 0.2% | 0.4% |
| Savings Rate | 5.0% | 5.0% | 4.9% | 5.2% | 5.1% |
| Personal Consumption | | | | | |
| Total (Nominal) | 0.2% | 0.0% | 0.5% | 0.1% | 0.5% |
| Total (Real, Chain $) | 0.2% | 0.0% | 0.6% | 0.0% | 0.3% |
| Core PCE Deflator | | | | | |
| Month/Month | 0.2% | 0.1% | 0.1% | 0.1% | 0.2% |
| Year/Year | 1.6% | 1.5% | 1.5% | 1.5% | 1.5% |