Economic
Last Update: 26-Jun-14 08:57 ET
Personal Income and Spending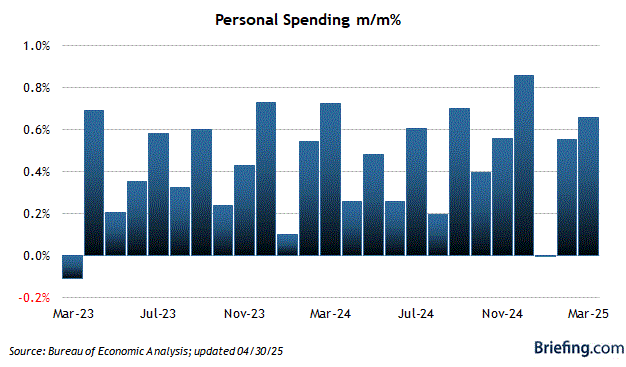 Highlights
Personal income levels increased 0.4% in May following a 0.3% increase in April. The Briefing.com consensus expected personal income to increase 0.4%.
Personal spending increased 0.2% in May after no growth in April. The consensus expected spending to increase 0.4%.
Key Factors
The May employment data showed a 0.4% increase in aggregate wages, which correlated nicely with a 0.4% increase in employee compensation.
Medicaid payments, which were instrumental in the upward income surprises over the past few months, moderated in May and increased only 0.1%. Total government benefits increased 0.4%.
After adjusting for inflation, personal spending fell 0.1%, which was the second consecutive monthly decline and third monthly drop in 2014.
Goods spending increased 0.4%, mostly as a result of a 0.7% increase in durable goods demand. Services spending increased 0.1%.
The personal savings rate increased to 4.8% in May from 4.5% in April. That is the highest savings rate since it reached 5.1% in September 2013.
Big Picture
Real personal spending levels have declined each month in the second quarter.
| Category | MAY | APR | MAR | FEB | JAN |
| --- | --- | --- | --- | --- | --- |
| Personal Income | | | | | |
| Total Income | 0.4% | 0.3% | 0.5% | 0.4% | 0.3% |
| Wage and Salary | 0.4% | 0.3% | 0.6% | 0.3% | 0.4% |
| Disposable Income | 0.4% | 0.4% | 0.5% | 0.3% | 0.3% |
| Savings Rate | 4.8% | 4.5% | 4.2% | 4.5% | 4.5% |
| Personal Consumption | | | | | |
| Total (Nominal) | 0.2% | 0.0% | 0.8% | 0.4% | -0.2% |
| Total (Real, Chain $) | -0.1% | -0.2% | 0.6% | 0.3% | -0.3% |
| Core PCE Deflator | | | | | |
| Month/Month | 0.2% | 0.2% | 0.2% | 0.1% | 0.1% |
| Year/Year | 1.5% | 1.4% | 1.2% | 1.1% | 1.1% |