Economic
Last Update: 02-Mar-15 09:00 ET
Personal Income and Spending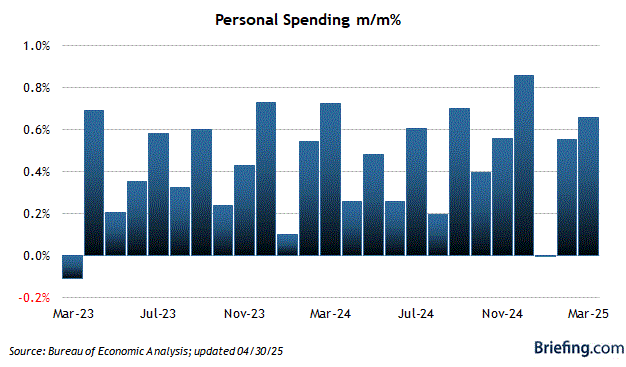 Highlights
Personal income increased 0.3% for a second consecutive month in January. The Briefing.com Consensus expected personal income to increase 0.4%.
Spending in January declined 0.2% after declining 0.3% in December. The Briefing.com Consensus expected personal spending to decline 0.1%.
Key Factors
According to the January employment report, aggregate wages increased 0.7%. That was in-line with the 0.6% increase in wages and salaries in the income data.
Declines in interest and farm-related income offset some of the gains in wages.
Lower prices, namely from the energy sector, led to a second consecutive month of personal spending declines.
The big story in spending is actually the lack of demand given the increase in income and big declines in prices. Instead of spending this newfound income, household are allocating more toward savings. The personal savings rate increased 5.5% in January from 5.0% in December. That was the highest savings rate since December 2012 when expiring tax breaks resulted in sizable profit taking in the equity market.
Goods spending declined 1.5% in January after declining 1.4% in December. As we mentioned previously, the drop in energy prices caused a significant pullback (-2.2%) in nondurable goods spending. Durable goods spending also declined (-0.1%), but at a much more modest pace. Spending on services increased 0.5%.
Headline PCE prices declined 0.5% in January, which was the third consecutive monthly decline. Excluding food and energy, core PCE increased 0.1% in January.
Year-over-year, core PCE prices have increased only 1.3%, which was the same rate as December. That is well below the Fed's target of 2.0% inflation growth.
Big Picture
Higher incomes and lower prices weren't enough to entice consumers into spending in January.
| Category | JAN | DEC | NOV | OCT | SEP |
| --- | --- | --- | --- | --- | --- |
| Personal Income | | | | | |
| Total Income | 0.3% | 0.3% | 0.4% | 0.4% | 0.2% |
| Wage and Salary | 0.6% | 0.1% | 0.8% | 0.3% | 0.3% |
| Disposable Income | 0.4% | 0.3% | 0.3% | 0.3% | 0.1% |
| Savings Rate | 5.5% | 5.0% | 4.5% | 4.5% | 4.6% |
| Personal Consumption | | | | | |
| Total (Nominal) | -0.2% | -0.3% | 0.4% | 0.4% | 0.2% |
| Total (Real, Chain $) | 0.3% | -0.1% | 0.6% | 0.3% | 0.2% |
| Core PCE Deflator | | | | | |
| Month/Month | 0.1% | 0.0% | 0.1% | 0.1% | 0.1% |
| Year/Year | 1.3% | 1.3% | 1.4% | 1.5% | 1.5% |