Economic
Last Update: 29-Aug-14 09:08 ET
Personal Income and Spending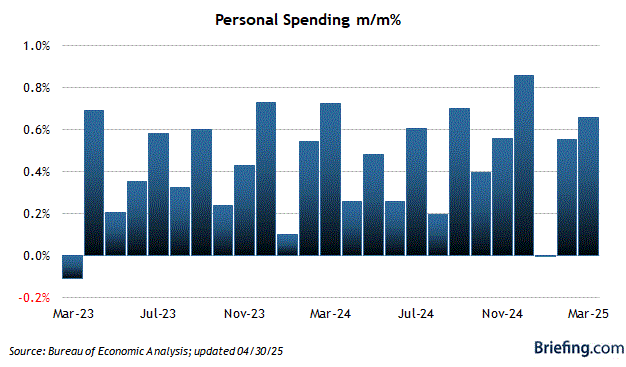 Highlights
Personal income increased 0.2% in July following an upwardly revised 0.5% (from 0.4%) gain in June. The Briefing.com consensus expected personal income to increase 0.3%.
Personal spending fell 0.1% in July after increasing 0.4% in June. That was the first decline in spending since January. The consensus expected personal spending to increase 0.1%.
Core PCE prices increased 0.1% and are up 1.5% y/y, which is still well below the FOMC target rate.
Key Factors
The increase in July income was in-line with the reported 0.2% increase in aggregate earnings from the previously released employment data.
The big news out of the data is the continued increase in the personal savings rate. Even though household debt ratios have normalized to pre-recession levels and consumer confidence levels have fully recovered, consumers are continuing to delay consumption growth in order to increase their savings.
It seems that consumers do not believe the current economic expansion is sustainable, which is odd considering the recent strong improvements in labor market conditions and other economic data.
At 5.7%, the personal savings rate in July is at the highest point since December 2012, when consumers liquidated equities to take advantage of expiring tax rebates.
Big Picture
Without an acceleration in income growth, sustainable consumption growth will be difficult.
| Category | JUL | JUN | MAY | APR | MAR |
| --- | --- | --- | --- | --- | --- |
| Personal Income | | | | | |
| Total Income | 0.2% | 0.5% | 0.5% | 0.4% | 0.6% |
| Wage and Salary | 0.2% | 0.4% | 0.4% | 0.2% | 0.8% |
| Disposable Income | 0.1% | 0.5% | 0.5% | 0.5% | 0.6% |
| Savings Rate | 5.7% | 5.4% | 5.4% | 5.2% | 4.8% |
| Personal Consumption | | | | | |
| Total (Nominal) | -0.1% | 0.4% | 0.3% | 0.2% | 0.8% |
| Total (Real, Chain $) | -0.2% | 0.2% | 0.1% | -0.1% | 0.6% |
| Core PCE Deflator | | | | | |
| Month/Month | 0.1% | 0.1% | 0.2% | 0.2% | 0.1% |
| Year/Year | 1.5% | 1.5% | 1.5% | 1.4% | 1.3% |