Economic
Last Update: 08-Nov-13 09:21 ET
Personal Income and Spending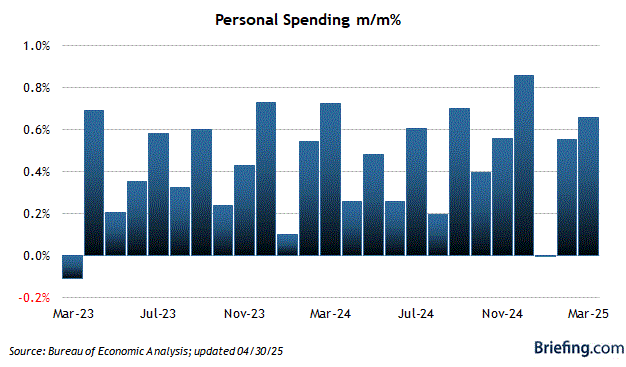 Highlights
Personal income increased 0.5% in September after increasing by the same amount (revised from 0.4%) in August. The Briefing.com consensus expected personal income to increase 0.2%.
Spending increased 0.2% in September, down from a 0.3% gain in August. That was exactly what the consensus expected.
Key Factors
These data were already included in the advance release of the third quarter GDP report. They will not factor into any future revisions.
Wages and salaries increased 0.4% in September, down from a 0.5% increase in August. That was much higher than the September employment report originally suggested, which showed aggregate wages up only 0.2%.
The personal savings rate increased to 4.9%, which was the highest rate since December 2012.
Big Picture
Inflation trends remain well below the Fed target and suggest no quick end to quantitative easing.
| Category | SEP | AUG | JUL | JUN | MAY |
| --- | --- | --- | --- | --- | --- |
| Personal Income | | | | | |
| Total Income | 0.5% | 0.5% | 0.2% | 0.3% | 0.3% |
| Wage and Salary | 0.4% | 0.5% | -0.3% | 0.4% | 0.2% |
| Disposable Income | 0.5% | 0.5% | 0.3% | 0.3% | 0.3% |
| Savings Rate | 4.9% | 4.7% | 4.5% | 4.4% | 4.7% |
| Personal Consumption | | | | | |
| Total (Nominal) | 0.2% | 0.3% | 0.1% | 0.6% | 0.2% |
| Total (Real, Chain $) | 0.1% | 0.2% | 0.0% | 0.2% | 0.1% |
| Core PCE Deflator | | | | | |
| Month/Month | 0.1% | 0.1% | 0.1% | 0.2% | 0.1% |
| Year/Year | 1.2% | 1.2% | 1.1% | 1.2% | 1.2% |