Economic
Last Update: 01-Jun-15 08:54 ET
Personal Income and Spending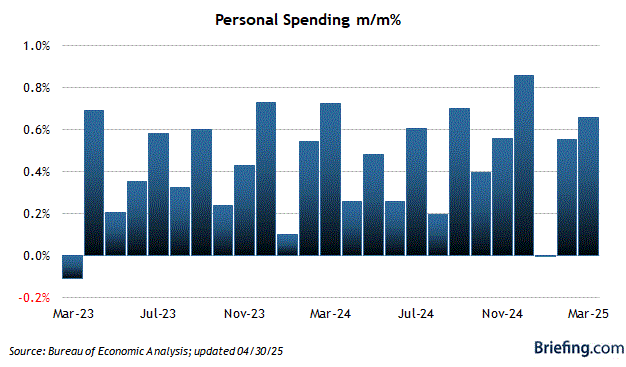 Highlights
Personal income increased 0.4% in April after being flat in March. The Briefing.com Consensus expected personal income to increase 0.3%.
Personal spending was flat in April after increasing an upwardly revised 0.5% (from 0.4%) in March. The consensus expected personal spending to increase 0.2%.
Key Factors
According to the wage data from the April employment report, aggregate earnings increased roughly 0.3%. That translated into a 0.2% increase in total employee compensation.
Income from assets rose 1.2%, which provided the bulk of the remaining increase in total personal income.
A weak retail sales report (headline 0.0% and core 0.1%) resulted in a big decline in total goods spending. Spending on goods declined 0.5% after increasing 1.2% in March. Demand declined for both durable (-0.7%) and nondurable (-0.5%) goods.
Services spending increased 0.2% for a second consecutive month.
After a one-month respite, the personal savings rate again turned upward in April. Personal savings increased to 5.6% from 5.2% in March.
Big Picture
The trend for higher savings returned in April.
| Category | APR | MAR | FEB | JAN | DEC |
| --- | --- | --- | --- | --- | --- |
| Personal Income | | | | | |
| Total Income | 0.4% | 0.0% | 0.4% | 0.3% | 0.4% |
| Wage and Salary | 0.2% | 0.1% | 0.3% | 0.6% | 0.2% |
| Disposable Income | 0.4% | 0.0% | 0.4% | 0.2% | 0.3% |
| Savings Rate | 5.6% | 5.2% | 5.7% | 5.5% | 5.0% |
| Personal Consumption | | | | | |
| Total (Nominal) | 0.0% | 0.5% | 0.1% | -0.3% | -0.2% |
| Total (Real, Chain $) | 0.0% | 0.4% | 0.0% | 0.1% | 0.1% |
| Core PCE Deflator | | | | | |
| Month/Month | 0.1% | 0.1% | 0.1% | 0.0% | 0.0% |
| Year/Year | 1.2% | 1.3% | 1.3% | 1.3% | 1.3% |