Economic
Last Update: 25-Nov-15 10:52 ET
Personal Income and Spending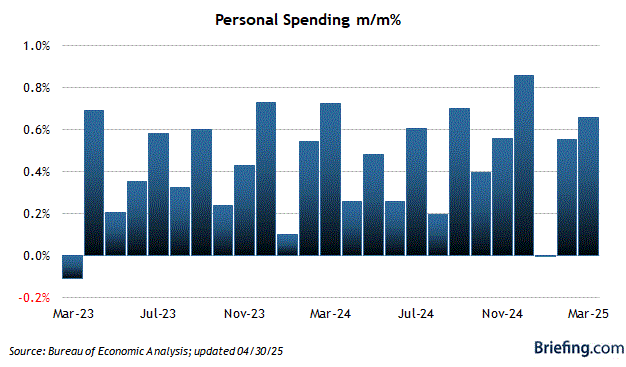 Highlights
Personal income rose 0.4% in October, which was in-line with the Briefing.com consensus estimate, and was revised higher for September to show a 0.2% increase versus a previously reported 0.1% decline. Personal spending increased 0.1%, which was weaker than the 0.3% increase expected by the Briefing.com consensus.
Key Factors
Core PCE prices, which exclude food and energy, were flat for the month (Briefing.com consensus +0.2%) after increasing 0.2% in September. Core PCE prices are up 1.3% year-over-year, which is the same year-over-year change that has been seen every month this year.
Total PCE prices were up 0.1% and are up 0.2% year-over-year, as they were in September.
The jump in personal income for October was driven by a 0.5% increase in the compensation of employees and a 0.8% jump in rental income.
Personal spending featured a 0.2% increase in spending on goods; however, services spending was flat versus September. Real spending increased 0.1% in October, which was the same as in September.
Big Picture
The personal savings rate increased to 5.6% from 5.3%. That is the highest rate of personal savings since December 2012. The inclination to save money, as opposed to spending it, is an important reason why the US economy continues to grow at such a modest rate.
| Category | OCT | SEP | AUG | JUL | JUN |
| --- | --- | --- | --- | --- | --- |
| Personal Income | | | | | |
| Total Income | 0.4% | 0.2% | 0.4% | 0.4% | 0.5% |
| Wage and Salary | 0.6% | 0.0% | 0.4% | 0.5% | 0.4% |
| Disposable Income | 0.4% | 0.2% | 0.4% | 0.5% | 0.5% |
| Savings Rate | 5.6% | 5.3% | 5.2% | 5.1% | 5.0% |
| Personal Consumption | | | | | |
| Total (Nominal) | 0.1% | 0.1% | 0.3% | 0.3% | 0.3% |
| Total (Real, Chain $) | 0.1% | 0.1% | 0.3% | 0.2% | 0.1% |
| Core PCE Deflator | | | | | |
| Month/Month | 0.0% | 0.2% | 0.1% | 0.1% | 0.1% |
| Year/Year | 1.3% | 1.3% | 1.3% | 1.2% | 1.3% |