Economic
Last Update: 31-Oct-14 09:02 ET
Personal Income and Spending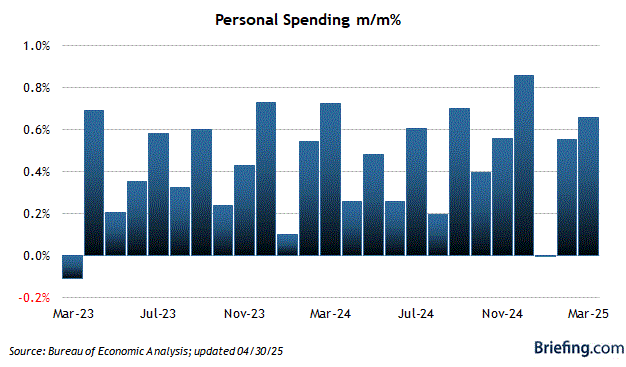 Highlights
Personal income increased 0.2% in September, down from a 0.3% increase in August. The Briefing.com consensus expected personal income to increase 0.3%.
Personal spending declined 0.2% in September after increasing 0.5% in August. That was the first decline since spending fell by the same rate in January. The consensus expected personal spending to increase 0.1%.
Key Factors
The September personal income and spending data were already incorporated in yesterday's Q3 2014 GDP release. The only new information was how revisions to the July and August data would impact the September growth rate. In this case, both spending and income growth in July and August were revised modestly higher. The size of the revisions, however, was not enough to alter the rounded growth rates.
Goods spending declined 0.9% in September as weaker auto sales drove durable goods spending down 2.0%. Spending on services rose 0.2%, down from 0.5% increase in August.
After falling to 5.4% in August, the personal savings rate increased back to 5.6% in September.
Big Picture
Without a sizable acceleration in income growth, sustainable consumption growth will be difficult.
| Category | SEP | AUG | JUL | JUN | MAY |
| --- | --- | --- | --- | --- | --- |
| Personal Income | | | | | |
| Total Income | 0.2% | 0.3% | 0.3% | 0.5% | 0.5% |
| Wage and Salary | 0.2% | 0.5% | 0.3% | 0.3% | 0.4% |
| Disposable Income | 0.1% | 0.3% | 0.2% | 0.5% | 0.5% |
| Savings Rate | 5.6% | 5.4% | 5.6% | 5.4% | 5.4% |
| Personal Consumption | | | | | |
| Total (Nominal) | -0.2% | 0.5% | 0.0% | 0.5% | 0.3% |
| Total (Real, Chain $) | -0.2% | 0.5% | 0.0% | 0.3% | 0.1% |
| Core PCE Deflator | | | | | |
| Month/Month | 0.1% | 0.1% | 0.1% | 0.2% | 0.2% |
| Year/Year | 1.5% | 1.5% | 1.5% | 1.5% | 1.5% |