Economic
Last Update: 08-Apr-14 20:02 ET
Personal Income and Spending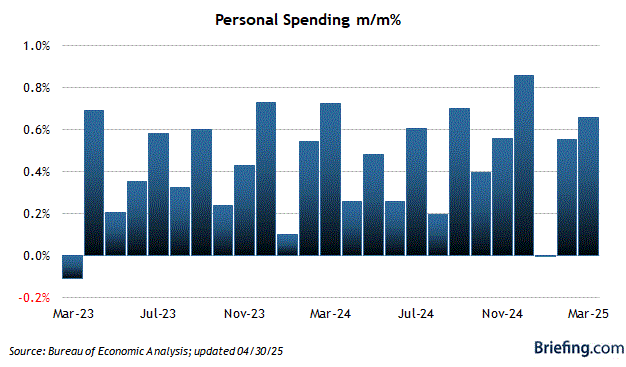 Highlights
Personal income increased 0.3% for a second consecutive month in February. The Briefing.com consensus expected income to increase 0.2%.
Personal spending increased 0.3% in February, up from a downwardly revised 0.2% (from 0.4%) in January. The consensus expected spending to increase 0.3%.
Key Factors
As foretold in the employment report, wages and salaries were up 0.2% in February after increasing 0.3% in January.
The Medicaid expansion from the implementation of the Affordable Care Act offset declines in unemployment insurance from the expiration of the emergency unemployment benefits. In all, government social benefits increased 0.8%.
Goods spending increased 0.1%, its first gain in two months and in-line with the February retail sales report. Spending on goods fell 0.8% in January.
Services spending rose 0.3%, down from a 0.6% gain in January.
The savings rate ticked up slightly from 4.2% in January to 4.3% in February. There hasn't been much movement in the personal savings rate over the last four months. Given current debt loads, the savings rate could trend lower and help boost consumption without causing much pain on the consumer.
Big Picture
Inflation decelerated in February and are running well below Fed target levels. As long as the Fed continues on its tapering path, inflation growth will likely continue to soften.
| Category | FEB | JAN | DEC | NOV | OCT |
| --- | --- | --- | --- | --- | --- |
| Personal Income | | | | | |
| Total Income | 0.3% | 0.3% | -0.1% | 0.3% | -0.1% |
| Wage and Salary | 0.2% | 0.2% | -0.1% | 0.6% | 0.2% |
| Disposable Income | 0.3% | 0.3% | -0.1% | 0.2% | -0.2% |
| Savings Rate | 4.3% | 4.2% | 4.1% | 4.3% | 4.7% |
| Personal Consumption | | | | | |
| Total (Nominal) | 0.3% | 0.2% | 0.1% | 0.6% | 0.3% |
| Total (Real, Chain $) | 0.2% | 0.1% | -0.1% | 0.5% | 0.3% |
| Core PCE Deflator | | | | | |
| Month/Month | 0.1% | 0.1% | 0.1% | 0.1% | 0.1% |
| Year/Year | 1.1% | 1.1% | 1.2% | 1.2% | 1.1% |