Economic
Last Update: 03-Mar-14 08:55 ET
Personal Income and Spending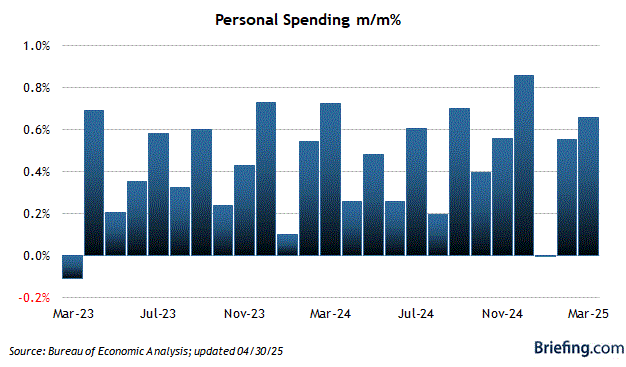 Highlights
Personal income increased 0.3% in January after being unchanged in December. That was exactly what the consensus expected.
Personal spending levels increased 0.4% in January after increasing a downwardly revised 0.1% (from 0.4%) in December. The Briefing.com consensus expected personal spending to increase 0.1%.
Key Factors
The strength in income growth was a little surprising. A weak stock market and the end of long-term unemployment insurance were expected to weigh heavily on income growth. Meanwhile, aggregate wages, which were up 0.3% in the January employment report, did not seem to be enough to completely offset the losses.
The Affordable Care Act, however, was a big offset for income growth. The additional people who signed up for Medicaid boosted transfer payments by $19.3 bln in January. At the same time, Social Security payments increased by $7.7 bln.
The extreme winter weather conditions had the double effect of reducing goods demand and boosting services demand. In terms of GDP growth, the winter conditions actually caused a net positive as services spending more than offset all of the lost goods spending.
As expected from the January retail sales report, goods spending took a big downward hit. Spending on goods fell 0.6% in January after falling 0.1% in December. Durables demand fell 0.4% and nondurable purchases declined 0.7%.
Spending on services increased 0.9%. The increase was entirely due to the cold temperatures driving up the demand for household heating. Spending on electricity and gas increased 13.7% in January.
Big Picture
Inflation decelerated in January and are running well below Fed target levels. As long as the Fed continues on its tapering path, inflation growth will likely continue to soften.
| Category | JAN | DEC | NOV | OCT | SEP |
| --- | --- | --- | --- | --- | --- |
| Personal Income | | | | | |
| Total Income | 0.3% | 0.0% | 0.3% | -0.1% | 0.4% |
| Wage and Salary | 0.2% | -0.1% | 0.6% | 0.2% | 0.3% |
| Disposable Income | 0.4% | -0.1% | 0.2% | -0.2% | 0.5% |
| Savings Rate | 4.3% | 4.3% | 4.4% | 4.7% | 5.1% |
| Personal Consumption | | | | | |
| Total (Nominal) | 0.4% | 0.1% | 0.5% | 0.2% | 0.3% |
| Total (Real, Chain $) | 0.3% | -0.1% | 0.4% | 0.2% | 0.2% |
| Core PCE Deflator | | | | | |
| Month/Month | 0.1% | 0.1% | 0.1% | 0.1% | 0.1% |
| Year/Year | 1.1% | 1.2% | 1.2% | 1.1% | 1.2% |