Economic
Last Update: 25-Nov-14 09:06 ET
GDP-Adv.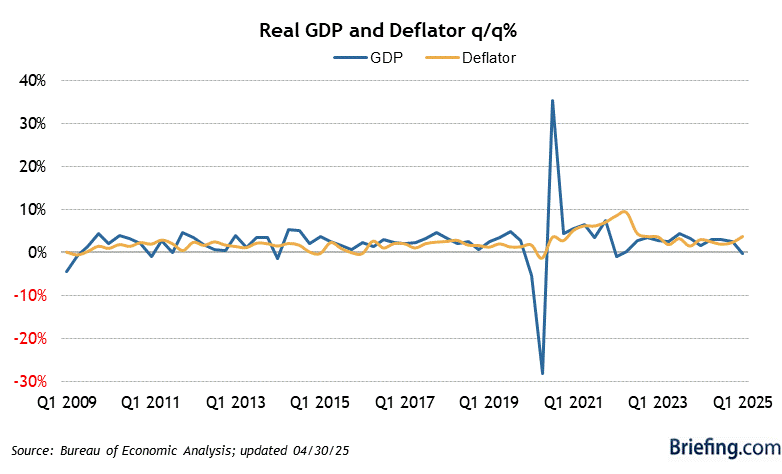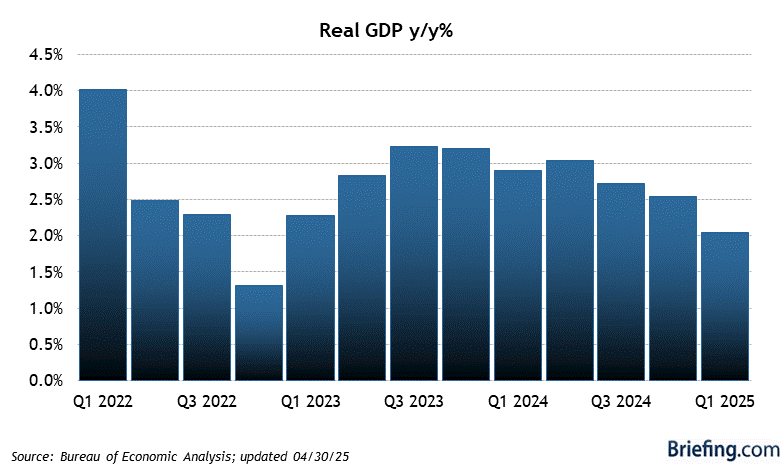 Highlights
Third quarter GDP was revised up to 3.9% in the second estimate from 3.5% in the advance estimate. GDP increased 4.6% in the second quarter. The Briefing.com consensus expected GDP to be revised down to 3.2%.
All of the gain in third quarter GDP was a result of an upward swing in inventories. Real final sales were revised down from 4.2% in the advance estimate to 4.1% in the second estimate.
Key Factors
The upward revision to GDP was very unusual and none of the Briefing.com consensus forecasters expected it.
The positive surprise was mostly the result of an unexpected upward revision to personal consumption expenditures. While the October retail sales report did not show any significant revisions to the September sales data, goods spending in the third quarter was revised up from 3.1% in the advance release to 4.3% in the second estimate. As a result of the increase in goods spending, consumption contributed 0.3 percentage points more to GDP growth in the second estimate than in the advance release.
Nonresidential investment spending was also unexpectedly revised up and increased 7.1% in the second estimate of Q3 2014 GDP from 5.5% in the advance estimate, and added another 0.1 percentage points to GDP growth.
Trade and inventories both met expectations.
The September trade data showed a much larger deficit than the BEA assumed in the advance release. That resulted in an upward revision, from $409.9 bln to $431.0 bln, to the overall third quarter trade deficit. The contribution to GDP was revised down from 1.32 percentage points to 0.78 percentage points.
Merchant wholesaler and retailer inventories also increased more than the BEA expected in September. That led to an upward revision in the change in inventories, from $62.8 bln to $79.1 bln.
Big Picture
An upward swing in inventories caused positive third quarter GDP revisions.
| Category | Q3 | Q2 | Q1 | Q4 | Q3 |
| --- | --- | --- | --- | --- | --- |
| GDP | 3.9% | 4.6% | -2.1% | 3.5% | 4.5% |
| Inventories (change) | $79.1B | $84.8B | $35.2B | $81.8B | $95.6B |
| Final Sales | 4.1% | 3.2% | -1.0% | 3.9% | 3.0% |
| PCE | 2.2% | 2.5% | 1.2% | 3.7% | 2.0% |
| Nonresidential Inv. | 7.1% | 9.7% | 1.6% | 10.4% | 5.5% |
| Structures | 1.1% | 12.6% | 2.9% | 12.8% | 11.1% |
| Equipment | 10.7% | 11.2% | -1.0% | 14.1% | 4.7% |
| Intellectual Property | 6.4% | 5.5% | 4.7% | 3.6% | 2.8% |
| Residential Inv. | 2.7% | 8.8% | -5.3% | -8.5% | 11.2% |
| Net Exports | -$431.0B | -$460.4B | -$447.2B | -$384.0B | $424.6B |
| Export | 4.9% | 11.1% | -9.2% | 10.0% | 5.1% |
| Imports | -0.7% | 11.3% | 2.2% | 1.3% | 0.6% |
| Government | 4.2% | 1.7% | -0.8% | -3.8% | 0.2% |
| GDP Price Index | 1.4% | 2.1% | 1.3% | 1.5% | 1.7% |