Economic
Last Update: 28-Feb-14 08:56 ET
GDP-Adv.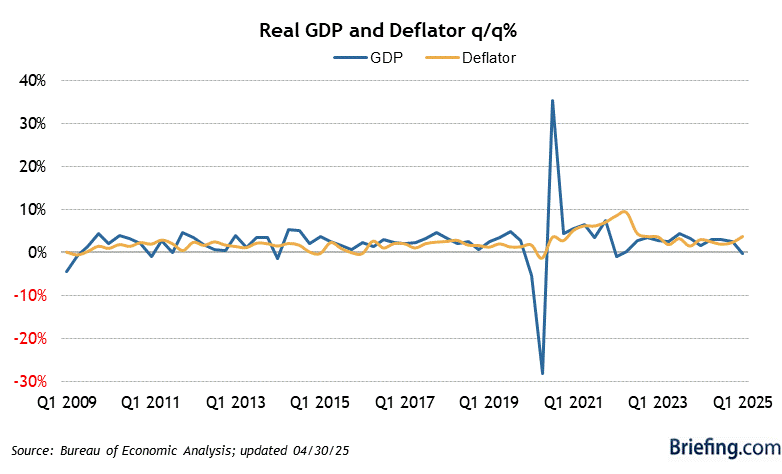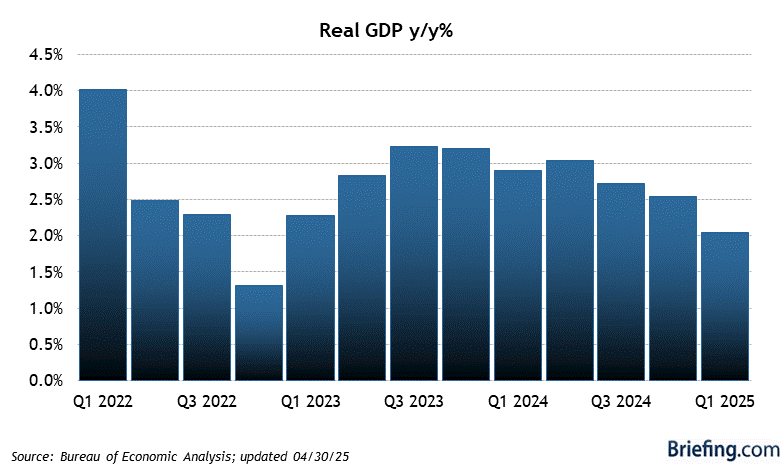 Highlights
GDP in the fourth quarter was revised down from 3.2% in the advance estimate to 2.4% in the second estimate. GDP increased 4.1% in Q3 2013. The Briefing.com consensus expected GDP to be revised down to 2.6%.
Just about all of the data that came in over the last couple weeks were worse than what the BEA expected when it released its advance estimate. There was really nothing new in the GDP report that was a surprise from the most current monthly releases.
The important takeaway is that real final sales, which were revised down to 2.3% from 2.8%, now show absolutely no breakout from trends that go back to Q1 2012. The "surge" in economic growth that led to strong 2014 economic forecasts did not actually happen.
Key Factors
Looking at the details, downward revisions to retail sales in December led to a weaker consumption print. Total consumption increased only 2.6%, down from an originally reported 3.3% gain. Goods spending was revised down to 3.2% from 4.9%.
The trade deficit was revised up to $382.8 bln from $370.1 bln, which lowered the positive contribution to GDP by 0.34 percentage points.
Inventory growth was revised down, from $127.2 bln to $117.4 bln. That reduced its positive contribution to GDP to 0.14 percentage points from 0.42 percentage points.
Government spending was also worse than originally reported. Spending fell 5.6%, down from 4.9%.
Not all of the data were bad.
Fixed investment spending was revised up, from 0.9% in the advance to 3.8%. Nonresidential investment in structures increased 0.2% opposed to an originally reported 1.2% decline. Equipment spending increased 10.6%, up from an originally reported 6.9%. Intellectual property investment was revised up to 8.0% from 3.2%.
Residential investment spending growth was still in the red but improved to -8.7% from -9.8%.
Big Picture
Economic growth continues to follow a below trend growth path.
| Category | Q4 | Q3 | Q2 | Q1 | Q4 |
| --- | --- | --- | --- | --- | --- |
| GDP | 2.4% | 4.1% | 2.5% | 1.1% | 0.1% |
| Inventories (change) | $117.4B | $115.7B | $56.6B | $42.2B | $7.3B |
| Final Sales | 2.3% | 2.5% | 2.1% | 0.2% | 2.2% |
| PCE | 2.6% | 2.0% | 1.8% | 2.3% | 1.7% |
| Nonresidential Inv. | 7.3% | 4.8% | 4.7% | -4.6% | 9.8% |
| Structures | 0.2% | 13.4% | 17.6% | -25.7% | 17.6% |
| Equipment | 10.5% | 0.2% | 3.3% | 1.6% | 8.9% |
| Intellectual Property | 8.0% | 5.8% | -1.5% | 3.7% | 5.7% |
| Residential Inv. | 8.7% | 10.3% | 14.2% | 12.5% | 19.8% |
| Net Exports | -$382.8B | $419.8B | -$424.4B | -$422.3B | -$412.1B |
| Export | 9.4% | 3.9% | 8.0% | -1.3% | 1.1% |
| Imports | 1.5% | 2.4% | 6.9% | 0.6% | -3.1% |
| Government | -5.5% | 0.4% | -0.4% | -4.2% | -6.5% |
| GDP Price Index | 1.6% | 2.0% | 0.6% | 1.3% | 1.1% |