Economic
Last Update: 25-Jun-14 09:04 ET
GDP-Adv.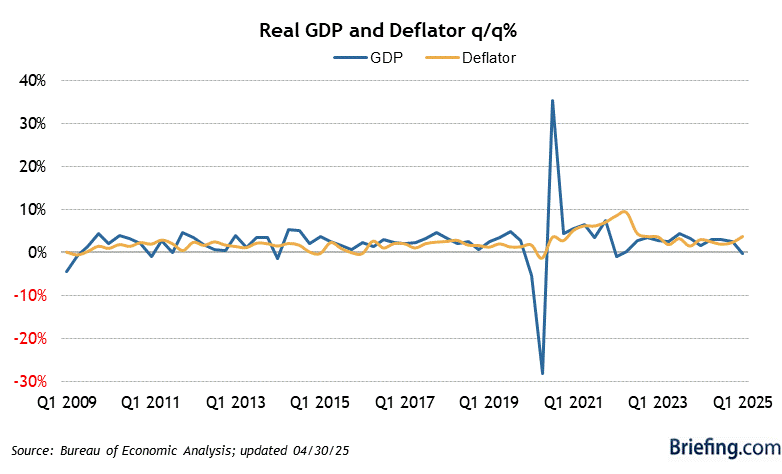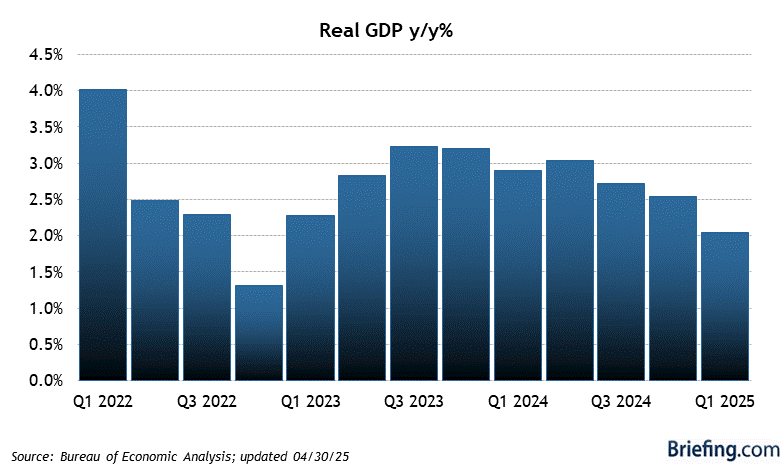 Highlights
First quarter GDP growth was revised down from -1.0% in the second estimate to -2.9% in the third estimate. GDP increased 2.6% in Q4 2013. The Briefing.com consensus expected GDP to be revised down to -1.8%.
Most analysts are going to point toward exogenous factors, such as winter weather and normal inventory volatility, for the large decline in economic activity in the first quarter. Some of that may be true, but it is difficult to justify the entire decline. It is more likely that economic activity weakened because it was never on that strong of a footing to begin with. We've seen this play out over the past few years where growth in the first half of the year is much slower than expected.
The problem is that the revisions in the third estimate hit at the core of economic growth: consumption. Without a strong consumer, growth cannot accelerate to a stable, above-potential rate.
Real final sales were revised down to -1.3% from 0.6%. That was the first decline in real final sales since Q1 2011.
Key Factors
Most of the downward revision was the result of personal consumption expenditures, namely the services component. The Quarterly Survey of Services issued by the Census Department showed much smaller services growth in the first quarter than what the BEA assumed in the second estimate of GDP. That resulted in services consumption being revised down from a 4.3% gain to a 1.5% gain. Goods spending was also revised down, from 0.7% to 0.2%, but on a much smaller scale. Altogether, consumption spending increased only 1.0% in Q1 2014 as opposed to the 3.1% increase reported in the second estimate.
The net export deficit was revised up to $441.1 bln from $418.9 bln. That lopped off an additional 0.6 percentage points to first quarter GDP in the third estimate.
Investment growth was unrevised at -11.7%. Nonresidential investment spending was revised up to -1.2% from -1.6%. Residential investment fell -4.2% in Q1 2014, up from a previously reported -5.0% decline. The relative gains in fixed investment were offset by a downward revision to inventories, from $49.0 bln to $45.9 bln.
Government spending was unrevised and fell 0.8%.
Big Picture
First quarter GDP turns deeply negative on weaker services demand.
| Category | Q1 | Q4 | Q3 | Q2 | Q1 |
| --- | --- | --- | --- | --- | --- |
| GDP | -2.9% | 2.6% | 4.1% | 2.5% | 1.1% |
| Inventories (change) | $45.9B | $111.7B | $115.7B | $56.6B | $42.2B |
| Final Sales | -1.3% | 2.7% | 2.5% | 2.1% | 0.2% |
| PCE | 1.0% | 3.3% | 2.0% | 1.8% | 2.3% |
| Nonresidential Inv. | -1.2% | 5.7% | 4.8% | 4.7% | -4.6% |
| Structures | -7.7% | -1.8% | 13.4% | 17.6% | -25.7% |
| Equipment | -2.8% | 10.9% | 0.2% | 3.3% | 1.6% |
| Intellectual Property | 6.3% | 4.0% | 5.8% | -1.5% | 3.7% |
| Residential Inv. | -4.2% | -7.9% | 10.3% | 14.2% | 12.5% |
| Net Exports | -$441.1B | -$382.8B | $419.8B | -$424.4B | -$422.3B |
| Export | -8.9% | 9.5% | 3.9% | 8.0% | -1.3% |
| Imports | 1.8% | 1.5% | 2.4% | 6.9% | 0.6% |
| Government | -0.8% | -5.2% | 0.4% | -0.4% | -4.2% |
| GDP Price Index | 1.3% | 1.6% | 2.0% | 0.6% | 1.3% |