Economic
Last Update: 24-Nov-15 10:03 ET
GDP-Adv.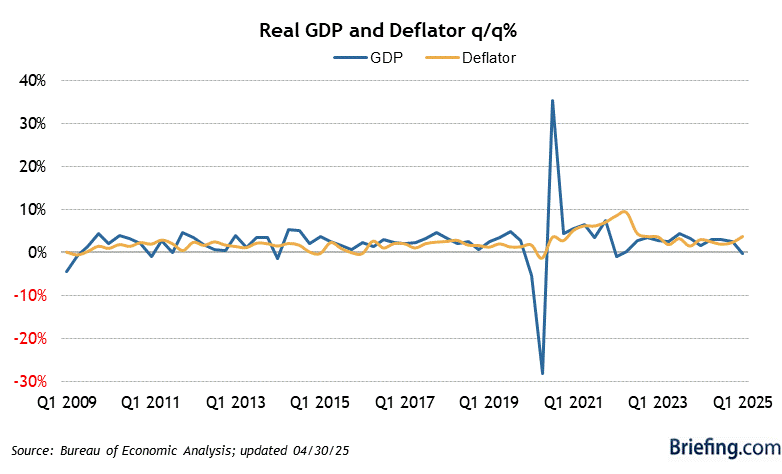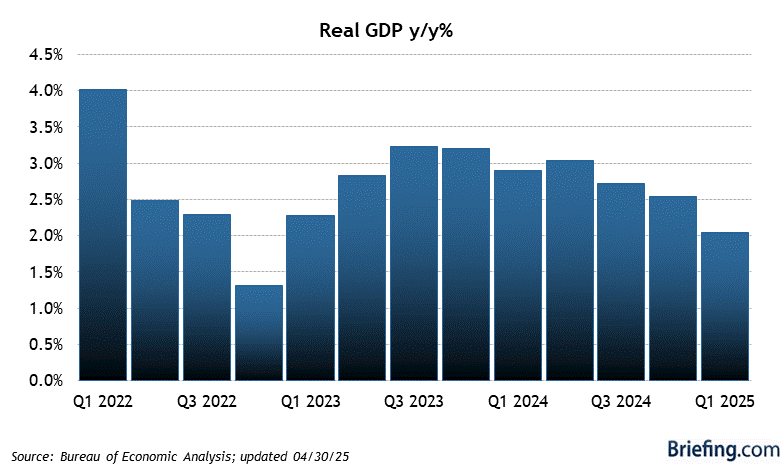 Highlights
The second estimate for third quarter GDP showed an upward revision to 2.1% from the advance estimate of 1.5%. That was slightly higher than the Briefing.com consensus estimate, which was pegged at 2.0%.
The GDP Deflator was unchanged at 1.3% versus the Briefing.com consensus estimate, which was fixed at 1.2%.
Key Factors
The upward revision was the result of the decrease in private inventory investment being smaller than previously estimated. Accordingly, the change in private inventories subtracted only 0.59 percentage points form third quarter GDP growth versus 1.44 percentage points as indicated in the advance estimate.
There was a downward revision, though, to personal consumption expenditures, which increased 3.0% versus a previously estimated 3.2%. That culled the contribution to third quarter growth to 2.05 percentage points from 2.19 percentage points.
Similarly, a smaller than estimated increase in exports and a higher than estimated increase in imports subtracted 0.22 percentage points from third quarter growth versus subtracting just 0.03 percentage points in the advance estimate.
Government spending was basically unchanged from the advance estimate with 1.7% growth, which contributed 0.30 percentage points to third quarter GDP growth.
Real final sales, which exclude the change in inventories, were up 2.7% versus a previously estimated 3.0% increase.
Big Picture
The 2.1% growth rate for third quarter was right in-line with the average growth rate for the preceding 12 quarters.
| Category | Q3 | Q2 | Q1 | Q4 | Q3 |
| --- | --- | --- | --- | --- | --- |
| GDP | 2.1% | 3.9% | 0.6% | 2.1% | 4.3% |
| Inventories (change) | $90.2B | $113.5B | $112.8B | $78.2B | $79.9B |
| Final Sales | 2.7% | 3.9% | -0.2% | 2.1% | 4.3% |
| PCE | 3.0% | 3.6% | 1.7% | 4.3% | 3.5% |
| Nonresidential Inv. | 2.4% | 4.1% | 1.6% | 0.7% | 9.0% |
| Structures | -7.1% | 6.3% | -7.6% | 4.2% | -1.8% |
| Equipment | 9.5% | 0.3% | 2.3% | -4.9% | 16.5% |
| Intellectual Property | -0.9% | 8.3% | 7.4% | 6.9% | 6.5% |
| Residential Inv. | 7.3% | 9.4% | 10.1% | 9.9% | 3.4% |
| Net Exports | -$544.1B | -$534.6B | -$541.2B | -$463.6B | -$429.1B |
| Export | 0.9% | 5.1% | -6.0% | 5.4% | 1.8% |
| Imports | 2.1% | 3.0% | 7.1% | 10.3% | -0.8% |
| Government | 1.7% | 2.6% | -0.1% | -1.4% | 1.8% |
| GDP Price Index | 1.3% | 2.1% | 0.1% | 0.1% | 1.6% |