Economic
Last Update: 10-Oct-14 16:58 ET
GDP-Adv.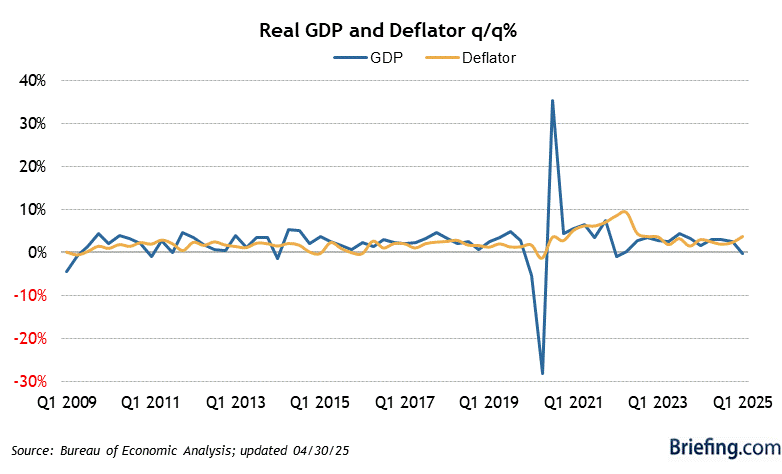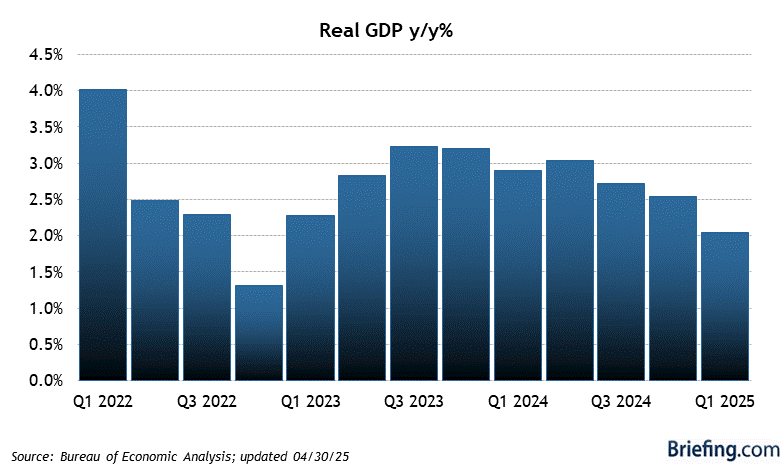 Highlights
Second quarter GDP was revised up to 4.6% in the third estimate from 4.2% in the second estimate. That was exactly what the Briefing.com consensus expected.
That was the best quarterly increase in GDP since Q4 2011, when GDP also increased by 4.6%.
Real final sales were revised up to 3.2% from 2.8%.
Key Factors
Surprisingly, the gains from the third revision did not come from the consumption sector. The second quarter Quarterly Services Survey, released earlier in the month by the Census Bureau, showed much stronger services spending growth than what was reported in the GDP data. The BEA, however, viewed the services data as a very slight upgrade in overall services spending growth (0.9% from 0.8%). As a result, overall consumer spending was left virtually unrevised at 2.5%.
The bulk of the revision came from improvements in investment spending, which increased 19.1% after a previously reported 17.5% gain.
Nonresidential investment spending was revised up to 9.5% from 8.4%. In the details, structures spending growth increased 12.6% (from 9.4%), equipment spending rose 11.2% (from 10.7%), and intellectual property jumped 5.5% (from 4.4%).
Residential investment was revised up and increased 8.8%, up from 7.2% in the second estimate.
The net export deficit was revised down to $460.4 bln in the third estimate from $463.5 bln in the second estimate. That is still well above the $447.2 bln deficit recorded in Q1 2014.
Government spending was revised up to 1.7% from 1.4%.
Big Picture
GDP rebounded nicely following the unexpected decline in the first quarter. However, economic growth is still well off the pace from the second half of 2013, and overall GDP gains are not coming close to early 2014 predictions.
| Category | Q2 | Q1 | Q4 | Q3 | Q2 |
| --- | --- | --- | --- | --- | --- |
| GDP | 4.6% | -2.1% | 3.5% | 4.5% | 1.8% |
| Inventories (change) | $84.8B | $35.2B | $81.8B | $95.6B | $43.4B |
| Final Sales | 3.2% | -1.0% | 3.9% | 3.0% | 1.5% |
| PCE | 2.5% | 1.2% | 3.7% | 2.0% | 1.8% |
| Nonresidential Inv. | 9.7% | 1.6% | 10.4% | 5.5% | 1.6% |
| Structures | 12.6% | 2.9% | 12.8% | 11.1% | 7.3% |
| Equipment | 11.2% | -1.0% | 14.1% | 4.7% | 1.5% |
| Intellectual Property | 5.5% | 4.7% | 3.6% | 2.8% | -1.9% |
| Residential Inv. | 8.8% | -5.3% | -8.5% | 11.2% | 19.0% |
| Net Exports | -$460.4B | -$447.2B | -$384.0B | $424.6B | -$446.0B |
| Export | 11.1% | -9.2% | 10.0% | 5.1% | 6.3% |
| Imports | 11.3% | 2.2% | 1.3% | 0.6% | 8.5% |
| Government | 1.7% | -0.8% | -3.8% | 0.2% | 0.2% |
| GDP Price Index | 2.1% | 1.3% | 1.5% | 1.7% | 1.2% |