Economic
Last Update: 17-Apr-14 18:13 ET
GDP-Adv.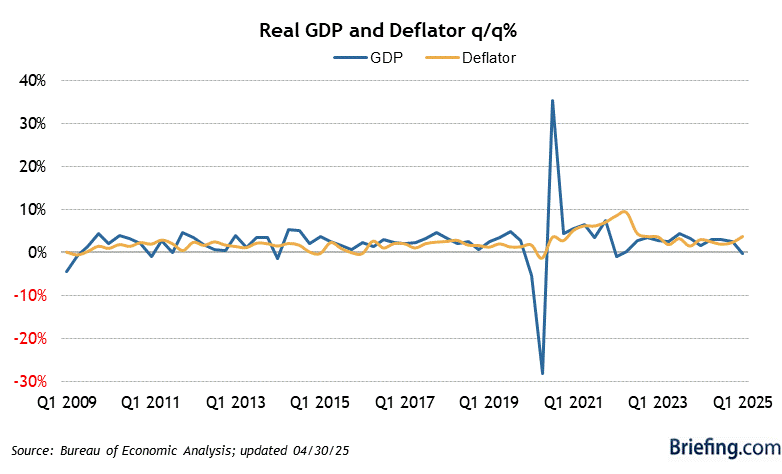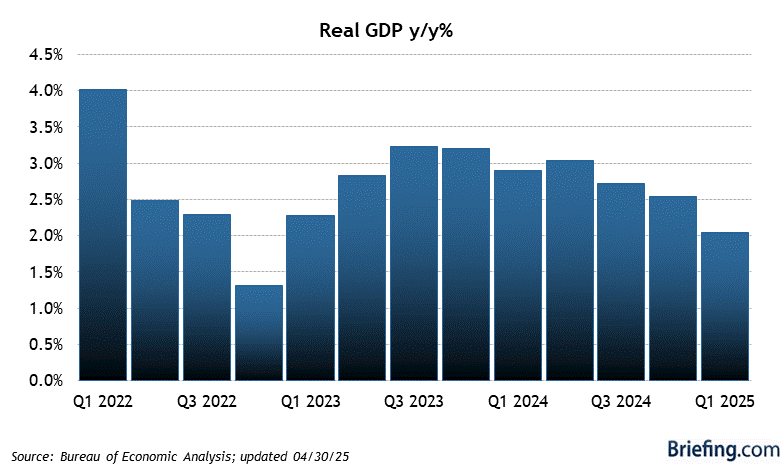 Highlights
Fourth quarter GDP was revised up to 2.6% in the third estimate from 2.4% in the second estimate. That is down from a 4.1% gain in Q3 2013. The Briefing.com consensus expected fourth quarter GDP to be revised to 2.6%.
Real final sales increased 2.7% in the fourth quarter. That was up from a 2.5% gain in Q3 2013 and above the previously reported 2.3% gain. It was also the strongest increase in real final sales since increasing 3.4% in Q2 2012.
Looking at real final sales over the last four quarters (0.2%, 2.1%, 2.5%, and 2.7%), there is a definite upward moving trend. The year-over-year averages, however, put it below the 2.0% and 2.6% gains from 2011 and 2012.
Key Factors
The Census Bureau released the fourth quarter Quarterly Services Report, which showed stronger services growth than what was reported in the second GDP estimate. That translated into a upward revision to consumption (3.3% from 2.6%). The services component was revised up to show a 3.5% gain, up from an originally reported 2.2% increase.
Goods consumption was revised down from 3.2% to 2.9%.That same services report also showed a smaller-than-reported increase in intellectual property investments. The 8.0% quarterly increase was cut in half to 4.0%.
Outside of the intellectual property component, investment growth was relatively unchanged.
Nonresidential investment in structures fell 1.8%, which was down from an originally reported 0.2% gain. Investment in equipment increased 10.9%, up slightly from 10.6%.
Residential investment fell 7.9%.
Net exports were virtually unchanged.
Big Picture
Economic growth continues to follow a below trend growth path.
| Category | Q4 | Q3 | Q2 | Q1 | Q4 |
| --- | --- | --- | --- | --- | --- |
| GDP | 2.6% | 4.1% | 2.5% | 1.1% | 0.1% |
| Inventories (change) | $111.7B | $115.7B | $56.6B | $42.2B | $7.3B |
| Final Sales | 2.7% | 2.5% | 2.1% | 0.2% | 2.2% |
| PCE | 3.3% | 2.0% | 1.8% | 2.3% | 1.7% |
| Nonresidential Inv. | 5.7% | 4.8% | 4.7% | -4.6% | 9.8% |
| Structures | -1.8% | 13.4% | 17.6% | -25.7% | 17.6% |
| Equipment | 10.9% | 0.2% | 3.3% | 1.6% | 8.9% |
| Intellectual Property | 4.0% | 5.8% | -1.5% | 3.7% | 5.7% |
| Residential Inv. | -7.9% | 10.3% | 14.2% | 12.5% | 19.8% |
| Net Exports | -$382.8B | $419.8B | -$424.4B | -$422.3B | -$412.1B |
| Export | 9.5% | 3.9% | 8.0% | -1.3% | 1.1% |
| Imports | 1.5% | 2.4% | 6.9% | 0.6% | -3.1% |
| Government | -5.2% | 0.4% | -0.4% | -4.2% | -6.5% |
| GDP Price Index | 1.6% | 2.0% | 0.6% | 1.3% | 1.1% |