Economic
Last Update: 27-Mar-15 08:46 ET
GDP-Adv.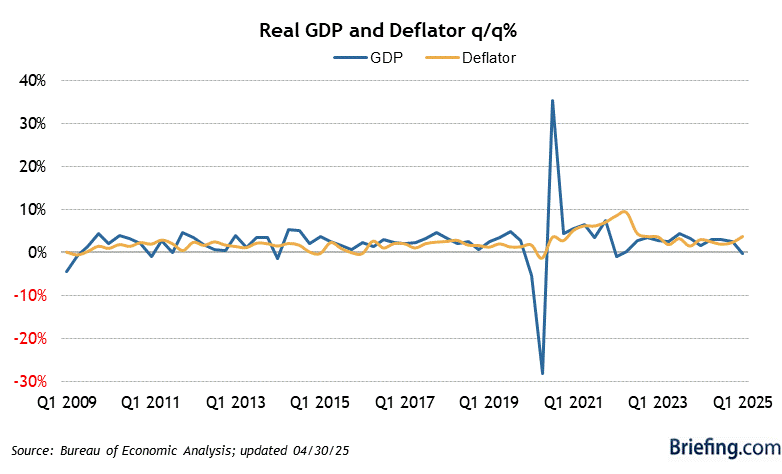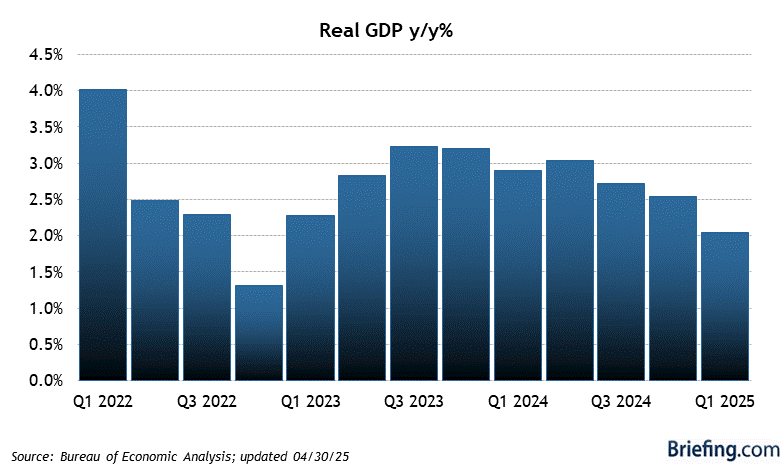 Highlights
GDP growth in Q4 2014 was unrevised in the third estimate and remained at 2.2%. GDP increased 5.0% in Q3 2014. The Briefing.com Consensus expected fourth quarter GDP would be revised to 2.4%.
Real final sales saw a slight upward revision to 2.3% from 2.1%, but nothing in the data altered the notion that economic growth trends slowed down significantly in the fourth quarter.
Key Factors
As expected from the Quarterly Services Survey, consumption growth was revised up to 4.4% in the third estimate from 4.2% in the second estimate. Goods consumption increased 4.8%, up from a 4.5% gain in the second estimate, and services consumption increased 4.3%, up from a previously reported 3.8% increase.
Total fixed investment and government spending were unrevised in the latest GDP reading.
The trade deficit was revised down modestly to $471.4 bln in the third estimate from $476.4 bln.
Big Picture
Economic growth in the fourth quarter came primarily from consumption.
| Category | Q4 | Q3 | Q2 | Q1 | Q4 |
| --- | --- | --- | --- | --- | --- |
| GDP | 2.2% | 5.0% | 4.6% | -2.1% | 3.5% |
| Inventories (change) | $80.0B | $82.2B | $84.8B | $35.2B | $81.8B |
| Final Sales | 2.3% | 5.0% | 3.2% | -1.0% | 3.9% |
| PCE | 4.4% | 3.2% | 2.5% | 1.2% | 3.7% |
| Nonresidential Inv. | 4.7% | 8.9% | 9.7% | 1.6% | 10.4% |
| Structures | 5.9% | 4.8% | 12.6% | 2.9% | 12.8% |
| Equipment | 0.6% | 11.0% | 11.2% | -1.0% | 14.1% |
| Intellectual Property | 10.3% | 8.8% | 5.5% | 4.7% | 3.6% |
| Residential Inv. | 3.8% | 3.3% | 8.8% | -5.3% | -8.5% |
| Net Exports | -$471.4B | -$431.4B | -$460.4B | -$447.2B | -$384.0B |
| Export | 4.5% | 4.6% | 11.1% | -9.2% | 10.0% |
| Imports | 10.4% | -0.9% | 11.3% | 2.2% | 1.3% |
| Government | -1.9% | 4.4% | 1.7% | -0.8% | -3.8% |
| GDP Price Index | 0.1% | 1.4% | 2.1% | 1.3% | 1.5% |