Economic
Last Update: 28-Aug-14 09:12 ET
GDP-Adv.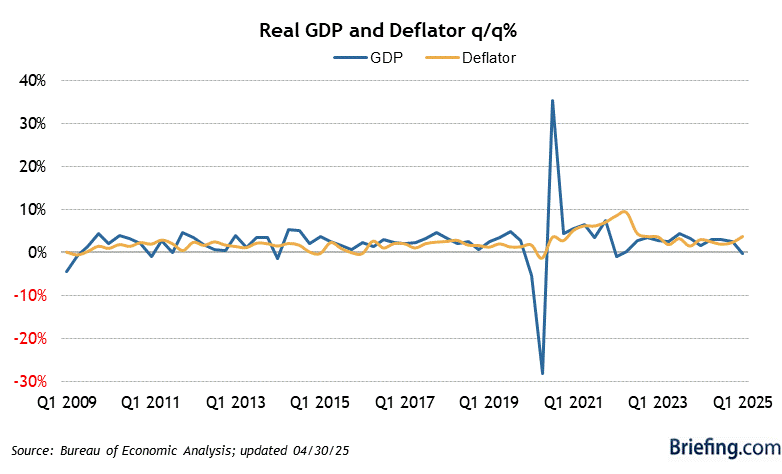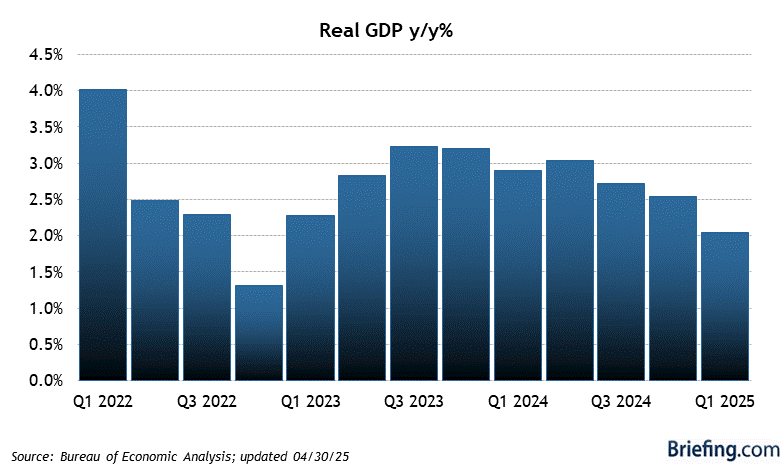 Highlights
Second quarter GDP was revised up to 4.2% in the second estimate from 4.0% in the advance estimate. GDP fell 2.1% in the first quarter. The Briefing.com consensus expected GDP to be unrevised at 4.0%.
While the headline increase was modest, real final sales grew at a much faster clip in the second quarter than originally expected. Real final sales were revised up to 2.8% from an originally reported 2.3% in the advance estimate.
Key Factors
Most of the revisions to second quarter GDP were known prior to the release so there were no big surprises.
A lower trade deficit, implied from the June release, added 0.2 percentage points to Q2 2014 GDP in the second estimate. That was offset by weaker merchant wholesale inventories, which helped reduce the inventory contribution from an originally reported 1.66 percentage points to 1.39 percentage points.
Large upward revisions to nonresidential investment in equipment (10.7% from 7.0%) and structures (8.4% from 5.3%) were the cause of the positive surprise in headline GDP growth.
Personal consumption spending was left unrevised at 2.5%, which followed no revisions in the latest retail sales report.
Big Picture
GDP rebounded nicely following the unexpected decline in the first quarter. However, economic growth is still well off the pace from the second half of 2013, and overall GDP gains are not coming close to early 2014 predictions.
| Category | Q2 | Q1 | Q4 | Q3 | Q2 |
| --- | --- | --- | --- | --- | --- |
| GDP | 4.2% | -2.1% | 3.5% | 4.5% | 1.8% |
| Inventories (change) | $83.9B | $35.2B | $81.8B | $95.6B | $43.4B |
| Final Sales | 2.8% | -1.0% | 3.9% | 3.0% | 1.5% |
| PCE | 2.5% | 1.2% | 3.7% | 2.0% | 1.8% |
| Nonresidential Inv. | 8.4% | 1.6% | 10.4% | 5.5% | 1.6% |
| Structures | 9.5% | 2.9% | 12.8% | 11.1% | 7.3% |
| Equipment | 10.7% | -1.0% | 14.1% | 4.7% | 1.5% |
| Intellectual Property | 4.5% | 4.7% | 3.6% | 2.8% | -1.9% |
| Residential Inv. | 7.2% | -5.3% | -8.5% | 11.2% | 19.0% |
| Net Exports | -$463.5B | -$447.2B | -$384.0B | $424.6B | -$446.0B |
| Export | 10.1% | 2.2% | 1.3% | 0.6% | 8.5% |
| Imports | 11.0% | 2.2% | 1.3% | 0.6% | 8.5% |
| Government | 1.4% | -0.8% | -3.8% | 0.2% | 0.2% |
| GDP Price Index | 2.1% | 1.3% | 1.5% | 1.7% | 1.2% |