Economic
Last Update: 27-Feb-15 09:08 ET
GDP-Adv.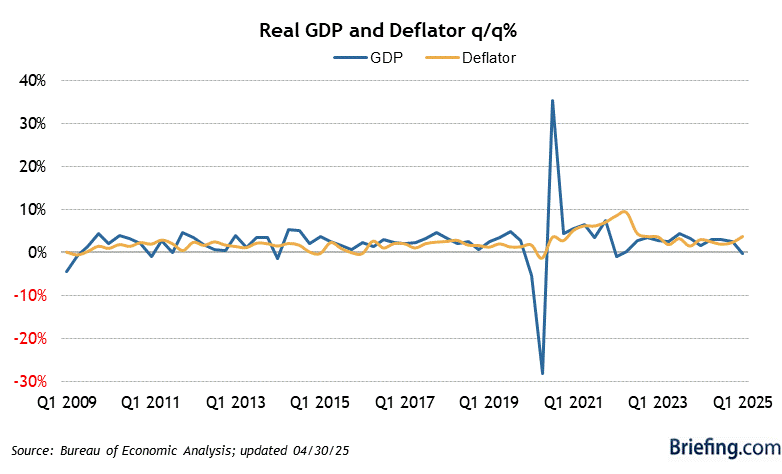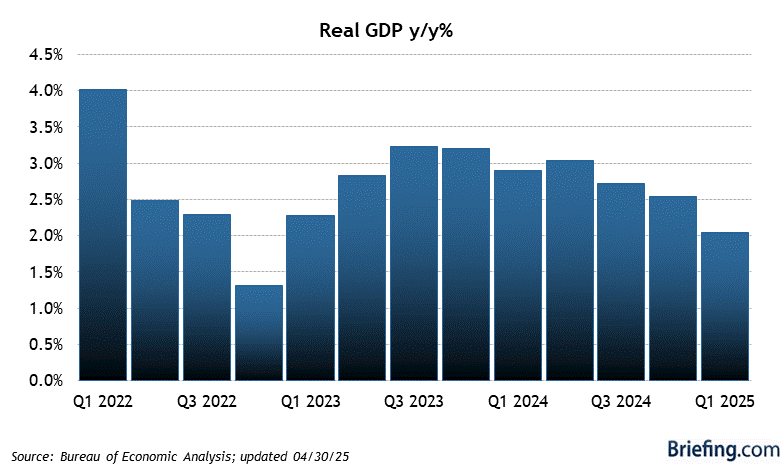 Highlights
Fourth quarter GDP was revised down to 2.2% in the second estimate from 2.6% in the advance estimate. GDP increased 5.0% in Q3 2014. The Briefing.com Consensus expected Q4 2014 GDP to be revised down to 2.1%.
Despite the downward revision, the GDP report actually reveals slightly better economic trends in the second estimate. Nearly all of the revision was the result of weaker inventory growth – $88.4 bln vs. $113.1 bln in the advance release. Excluding inventories, real final sales were revised up to 2.1% from an originally reported 1.8%.
Key Factors
There were significant upward revisions to all of the components of nonresidential investment. Spending on structures was revised up to 5.0% from 2.6%, equipment investment was revised to 0.9% from -1.9%, and intellectual property product investment was revised to 10.9% from 7.4%. In all, the upward revisions to nonresidential investment added an additional 0.4 percentage points to GDP growth in the second estimate.
Besides nonresidential investment, the only other GDP component that was revised higher was government spending, which declined 1.8% in the second estimate versus a 2.2% decline in the advance estimate. Federal government spending was unchanged while state and local spending was revised up to 2.0% from 1.3%.
Nonresidential investment spending was revised down to 3.4% from 4.1%, but the contribution to GDP growth was virtually unchanged.
Personal consumption expenditures were revised down to 4.2% from 4.3%. The revision was due to slightly weaker goods spending, which offset a modest upward revision to services demand.
The net export deficit was revised up to $476.4 bln in Q4 2014 from an originally reported $471.5 bln. The larger deficit reduced GDP by another 0.1 percentage points.
Big Picture
Economic growth in the fourth quarter came primarily from consumption.
| Category | Q4 | Q3 | Q2 | Q1 | Q4 |
| --- | --- | --- | --- | --- | --- |
| GDP | 2.2% | 5.0% | 4.6% | -2.1% | 3.5% |
| Inventories (change) | $88.4B | $82.2B | $84.8B | $35.2B | $81.8B |
| Final Sales | 2.1% | 5.0% | 3.2% | -1.0% | 3.9% |
| PCE | 4.2% | 3.2% | 2.5% | 1.2% | 3.7% |
| Nonresidential Inv. | 4.8% | 8.9% | 9.7% | 1.6% | 10.4% |
| Structures | 5.0% | 4.8% | 12.6% | 2.9% | 12.8% |
| Equipment | 0.9% | 11.0% | 11.2% | -1.0% | 14.1% |
| Intellectual Property | 10.9% | 8.8% | 5.5% | 4.7% | 3.6% |
| Residential Inv. | 3.3% | 3.3% | 8.8% | -5.3% | -8.5% |
| Net Exports | -$476.4B | -$431.4B | -$460.4B | -$447.2B | -$384.0B |
| Export | 3.2% | 4.6% | 11.1% | -9.2% | 10.0% |
| Imports | 10.1% | -0.9% | 11.3% | 2.2% | 1.3% |
| Government | -1.8% | 4.4% | 1.7% | -0.8% | -3.8% |
| GDP Price Index | 0.1% | 1.4% | 2.1% | 1.3% | 1.5% |