Economic
Last Update: 05-Dec-13 09:03 ET
GDP-Adv.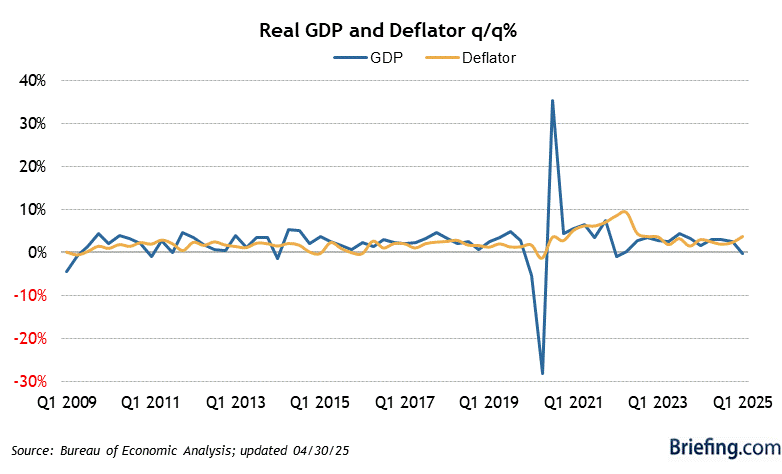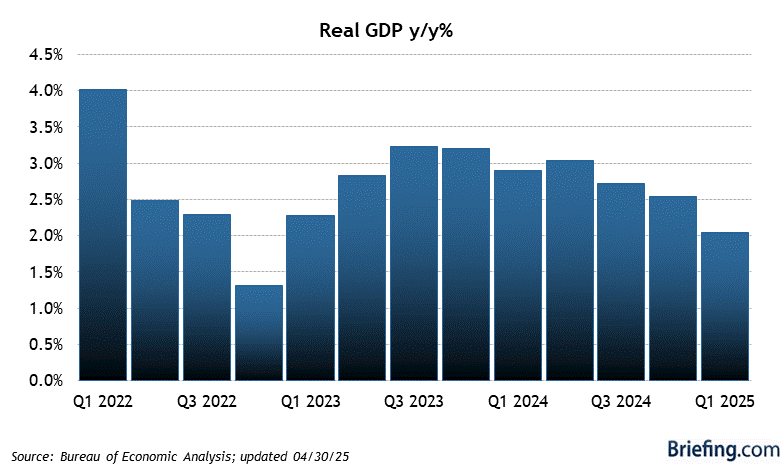 Highlights
GDP was revised up to 3.6% in the second estimate of Q3 2013 GDP from 2.8% in the advance release. That is up from a 2.5% gain in the second quarter and the largest increase since growing 3.9% in Q2 2010. The Briefing.com consensus expected GDP to be revised to 3.0%.
Key Factors
While it is easy to look at the headline and assume the revision showcased a strong improvement in economic conditions, the reality is the report was virtually identical to the advance report with the exception of a massive increase in inventories. Real final sales, which exclude inventories and is a less volatile measure of real economic activity, was actually revised down 0.1 percentage points to 1.9% and is down from a 2.1% increase in Q2 2013.
Furthermore, real final sales increased at a little over 2.0% q/q for four out of the previous five quarters. The only outlier came in Q1 2013 when real final sales increased a minuscule 0.2%. This trend tells us that the large headline move in the third quarter growth rate is in no way a result of an acceleration in economic activities.
Looking through the details and nothing pops out as an unusual move compared to the advance report.
Personal consumption spending was revised down from 1.5% to 1.4%. That is down from a 1.8% gain in the second quarter and the weakest increase since consumption growth was flat in Q4 2009.
Nonresidential investment spending was revised up from a 1.6% increase to 3.6%. The revision was a result of upward revisions to both structures (13.8% from 12.3%) and equipment (0.0% from -3.7%). Intellectual property investment was revised down to a 1.7% gain from 2.2%.
Residential investment spending was revised down from a 14.6% increase to 13.0%.
The net export deficit was revised up to $422.1 bln from $413.2 bln. It is unknown if the increase in the deficit took into account the large September revision to the trade data that was released yesterday.
Big Picture
GDP trends hold steady at second quarter levels. The improvement in the headline was all due to volatile inventories and not an actual strengthening of the economy.
| Category | Q3 | Q2 | Q1 | Q4 | Q3 |
| --- | --- | --- | --- | --- | --- |
| GDP | 3.6% | 2.5% | 1.1% | 0.1% | 2.8% |
| Inventories (change) | $116.5B | $56.6B | $42.2B | $7.3B | $77.2B |
| Final Sales | 1.9% | 2.1% | 0.2% | 2.2% | 2.2% |
| PCE | 1.4% | 1.8% | 2.3% | 1.7% | 1.7% |
| Nonresidential Inv. | 3.5% | 4.7% | -4.6% | 9.8% | 0.3% |
| Structures | 13.7% | 17.6% | -25.7% | 17.6% | 5.9% |
| Equipment | 0.0% | 3.3% | 1.6% | 8.9% | -3.9% |
| Intellectual Property | 1.7% | -1.5% | 3.7% | 5.7% | 2.8% |
| Residential Inv. | 13.0% | 14.2% | 12.5% | 19.8% | 14.1% |
| Net Exports | $422.1B | -$424.4B | -$422.3B | -$412.1B | -$436.5B |
| Export | 3.7% | 8.0% | -1.3% | 1.1% | 0.4% |
| Imports | 2.7% | 6.9% | 0.6% | -3.1% | 0.5% |
| Government | 0.4% | -0.4% | -4.2% | -6.5% | 3.5% |
| GDP Price Index | 2.0% | 0.6% | 1.3% | 1.1% | 2.3% |