Economic
Last Update: 06-Mar-14 10:15 ET
Factory Orders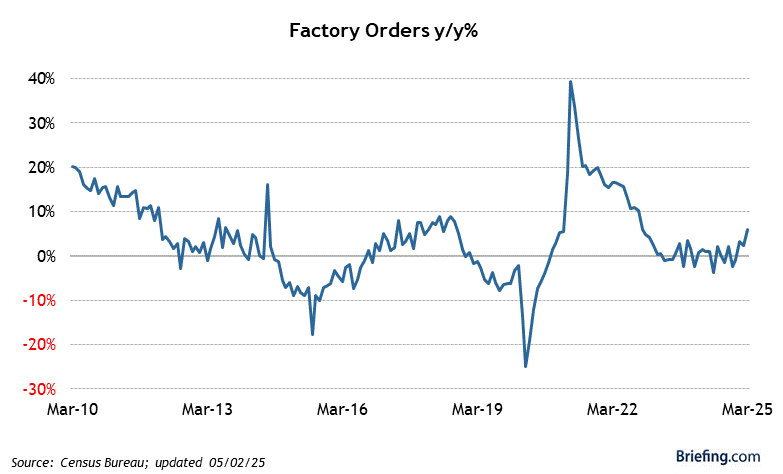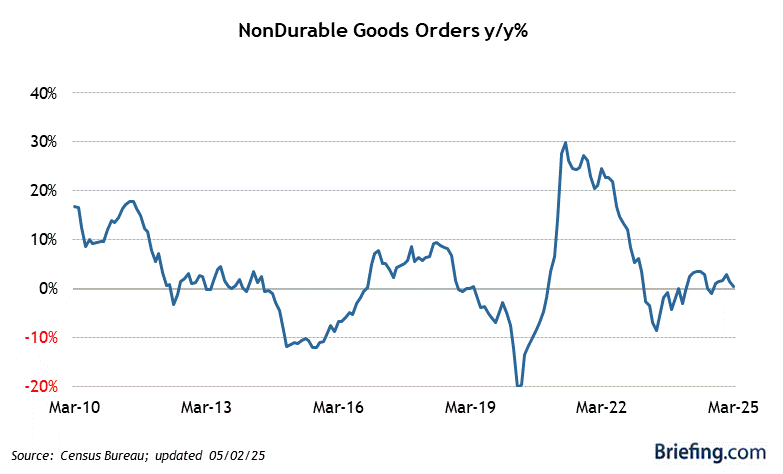 Highlights
Factory orders declined 0.7% in January after declining a downwardly revised 2.0% (from -1.6%) in December. The Briefing.com consensus expected factory orders to decline 0.5%.
Key Factors
Overall, the data matched up closely with the advance durable goods report that was released last week. There were no big surprises that would alter future expectations.
Durable goods orders were unrevised and fell 1.0% in January. Those orders declined 5.3% in December.
Excluding transportation, durable goods orders were also unrevised and increased 1.1%.
Orders of nondefense capital goods excluding aircraft were a little weaker than originally thought, up 1.5% instead of the 1.7% gain reported in the advance release. Shipments, which factor into GDP, were revised down to -1.0% from -0.8%.
Nondurable goods orders fell 0.4% in January after increasing 1.0% in December.
Big Picture
Elevated levels of backlogs should keep overall durable goods manufacturing production strong in the face of uncertain demand.
| Category | JAN | DEC | NOV | OCT | SEP |
| --- | --- | --- | --- | --- | --- |
| Factory Orders | -0.7% | -2.0% | 1.5% | -0.5% | 1.8% |
| Less Defense | -1.0% | -1.5% | 1.5% | 0.0% | 1.4% |
| Durable Goods | -1.0% | -5.3% | 2.7% | -0.7% | 4.2% |
| Nondurable Goods | -0.4% | 1.0% | 0.4% | -0.3% | -0.3% |
| Unfilled Factory Orders | 0.0% | 0.2% | 0.9% | 0.6% | 0.9% |
| Factory Shipments | -0.3% | -0.3% | 0.8% | 0.1% | 0.1% |
| Factory Inventories | 0.2% | 0.5% | 0.1% | 0.0% | 0.3% |
| Inventory/Shipment Ratio | 1.30 | 1.29 | 1.28 | 1.29 | 1.29 |