Economic
Last Update: 02-Jul-14 10:21 ET
Factory Orders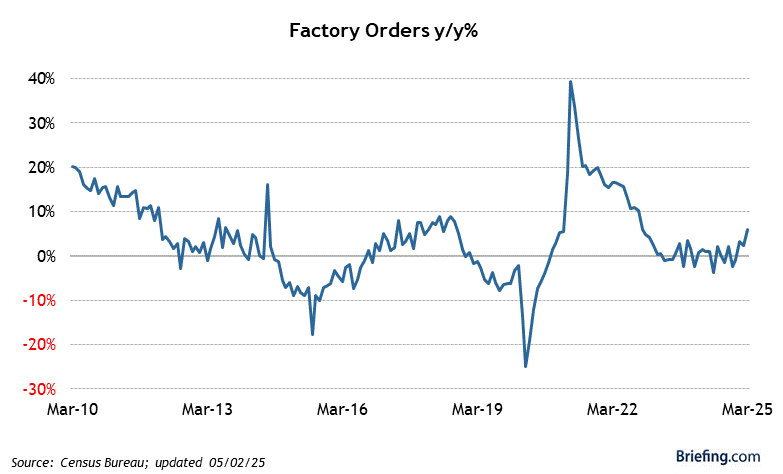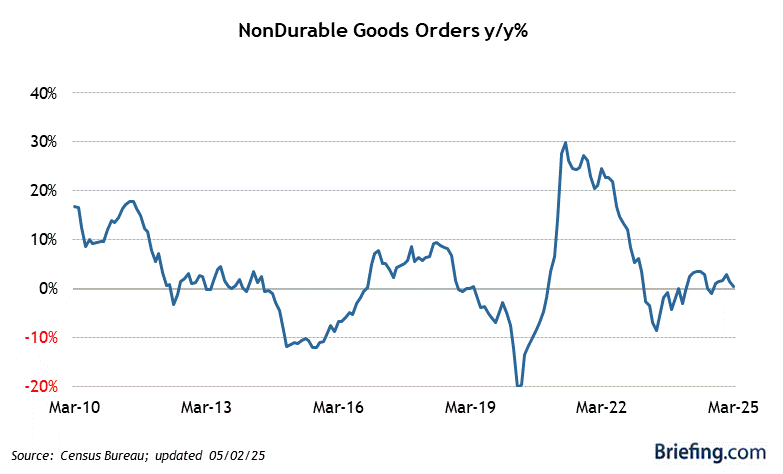 Highlights
Factory orders declined 0.5% in May after increasing an upwardly revised 0.8% (from 0.7%) in April. The Briefing.com consensus expected factory orders to decline 0.4%.
Key Factors
The revisions to the May durable goods data were extremely minor. Total orders were revised up from the advance (-1.0%), but still fell 0.9%. These orders increased 0.9% in May.
Transportation orders, which were originally down 3.0%, were revised to -2.9%.
Excluding transportation, durable goods orders were flat in May after originally reporting a small 0.1% decline.
Business investment demand was unrevised. Orders for nondefense capital goods excluding aircraft were up 0.7% in May following a 1.1% decline in April.
Nondurable goods orders declined 0.2%, down from a 0.7% increase in April.
Big Picture
Elevated levels of backlogs should keep overall durable goods manufacturing production strong in the face of uncertain demand.
| Category | MAY | APR | MAR | FEB | JAN |
| --- | --- | --- | --- | --- | --- |
| Factory Orders | -0.5% | 0.8% | 1.5% | 1.7% | -1.0% |
| Less Defense | 0.2% | 0.0% | 1.1% | 1.5% | -1.3% |
| Durable Goods | -0.9% | 0.9% | 3.7% | 2.6% | -1.4% |
| Nondurable Goods | -0.2% | 0.7% | -0.5% | 0.9% | -0.7% |
| Unfilled Factory Orders | 0.6% | 0.9% | 0.8% | 0.3% | 0.0% |
| Factory Shipments | 0.1% | 0.4% | 0.4% | 1.0% | -0.7% |
| Factory Inventories | 0.8% | 0.5% | 0.2% | 0.7% | 0.2% |
| Inventory/Shipment Ratio | 1.31 | 1.30 | 1.30 | 1.30 | 1.30 |