Economic
Last Update: 21-May-15 17:40 ET
Factory Orders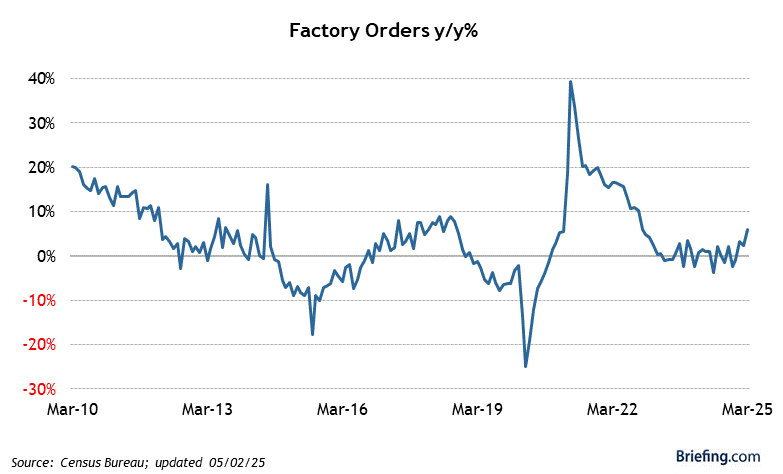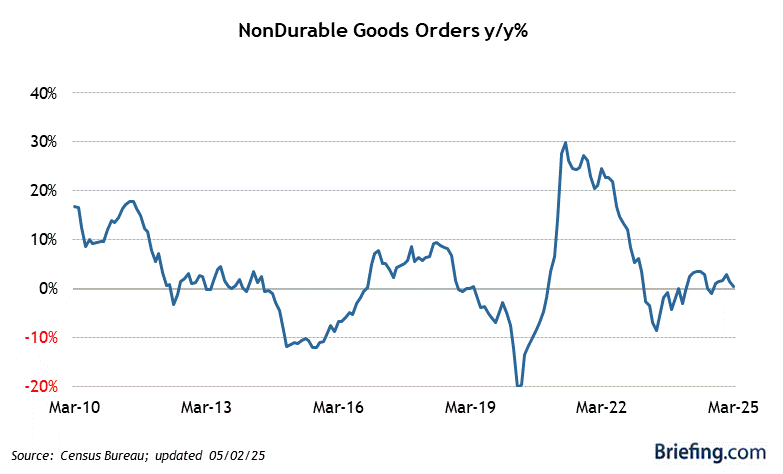 Highlights
Manufacturing orders increased 2.1% in March after declining a negatively revised 0.1% (from +0.2%) in February. The Briefing.com Consensus expected manufacturing orders to increase 2.1%.
Key Factors
The March gain was the first month-over-month increase since July 2014. Unfortunately, almost the entire gain can be attributed to a bump in aircraft orders, which increased 41.9% in March.Durable goods orders were revised up from 4.0% in the advance estimate to 4.4%.
Durable goods orders declined 1.4% in February.Excluding transportation, durable goods orders were revised up from -0.2% to +0.4%.
Nondurable goods orders declined 0.3% in March after increasing 1.1% in February. Higher petroleum prices weren't enough to keep petroleum refinery orders (-1.9% from +10.4%) in the black.
Orders of nondefense durable goods excluding aircraft were revised up to +0.1% from -0.5% in the advance release. Shipments, which factor into future Q1 2015 GDP revisions, were unrevised at -0.4%.
Big Picture
The first increase in factory orders in 8 months was the result of a big increase in aircraft orders.
| Category | MAR | FEB | JAN | DEC | NOV |
| --- | --- | --- | --- | --- | --- |
| Factory Orders | 2.1% | -0.1% | -0.7% | -3.5% | -1.7% |
| Less Defense | 1.3% | 0.1% | -0.6% | -3.3% | -1.3% |
| Durable Goods | 4.4% | -1.4% | 1.9% | -3.7% | -2.2% |
| Nondurable Goods | -0.3% | 1.1% | -3.2% | -3.3% | -1.2% |
| Unfilled Factory Orders | 0.1% | -0.5% | -0.3% | -0.9% | 0.2% |
| Factory Shipments | 0.5% | 0.4% | -2.3% | -0.9% | -1.0% |
| Factory Inventories | -0.2% | 0.0% | -0.4% | -0.4% | 0.0% |
| Inventory/Shipment Ratio | 1.35 | 1.35 | 1.36 | 1.34 | 1.33 |