Economic
Last Update: 03-Feb-15 10:33 ET
Factory Orders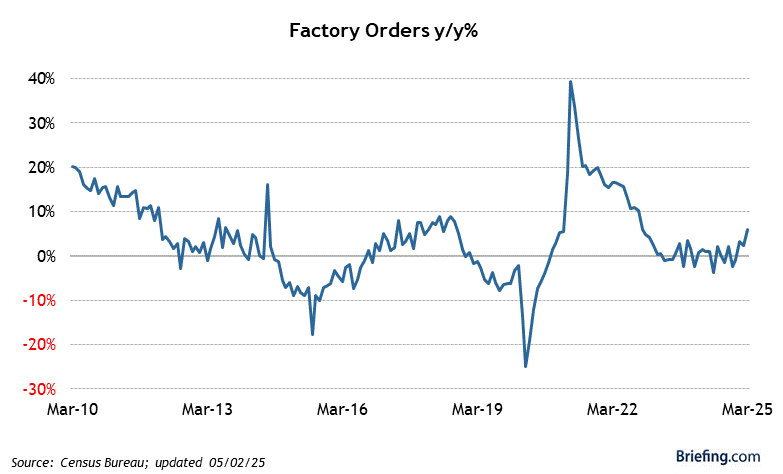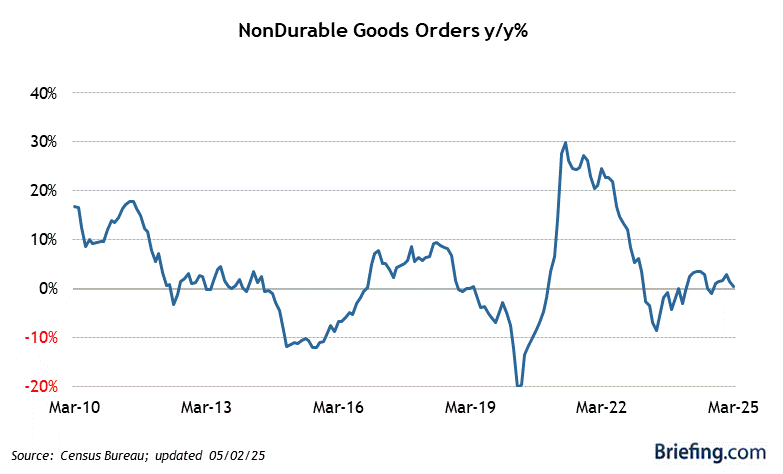 Highlights
Factory orders declined 3.4% in December after declining a downwardly revised 1.7% (from -0.7%) in November. The Briefing.com Consensus expected factory orders to decline 2.0%.
Key Factors
While the headline decline in factory orders was clear miss in terms of expectations, the underlying data should provide a boost to the second estimate to Q4 2014 GDP.
Specifically, shipments of nondefense capital goods excluding aircraft were much stronger than reported in the advance release. Instead of declining 0.2% in December, these shipments increased 0.2%. Since shipments factor into GDP calculations, the upward revision will positively contribute to economic growth.
Furthermore, overall demand for business capital was also stronger in the latest manufacturer report. Orders of nondefense capital goods eluding aircraft declined only 0.1% in December after falling 0.5% in November. That was a slight upward revision from the advance release which showed business capital demand declining by 0.6% in both December and November.
The weakness in the headline number can be attributed to lower petroleum prices. Since factory orders are calculated by prices and not quantities, the drop in petroleum prices was responsible for a collapse (-15.7%) in the total value of orders at petroleum refineries. That, in turn, led to a larger-than-expected 3.4% decline in nondurable goods orders in December.
Durable goods orders declined 3.3% in December. That was a slight upward revision from the 3.4% decline reported in the advance report. Orders in November, however, were revised down from -2.3% to -2.2%.
Big Picture
Positive revisions to business capital should outweigh the large negative surprise that was brought on by lower oil prices.
| Category | DEC | NOV | OCT | SEP | AUG |
| --- | --- | --- | --- | --- | --- |
| Factory Orders | -3.4% | -1.7% | -0.7% | -0.5% | -10.0% |
| Less Defense | -3.2% | -1.3% | -1.2% | -0.6% | -10.3% |
| Durable Goods | -3.3% | -2.2% | 0.3% | -0.7% | -18.3% |
| Nondurable Goods | -3.4% | -1.2% | -1.6% | -0.2% | -0.4% |
| Unfilled Factory Orders | -0.8% | 0.2% | 0.5% | 0.4% | 0.6% |
| Factory Shipments | -1.1% | -1.0% | -0.9% | 0.1% | -1.1% |
| Factory Inventories | -0.3% | 0.0% | 0.1% | 0.2% | 0.1% |
| Inventory/Shipment Ratio | 1.34 | 1.33 | 1.32 | 1.30 | 1.30 |