Economic
Last Update: 03-Sep-14 10:51 ET
Factory Orders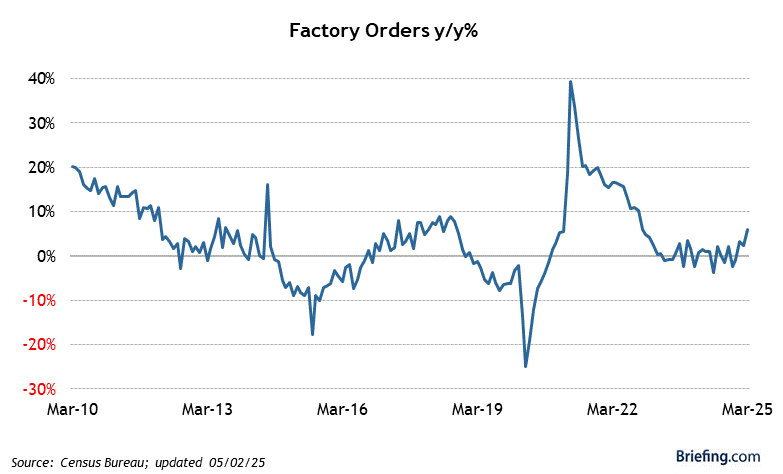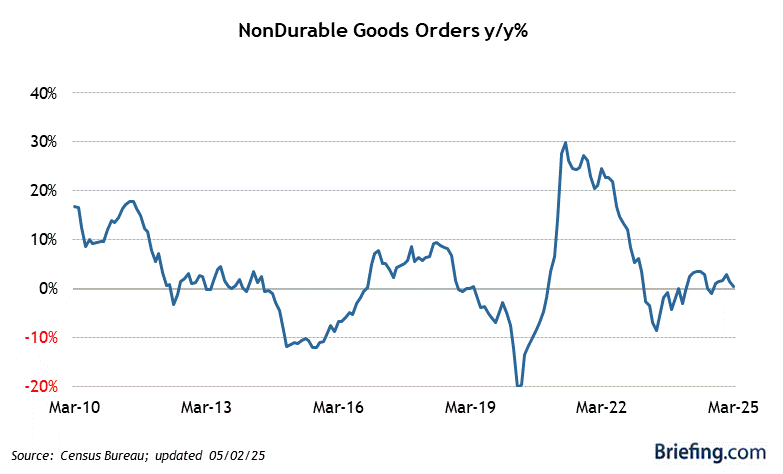 Highlights
Factory orders increased 10.5% in July following an upwardly revised 1.5% (from 1.1%) gain in June. The Briefing.com consensus expected factory orders to increase 11.0%.
Key Factors
As last week's durable goods report already showed, the unusually large increase in factory orders was not a result of strong improvement in overall manufacturing demand. Instead, it was due an extreme, and likely one-time, bias in the aircraft sector.
Record sales from Boeing (BA) resulted in a 317.3% increase in orders of nondefense aircraft and parts. That resulted in a 22.6% increase in durable goods orders, which were unrevised from the advance release and up from a 2.7% gain in June.
Outside of the aircraft industry, manufacturing demand was notably lower. Stripping out transportation, factory orders fell 0.8% in July after increasing 1.4% in June. Orders of durable goods excluding transportation fell 0.7% in July, which was slightly better than the 0.8% decline reported in the advance release.
Orders of nondurable goods fell 0.9% in July after increasing 0.4% in June. Much of that decline was caused by a 3.2% drop in petroleum and coal product orders.
Demand for nondefense capital goods excluding aircraft was revised lower, falling 0.7% (from -0.5%) in July after increasing 5.4% in June. Shipments of these goods, which factor into GDP, were also revised down to a 1.4% gain from 1.5%.
Big Picture
A huge increase in aircraft orders masked an otherwise poor manufacturing report.
| Category | JUL | JUN | MAY | APR | MAR |
| --- | --- | --- | --- | --- | --- |
| Factory Orders | 10.5% | 1.5% | -0.6% | 0.8% | 1.5% |
| Less Defense | 11.3% | 1.5% | 0.0% | 0.0% | 1.1% |
| Durable Goods | 22.6% | 2.7% | -0.9% | 0.9% | 3.7% |
| Nondurable Goods | -0.9% | 0.4% | -0.2% | 0.7% | -0.5% |
| Unfilled Factory Orders | 5.4% | 1.0% | 0.7% | 0.9% | 0.8% |
| Factory Shipments | 1.2% | 0.8% | -0.1% | 0.4% | 0.4% |
| Factory Inventories | 0.1% | 0.2% | 0.8% | 0.5% | 0.2% |
| Inventory/Shipment Ratio | 1.29 | 1.30 | 1.31 | 1.30 | 1.30 |