Economic
Last Update: 05-Aug-14 10:23 ET
Factory Orders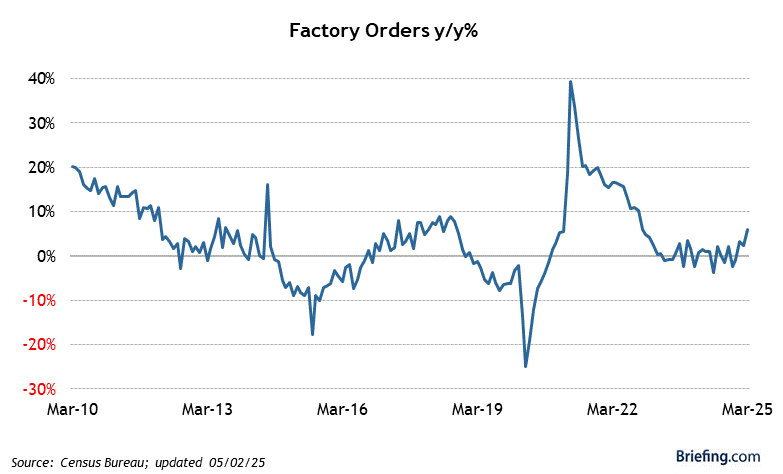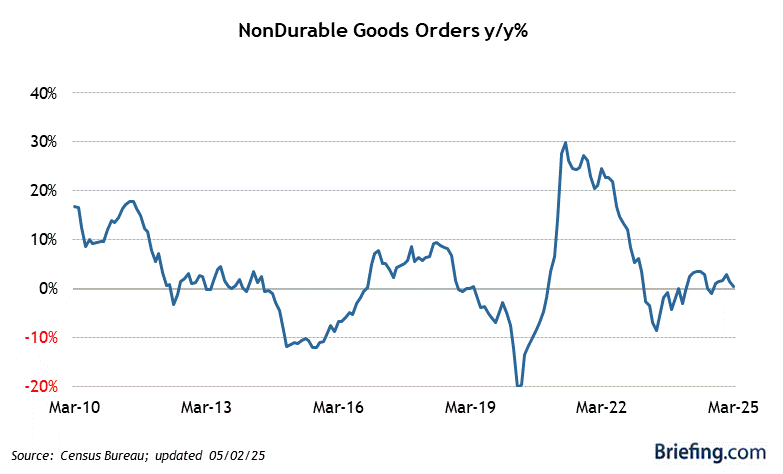 Highlights
Factory orders increased 1.1% in June following a downwardly revised 0.6% decline (from -0.5%) in May. The Briefing.com consensus expected factory orders to increase 0.5%.
Key Factors
Durable goods orders increased 1.7% in June after declining 0.9% in May. That is a significant upward revision from the advance release, which showed durable goods orders up only 0.7% in June.
Excluding transportation, durable goods orders rose 1.9% in June, up from an originally reported 0.8% increase in the advance release.
Investment demand also strengthened in the latest report. Orders of nondefense capital goods excluding aircraft increased 3.3% in June as opposed to the 1.4% increase reported in the advance release. Shipments, which factor into second quarter GDP revisions, fell 0.3% in June. That decline was better than the originally reported 1.0% decline.
There is still a sizable backlog of unfilled business investment orders that could lead to stronger shipments and production. Unfilled orders of nondefense capital goods excluding aircraft increased 1.4% in June.
Nondurable goods orders rose 0.6% in June after falling 0.2% in May. Much of the gain in nondurable orders came from a 1.1% increase in petroleum and coal product demand.
Big Picture
Elevated levels of backlogs should keep overall manufacturing production strong in the face of uncertain demand.
| Category | JUN | MAY | APR | MAR | FEB |
| --- | --- | --- | --- | --- | --- |
| Factory Orders | 1.1% | -0.6% | 0.8% | 1.5% | 1.7% |
| Less Defense | 1.0% | 0.0% | 0.0% | 1.1% | 1.5% |
| Durable Goods | 1.7% | -0.9% | 0.9% | 3.7% | 2.6% |
| Nondurable Goods | 0.6% | -0.2% | 0.7% | -0.5% | 0.9% |
| Unfilled Factory Orders | 1.0% | 0.7% | 0.9% | 0.8% | 0.3% |
| Factory Shipments | 0.5% | -0.1% | 0.4% | 0.4% | 1.0% |
| Factory Inventories | 0.3% | 0.8% | 0.5% | 0.2% | 0.7% |
| Inventory/Shipment Ratio | 1.31 | 1.31 | 1.30 | 1.30 | 1.30 |