Economic
Last Update: 02-Oct-15 10:16 ET
Factory Orders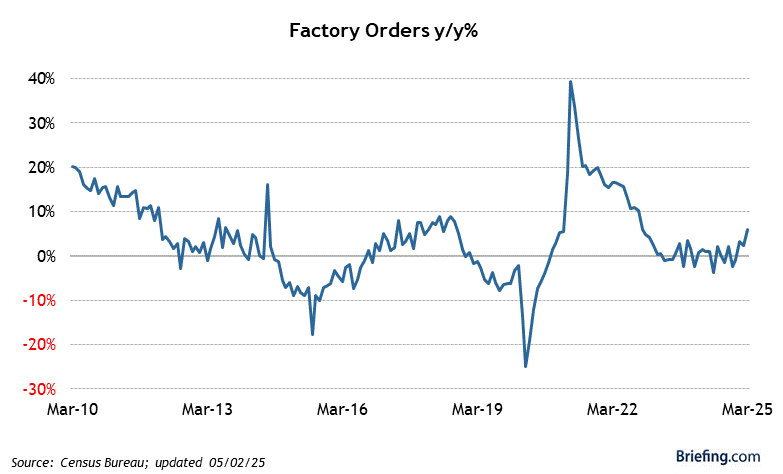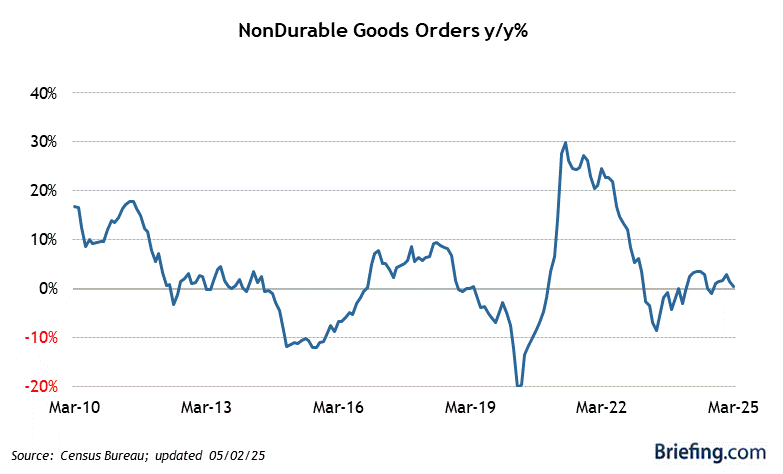 Highlights
Factory orders declined 1.7% in August after increasing a downwardly revised 0.2% (from 0.4%) in July. The Briefing.com Consensus expected factory orders to decline 1.0%.
Key Factors
That was the largest decline in factory orders since a 3.7% drop in December 2014.
The weakness in the manufacturing sector comes as a strong dollar has curtailed export demand and low oil prices have reduced demand for drilling equipment.
Durable goods orders declined 2.3% in August, which was slightly worse than the 2.0% decline reported in the advance release last week.
Excluding transportation, durable goods orders declined 0.2% after reporting no change in the advance release.
Nondurable goods orders declined 1.1% in August after declining 1.4% in July. Much of that decline was the result of lower oil prices reducing petroleum refineries orders (-5.6%).
Orders of nondefense capital goods excluding aircraft were revised lower to -0.8% from a previously reported -0.2%. Shipments, which factor into GDP growth calculations, were also revised lower (-0.4% from -0.2%).
Big Picture
The big decline in September factory orders confirms the widespread weakness in the manufacturing sector.
| Category | AUG | JUL | JUN | MAY | APR |
| --- | --- | --- | --- | --- | --- |
| Factory Orders | -1.7% | 0.2% | 2.2% | -1.1% | -0.7% |
| Less Defense | -1.2% | -0.3% | 2.2% | -1.2% | -0.4% |
| Durable Goods | -2.3% | 1.9% | 4.1% | -2.3% | -1.7% |
| Nondurable Goods | -1.1% | -1.4% | 0.4% | 0.0% | 0.3% |
| Unfilled Factory Orders | -0.2% | 0.2% | 0.0% | -0.5% | -0.2% |
| Factory Shipments | -0.7% | -0.2% | 0.6% | -0.2% | 0.0% |
| Factory Inventories | -0.3% | -0.3% | 0.3% | 0.1% | 0.2% |
| Inventory/Shipment Ratio | 1.35 | 1.34 | 1.35 | 1.35 | 1.35 |