Economic
Last Update: 02-Oct-15 09:35 ET
Nonfarm Payrolls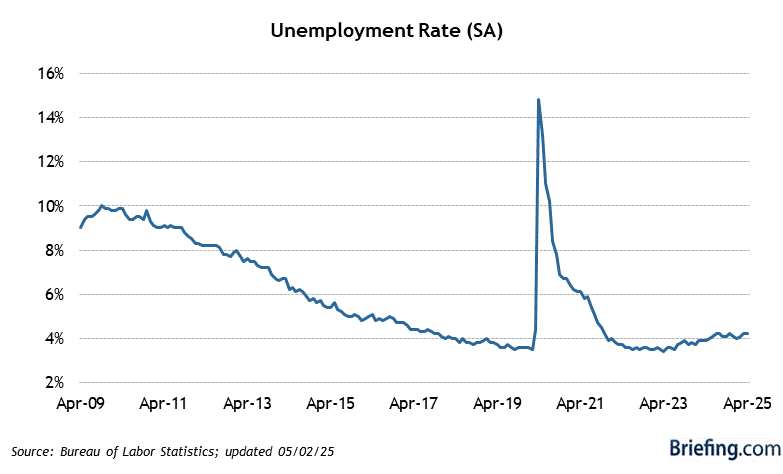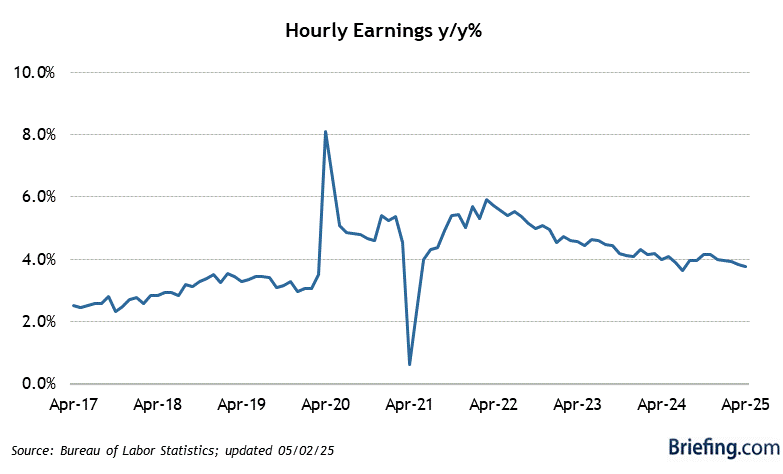 Highlights
Nonfarm payrolls increased by 142,000 in September after adding a downwardly revised 136,000 (from 173,000) in August. The Briefing.com Consensus expected nonfarm payrolls to increase by 205,000.
Private payrolls added 118,000 jobs in September, up from a downwardly revised 100,000 (from 140,000) in August. The consensus expected private payrolls to add 200,000 jobs in September.
The unemployment rate remained at 5.1% for a second consecutive month. That was exactly what the consensus expected.
Key Factors
All signs were pointing toward a rebound in the employment sector. Layoff levels, as shown by the initial claims level, were flirting with 15-year lows for the past month. The JOLTS report showed the most unfilled and open jobs since data started being collected in 2000.
Businesses should have easily added 200,000 or more jobs in September.
Not only did that not happen, but no amount of spin can make the September employment situation seem positive.
First, payroll revisions were negative across the board. August payrolls were revised down by 37,000 to 136,000. Historically, August payrolls tend to see large upward revisions. July payrolls were revised down to 223,000 from 245,000.
Next, average hourly earnings were flat, but that came about only after rounding. The actual average hourly wage declined by $0.01 to $25.09 from $25.10.
Finally, the average workweek declined to 34.5 hours from 34.6 hours.
Taken together, total aggregate earnings declined 0.2% in September after increasing a downwardly revised 0.4% (from 0.7%) in August.
Given the drop in aggregate earnings, positive consumption growth will only come about if consumers dip into their savings. So far in this recovery, consumers have been reluctant to reduce their savings to increase consumption growth.
The stability in the unemployment rate, however, was the result of a sizable decline in the labor force participation rate rather than steady employment growth. The labor force declined by 350,000 people, which pushed the participation rate down to 62.4% from 62.6% in August.
If the labor force participation rate remained at its August level, the unemployment rate would have increased by 0.2 percentage points to 5.3%.
All in all, this report is not what the Fed was hoping for as it pushes to raise interest rates sometime in 2015.
Big Picture
The September employment report put a big dent in the expectations that a rate hike will occur before the end of the year.
| Category | SEP | AUG | JUL | JUN | MAY |
| --- | --- | --- | --- | --- | --- |
| Establishment Survey | | | | | |
| Nonfarm Payrolls | 142K | 136K | 223K | 245K | 260K |
| Goods-Producing | -13K | -22K | 7K | -3K | -2K |
| Construction | 8K | 5K | 5K | 1K | 12K |
| Manufacturing | -9K | -18K | 11K | 1K | 6K |
| Service-Providing | 131K | 122K | 188K | 221K | 254K |
| Retail Trade | 24K | 4K | 29K | 36K | 33K |
| Financial | 0K | 12K | 15K | 21K | 9K |
| Business | 31K | 27K | 40K | 68K | 68K |
| Temporary help | 5K | 7K | -11K | 20K | 9K |
| Education/Health | 29K | 47K | 42K | 61K | 57K |
| Leisure/Hospitality | 35K | 32K | 32K | 19K | 56K |
| Government | 24K | 36K | 28K | 27K | 8K |
| Average Workweek | 34.5 | 34.6 | 34.6 | 34.5 | 34.5 |
| Production Workweek | 33.6 | 33.7 | 33.7 | 33.7 | 33.6 |
| Factory Overtime | 4.1 | 4.3 | 4.3 | 4.4 | 4.3 |
| Aggregate Hours Index | -0.2% | 0.1% | 0.5% | 0.2% | 0.2% |
| Avg Hourly Earnings | 0.0% | 0.4% | 0.2% | 0.0% | 0.2% |
| Household Survey | | | | | |
| Household Survey | | | | | |
| Civilian Unemp. Rate | 5.1% | 5.1% | 5.3% | 5.3% | 5.5% |
| Civilian Labor Force | -350K | -41K | 69K | -432K | 397K |
| Civilian Employed | -236K | 196K | 101K | -56K | 272K |
| Civilian Unemployed | -114K | -237K | -33K | -375K | 125K |