Economic
Last Update: 06-Apr-15 08:59 ET
Nonfarm Payrolls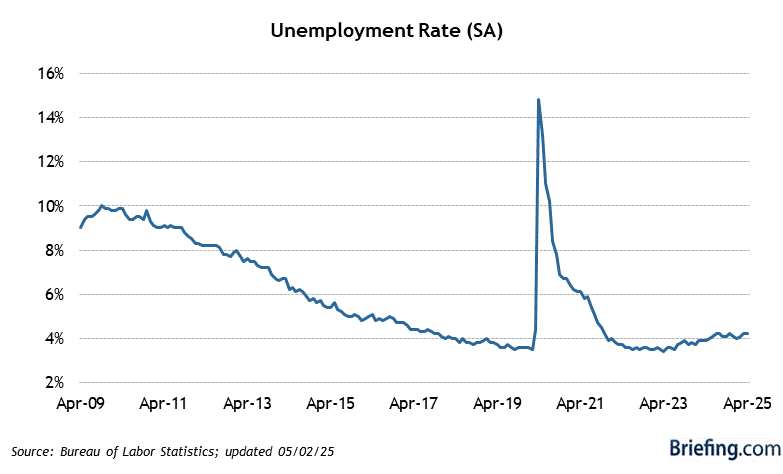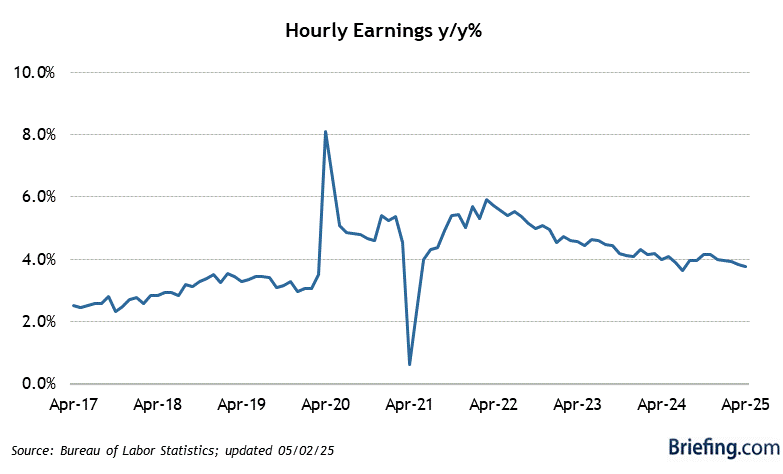 Highlights
Nonfarm payrolls added only 126,000 new jobs in March, down from a downwardly revised 264,000 (from 295,000) in February. The Briefing.com Consensus expected nonfarm payrolls to increase by 250,000.
Private payrolls increased by 129,000 jobs, down from a downwardly revised 264,000 (from 288,000) in February. The consensus expected private payrolls to add 245,000 jobs.
Key Factors
That was the first time jobs growth did not exceed 200,000 since February 2014, and it was the smallest increase since 109,000 jobs were added in December 2013.
The disappointment goes beyond the headline.
Average hourly earnings increased by a solid 0.3% after increasing by only 0.1% in February, but those gains were offset a significant cut in the number of hours workers. The average workweek fell to 34.5 hours in March from 34.6 in February.
Altogether, aggregate earnings increased by only 0.1% in March, down from a 0.3% increase in February. A 0.1% increase in income isn't enough to support a meaningful acceleration in consumption growth.
The knee-jerk reaction to the poor jobs numbers is to blame inclement weather conditions for the slowdown, but that is not necessarily true.
First, data from February was weak across the board. Areas of the country that were not hard hit by inclement weather, like California, experienced some of the same slowdowns that were seen in the Midwest and Northeast.
Second, weather conditions in March were much more mild than February. Softer job growth should have appeared a month earlier in February.
Third, researchers from the Chicago Federal Reserve modeled extreme inclement weather impacts on economic growth and found that there were very little effects. Last year, when inclement weather was blamed for the first quarter contraction, the researchers found that the weather impact was extremely minor.
A more likely explanation is that economic growth is just not as robust as many expected. Overall demand growth remains tepid, and job growth, at least in March, matched those trends.
That said, this is only one month of data, and volatility in job growth is normal. We would wait another month or two before getting too concerned that long term economic and job growth trends are really slowing.
Big Picture
The March employment report was a clear disappointment.
| Category | MAR | FEB | JAN | DEC | NOV |
| --- | --- | --- | --- | --- | --- |
| Establishment Survey | | | | | |
| Nonfarm Payrolls | 126K | 264K | 201K | 329K | 423K |
| Goods-Producing | -13K | 20K | 51K | 64K | 76K |
| Construction | -1K | 29K | 41K | 44K | 30K |
| Manufacturing | -1K | 2K | 17K | 19K | 45K |
| Service-Providing | 142K | 244K | 151K | 255K | 338K |
| Retail Trade | 26K | 32K | 35K | 0K | 61K |
| Financial | 8K | 7K | 19K | 7K | 28K |
| Business | 40K | 42K | 20K | 72K | 96K |
| Temporary help | 11K | -8K | -8K | 21K | 31K |
| Education/Health | 38K | 57K | 42K | 54K | 51K |
| Leisure/Hospitality | 13K | 70K | 24K | 56K | 42K |
| Government | -3K | 0K | -1K | 10K | 9K |
| Average Workweek | 34.5 | 34.6 | 34.6 | 34.6 | 34.6 |
| Production Workweek | 33.7 | 33.8 | 33.7 | 33.8 | 33.8 |
| Factory Overtime | 4.3 | 4.3 | 4.4 | 4.6 | 4.6 |
| Aggregate Hours Index | -0.2% | 0.3% | 0.1% | 0.3% | 0.4% |
| Avg Hourly Earnings | 0.3% | 0.1% | 0.6% | -0.2% | 0.4% |
| Household Survey | | | | | |
| Household Survey | | | | | |
| Civilian Unemp. Rate | 5.5% | 5.5% | 5.7% | 5.6% | 5.8% |
| Civilian Labor Force | -96K | -178K | 1051K | -273K | 119K |
| Civilian Employed | 34K | 96K | 759K | 111K | 4K |
| Civilian Unemployed | -130K | -274K | 291K | -383K | 115K |