Economic
Last Update: 06-Dec-13 09:18 ET
Nonfarm Payrolls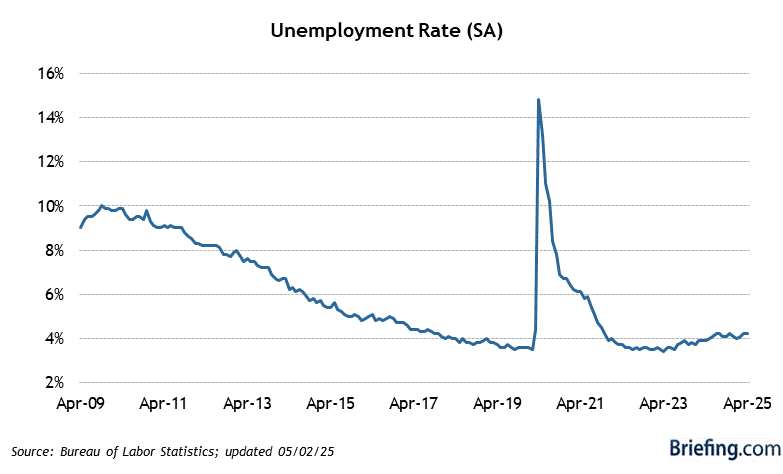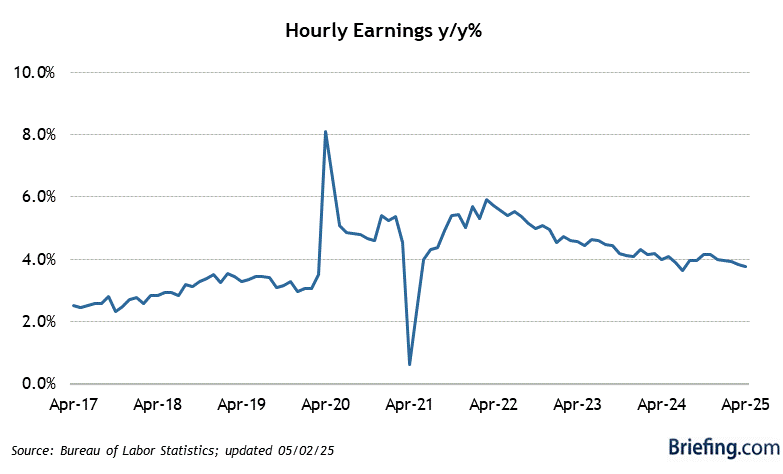 Highlights
Nonfarm payrolls increased by 203,000 in November after adding a downwardly revised 200,000 (from 204,000) in October. The Briefing.com consensus expected nonfarm payrolls to increase by 188,000.
Private payrolls were slightly weaker as 196,000 new jobs were added in November. That was down from an increase of 214,000 in October and slightly below the 200,000 gain expected by the consensus.
The unemployment rate dropped to 7.0% in November from 7.2% in October. The consensus expected the unemployment rate to increase to 7.3%.
Key Factors
There is no way around it, the labor situation has improved significantly over the past few months. This was shocking considering most economists, including us, initially believed the government shutdown was going to derail the employment sector with increased private layoffs and furloughs. Instead, the private sector showed an unexpected resiliency as firms expanded rather than retrenched during the shutdown.
Interestingly, many economists also believed that the October gain was aberration due to data collection problems following the shutdown. It was assumed that these number would be heavily revised down as more data became available. The gains in October retail sales, industrial production, and durable goods orders excluding transportation all supported the October employment surge, but there was still the feeling that the data was somehow wrong.
The latest reading showed a slightly downward revision to the October payroll level, but it nothing of the magnitude that was originally expected. The increase in economic activity that was reported across multiple sectors is true.
The hourly workweek increased to 34.5 in November from 34.4 in October and average hourly earnings increased 0.2%. Altogether, aggregate wages increased a solid 0.6%. That should be sufficient for another month of strong consumption growth.
The government shutdown played havoc on the unemployment survey in October. Workers who were furloughed due to the shutdown should have reported themselves as unemployed. Many of them, however, were confused with the question and listed themselves as simply out of the labor force. That artificially deflated the labor force participation rate. Those workers "returned" the labor force in November, which boosted both the labor participation rate and the total employed.
On top of those gains, addition people found employment in November. That corresponded to the strong payroll gain.
The bonus of workers returning to their employed jobs and the gain of new jobs caused the big decline in the unemployment rate.
Big Picture
The employment sector is showing signs of improvement.
| Category | NOV | OCT | SEP | AUG | JUL |
| --- | --- | --- | --- | --- | --- |
| Establishment Survey | | | | | |
| Nonfarm Payrolls | 203K | 200K | 175K | 238K | 89K |
| Goods-Producing | 44K | 31K | 29K | 20K | -12K |
| Construction | 17K | 12K | 17K | 1K | 3K |
| Manufacturing | 27K | 16K | 8K | 15K | -17K |
| Service-Providing | 152K | 183K | 139K | 187K | 112K |
| Retail Trade | 22K | 46K | 23K | 38K | 41K |
| Financial | -3K | 7K | -3K | -1K | 14K |
| Business | 35K | 48K | 47K | 42K | 35K |
| Temporary help | 16K | 9K | 27K | 15K | 13K |
| Education/Health | 40K | 30K | 14K | 57K | 16K |
| Leisure/Hospitality | 17K | 49K | -1K | 49K | -3K |
| Government | 7K | -14K | 7K | 31K | -11K |
| Average Workweek | 34.5 | 34.4 | 34.4 | 34.5 | 34.4 |
| Production Workweek | 33.7 | 33.6 | 33.7 | 33.7 | 33.6 |
| Factory Overtime | 4.5 | 4.4 | 4.3 | 4.4 | 4.3 |
| Aggregate Hours Index | 0.5% | 0.1% | -0.1% | 0.5% | -0.2% |
| Avg Hourly Earnings | 0.2% | 0.1% | 0.2% | 0.3% | 0.0% |
| Household Survey | | | | | |
| Household Survey | | | | | |
| Civilian Unemp. Rate | 7.0% | 7.3% | 7.2% | 7.3% | 7.4% |
| Civilian Labor Force | 455K | -720K | 73K | -312K | -37K |
| Civilian Employed | 818K | -735K | 133K | -115K | 227K |
| Civilian Unemployed | -365K | 17K | -61K | -198K | -263K |