Economic
Last Update: 28-Aug-15 18:15 ET
Nonfarm Payrolls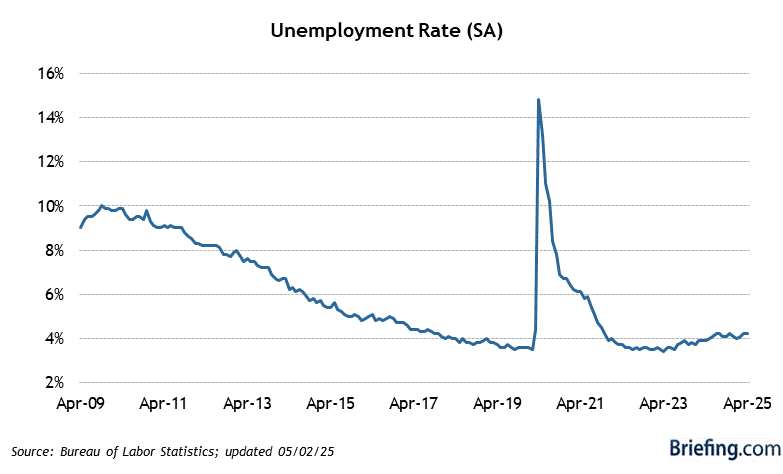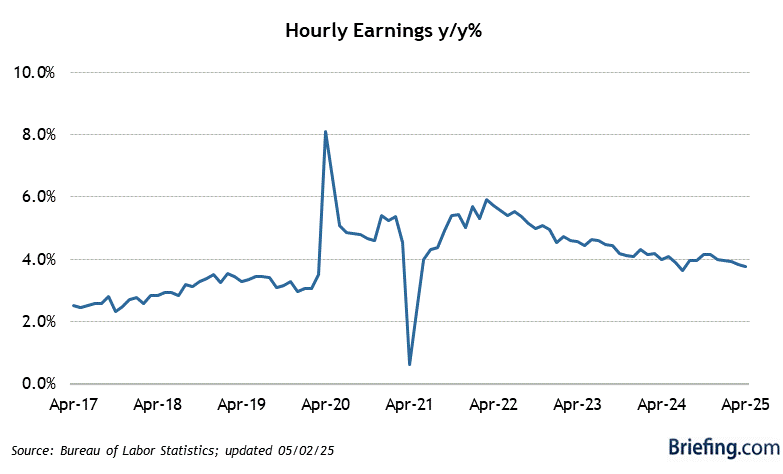 Highlights
Nonfarm payrolls added 215,000 jobs in July after adding an upwardly revised 231,000 in June. The Briefing.com Consensus expected nonfarm payrolls to increase by 229,000 jobs.
Private payrolls added 210,000 jobs in July, down from an upwardly revised 227,000 from June. The consensus expected private nonfarm payrolls to increase by 220,000 jobs.
Average hourly earnings increased 0.2% in July after remaining flat in June. The average hourly workweek increased to 34.6 hours from 34.5.
Taken altogether, aggregate earnings increased 0.7% after increasing 0.1% in June.
The unemployment rate remained at 5.3% for a second consecutive month. That is exactly what the consensus expected.
Key Factors
The July employment report fit in exactly with what the Fed is looking for. Job growth remained relatively robust after exceeding 200,000 for a third consecutive month, and the 0.7% increase in aggregate earnings should help bolster an acceleration in consumption growth.
In our view, there is still a green light for a rate hike at the September FOMC meeting.
Oddly, the labor force participation rate remained at 62.6%, which is the lowest participation rate since October 1977.
There was talk that the drop in the participation rate in June (from 62.9% in May) was the result of extreme winter weather conditions keeping young adults in school longer into June than normal. With students not looking for summer employment during the survey week, the participation rate was artificially deflated.
With school over, those potential workers should have returned to the labor force in July. That did not happen, and participation actually got worse. The labor force for workers between the ages of 16 and 19 dropped by 121,000 people. That pushed the labor force participation rate down to 33.5% from 34.3%.
This trend tells us that young adults feel the that the competition for low/minimum wage jobs is extremely high, and it's just not worth the effort for these potential workers to even search out employment.
Big Picture
The employment report was good enough to support a rate hike at the next FOMC meeting.
| Category | JUL | JUN | MAY | APR | MAR |
| --- | --- | --- | --- | --- | --- |
| Establishment Survey | | | | | |
| Nonfarm Payrolls | 215K | 231K | 260K | 187K | 119K |
| Goods-Producing | 17K | -2K | -2K | 16K | -20K |
| Construction | 6K | 0K | 12K | 30K | -12K |
| Manufacturing | 15K | 2K | 6K | 0K | 6K |
| Service-Providing | 193K | 229K | 254K | 173K | 137K |
| Retail Trade | 36K | 37K | 33K | 11K | 32K |
| Financial | 17K | 17K | 9K | 7K | 13K |
| Business | 40K | 69K | 68K | 66K | 39K |
| Temporary help | -9K | 17K | 9K | 11K | 16K |
| Education/Health | 37K | 58K | 57K | 54K | 42K |
| Leisure/Hospitality | 30K | 24K | 56K | 8K | 6K |
| Government | 5K | 4K | 8K | -2K | 2K |
| Average Workweek | 34.6 | 34.5 | 34.5 | 34.5 | 34.5 |
| Production Workweek | 33.7 | 33.7 | 33.6 | 33.6 | 33.7 |
| Factory Overtime | 4.3 | 4.4 | 4.3 | 4.3 | 4.3 |
| Aggregate Hours Index | 0.5% | 0.2% | 0.2% | 0.1% | -0.2% |
| Avg Hourly Earnings | 0.2% | 0.0% | 0.2% | 0.2% | 0.3% |
| Household Survey | | | | | |
| Household Survey | | | | | |
| Civilian Unemp. Rate | 5.3% | 5.3% | 5.5% | 5.4% | 5.5% |
| Civilian Labor Force | 69K | -432K | 397K | 166K | -96K |
| Civilian Employed | 101K | -56K | 272K | 192K | 34K |
| Civilian Unemployed | -33K | -375K | 125K | -26K | -130K |