Economic
Last Update: 17-Apr-14 18:14 ET
Nonfarm Payrolls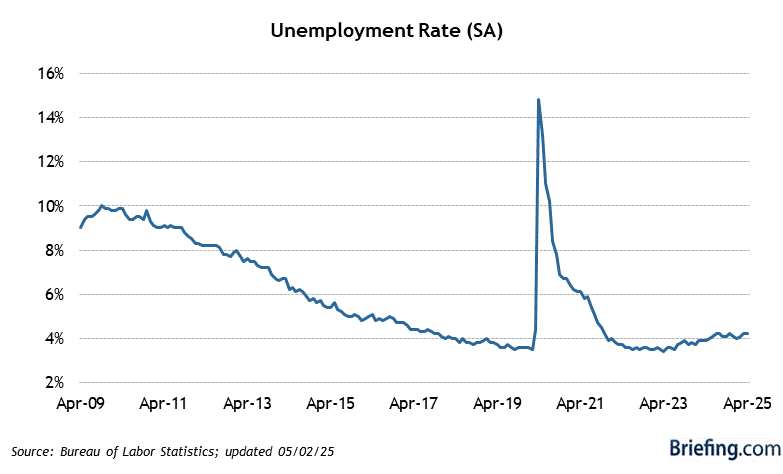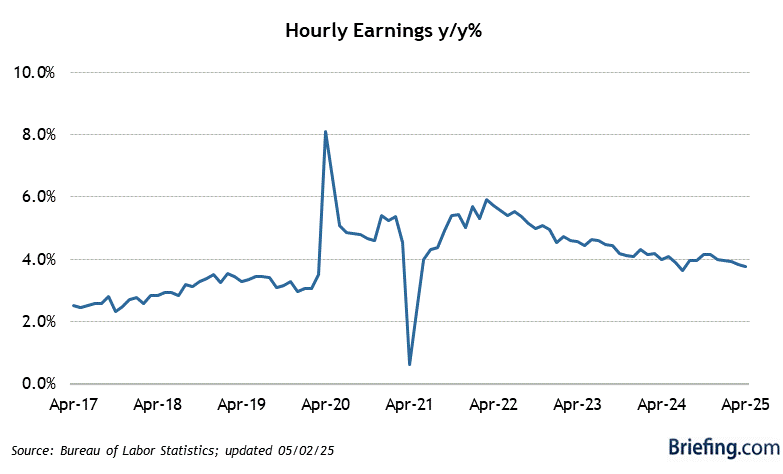 Highlights
Nonfarm payrolls added 192,000 jobs in March after adding an upwardly revised 197,000 jobs (from 175,000) in February. The Briefing.com consensus expected nonfarm payrolls to increase by 195,000 jobs.
Total nonfarm private payrolls also increased by 192,000 jobs in March, up from 188,000 in February. The consensus expected these payrolls to increase by 205,000.
The unemployment rate remained at 6.7% in March. The consensus expected the unemployment rate to tick down to 6.6%.
Key Factors
Overall, the employment data was fairly solid, but nothing to really get excited about. The initial claims data over the past several weeks supported payroll growth in the neighborhood of 200,000. That was exactly what happened in March.
Winter weather, which was blamed for prior weaknesses, again did not show up in the payroll numbers. Construction employment increased by 19,000 in March, which was only marginally above the 18,000 added in February. If winter weather conditions really impacted the economy, construction payrolls should have spiked in March as employment recovered from winter delays.
The one area that winter weather did impact was the number of hours worked. The average workweek fell to 34.3 in February as weather conditions prevented employees from working their normal hours. As temperatures and conditions returned to normal, the average workweek jumped to 34.5.
The increase in the workweek also discounts the notion that the Affordable Care Act was causing employers to reduce hours in order not to have to offer health insurance. Hours would have remained at or near February levels if firms were actively trying to reduce their full-time work staff.
Average hourly earnings were essentially flat in March after increasing 0.4% in February.
Altogether, aggregate wages jumped 0.7% in March. That was the biggest increase in aggregate wages since November 2013, and it should easily support strong March payroll growth.
In a strange twist, the increase in the unemployment rate was actually a sign of improvement in labor market conditions. The number of employed workers increased by 476,000 in March, but that was more than offset by a 503,000 surge in the labor force as a number of discouraged workers returned to the labor market. That is theory was supported by the decline (from 8.1% to 8.0%) in U-5 unemployment number, which includes discouraged workers and all those marginally attached to the labor force.
The labor force participation rate increased 0.2 percentage points to 63.2%.
Big Picture
Employment growth matched trends in the initial claims.
| Category | MAR | FEB | JAN | DEC | NOV |
| --- | --- | --- | --- | --- | --- |
| Establishment Survey | | | | | |
| Nonfarm Payrolls | 192K | 197K | 144K | 84K | 274K |
| Goods-Producing | 25K | 40K | 65K | -13K | 68K |
| Construction | 19K | 18K | 51K | -20K | 32K |
| Manufacturing | -1K | 19K | 8K | 7K | 35K |
| Service-Providing | 167K | 148K | 101K | 99K | 204K |
| Retail Trade | 21K | -2K | -22K | 52K | 22K |
| Financial | 1K | 9K | -1K | 2K | -4K |
| Business | 57K | 81K | 49K | 16K | 73K |
| Temporary help | 29K | 28K | 8K | 32K | 37K |
| Education/Health | 34K | 31K | 16K | 5K | 25K |
| Leisure/Hospitality | 29K | 29K | 25K | 18K | 37K |
| Government | 0K | 9K | -22K | -2K | 2K |
| Average Workweek | 34.5 | 34.3 | 34.4 | 34.3 | 34.5 |
| Production Workweek | 33.7 | 33.4 | 33.6 | 33.5 | 33.7 |
| Factory Overtime | 4.6 | 4.3 | 4.4 | 4.5 | 4.5 |
| Aggregate Hours Index | 0.7% | -0.1% | 0.4% | -0.5% | 0.5% |
| Avg Hourly Earnings | 0.0% | 0.4% | 0.2% | 0.1% | 0.2% |
| Household Survey | | | | | |
| Household Survey | | | | | |
| Civilian Unemp. Rate | 6.7% | 6.7% | 6.6% | 6.7% | 7.0% |
| Civilian Labor Force | 503K | 264K | 523K | -347K | 659K |
| Civilian Employed | 476K | 42K | 638K | 143K | 958K |
| Civilian Unemployed | 27K | 223K | -115K | -490K | -299K |