Economic
Last Update: 03-Jul-14 09:19 ET
Nonfarm Payrolls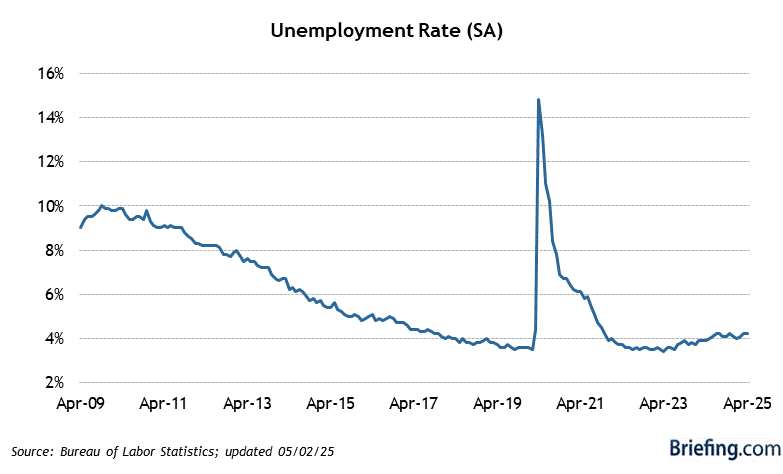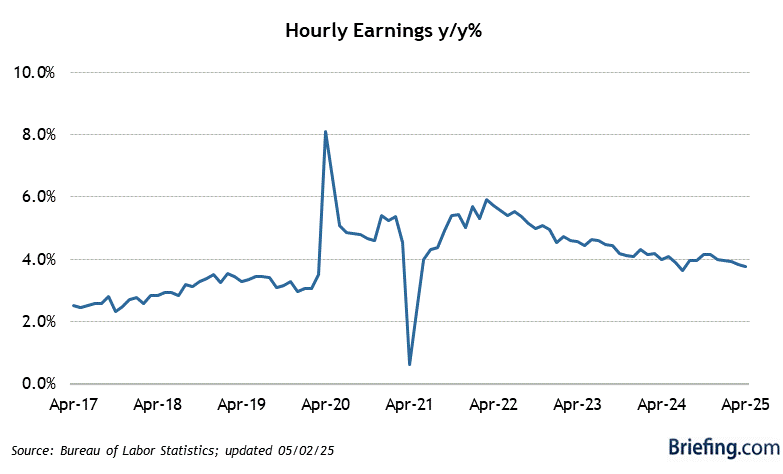 Highlights
Nonfarm payrolls added 288,000 jobs in June after adding an upwardly revised 224,000 (from 217,000) in May. The Briefing.com consensus expected nonfarm payrolls to increase by 210,000.
Private payrolls were up 262,000 jobs in June after adding 224,000 jobs in May. That outpaced the consensus expectations of a 213,000 increase.
The unemployment rate fell to 6.1% in June from 6.3% in May. The consensus expected the unemployment rate to remain at 6.3%.
Key Factors
Over the past few weeks, the unemployment claims data have shown significant improvement in overall labor market conditions. The drop in initial claims suggested that payroll growth would accelerate from its roughly 200,000 per month pace. While gains in payrolls were never guaranteed - in the past we've seen claims fall as businesses reduced layoffs due to the satisfaction with the size of their work-staff - the new level of claims implied payroll growth nearer to 300,000 per month.
That was roughly what occurred in June. The improvement in labor market conditions, implied by the jobless numbers, were confirmed in this months payroll data.
The details of the report were strong.
Goods-producing industries added 26,000 jobs and the service-providing added 236,000 jobs.
Outsized gains in retail trade, up 40,200 in June after adding 10,500 jobs in May, offset slower growth in health care services, which added 33,700 new jobs in June after adding 58,800 jobs in May.
Average hourly earnings increased 0.2% in June, the same rate as May. The hourly workweek was unchanged at 34.5 hours.
Altogether, the gains in payrolls combined with the increase in average hourly earnings and the unchanged hourly workweek resulted in a 0.5% increase in aggregate earnings. That is up from a 0.4% gain in May and should provide enough support for a strong retail sales increase.
Importantly, the decline in the unemployment rate was a result of workers finding jobs (+407,000) and not from a drop in the labor force. This is another sign of actual labor market improvements and not a statistical anomaly.
The labor force participation rate remained at 62.8% for a third consecutive month.
If there was one negative in the report it was that 275,000 of the 407,000 newly employed workers were only able to find part time work due to business conditions. This type of employment growth will keep downward pressure on overall income growth.
Big Picture
The acceleration in payroll growth confirms the improvements in labor market conditions implied by the recent decline in unemployment claims.
| Category | JUN | MAY | APR | MAR | FEB |
| --- | --- | --- | --- | --- | --- |
| Establishment Survey | | | | | |
| Nonfarm Payrolls | 288K | 224K | 304K | 203K | 222K |
| Goods-Producing | 26K | 22K | 50K | 21K | 48K |
| Construction | 6K | 9K | 36K | 13K | 24K |
| Manufacturing | 16K | 11K | 9K | 4K | 20K |
| Service-Providing | 236K | 202K | 228K | 179K | 153K |
| Retail Trade | 40K | 11K | 43K | 29K | -6K |
| Financial | 17K | 8K | 9K | 0K | 10K |
| Business | 67K | 58K | 72K | 47K | 82K |
| Temporary help | 10K | 16K | 15K | 22K | 25K |
| Education/Health | 38K | 62K | 32K | 40K | 32K |
| Leisure/Hospitality | 39K | 45K | 32K | 31K | 35K |
| Government | 26K | 0K | 26K | 3K | 21K |
| Average Workweek | 34.5 | 34.5 | 34.5 | 34.5 | 34.3 |
| Production Workweek | 33.7 | 33.7 | 33.7 | 33.7 | 33.4 |
| Factory Overtime | 4.5 | 4.6 | 4.4 | 4.5 | 4.3 |
| Aggregate Hours Index | 0.2% | 0.2% | 0.3% | 0.7% | -0.1% |
| Avg Hourly Earnings | 0.2% | 0.2% | 0.0% | 0.1% | 0.4% |
| Household Survey | | | | | |
| Household Survey | | | | | |
| Civilian Unemp. Rate | 6.1% | 6.3% | 6.3% | 6.7% | 6.7% |
| Civilian Labor Force | 81K | 192K | -806K | 503K | 264K |
| Civilian Employed | 407K | 145K | -73K | 476K | 42K |
| Civilian Unemployed | -325K | 46K | -733K | 27K | 223K |