Economic
Last Update: 06-Feb-15 09:23 ET
Nonfarm Payrolls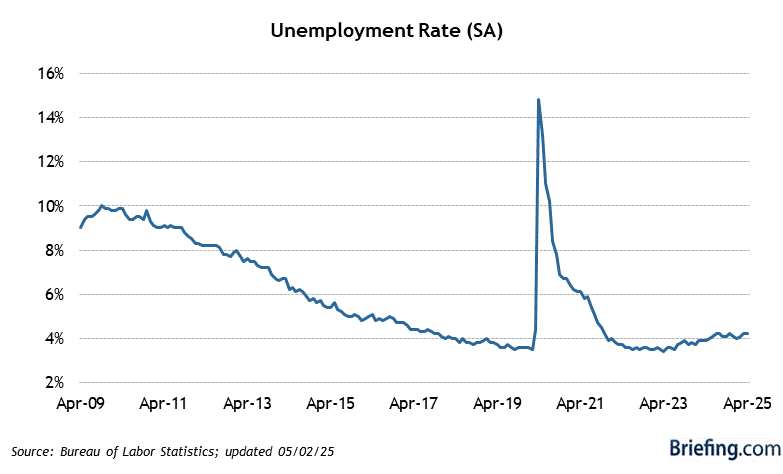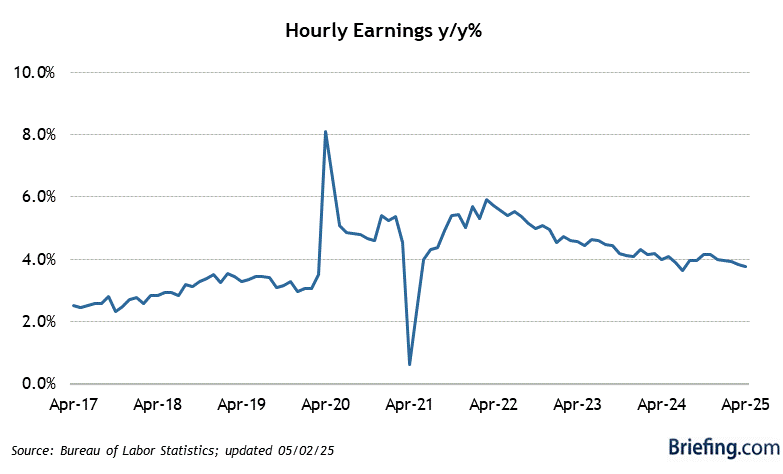 Highlights
Nonfarm payrolls added 257,000 new jobs in January after adding an upwardly revised 329,000 (from 252,000) in December. The Briefing.com Consensus expected nonfarm payrolls to add 235,000.
Private payrolls increased by 267,000 jobs in January, down from an upwardly revised 320,000 (from 240,000) in December. The consensus expected private payrolls to increase by 225,000 jobs.
The unemployment rate ticked up to 5.7% in January from 5.6% in December. The consensus expected the unemployment rate to remain at 5.6%.
Key Factors
The headline payroll gain was undoubtedly good. Early January initial claims readings in excess of 300,000, negative job reports from the oil and gas sector, and relatively weak employment indices in the regional and national business surveys conveyed that January's jobs data would be poor. Not only did payrolls top expectations, but payroll levels in December and November were revised up by at least 70,000.
More importantly, the decline in the average hourly wage in December (-0.2%) was more than offset by a surge in wage growth (0.5%) in January, which easily topped the consensus forecast of a 0.3% gain.
Add in the increase payrolls, aggregate wages increased by a solid 0.7%. That is more than enough for an acceleration in consumption growth from fourth quarter levels.
As we mentioned previously, there were a lot of anecdotal reports that low oil prices were boosting layoff activities in the oil and gas sector. We assumed that these layoffs were the root cause for the 300,000 plus initial claims readings from the beginning of January even though those claims reports never directly implicated the oil and gas sector for the increase. The payroll showed that jobs in the oil and gas extraction industry were only down by 1,900 in January. That is a very minor blip and not enough to cause the increase in the initial claims level.
Right now, there is no conclusive evidence about why the claims level increased during the first couple weeks of January. The recent reduction in claims back below 300,000 could be a steady trend.
The January unemployment data includes annual revisions to the seasonal adjustment factors. The actual labor force, employment, and unemployment levels cannot be compared to December.
Big Picture
Strong employment and wage growth in January shows that the sluggishness in the December employment report was not the start of a new labor trend.
| Category | JAN | DEC | NOV | OCT | SEP |
| --- | --- | --- | --- | --- | --- |
| Establishment Survey | | | | | |
| Nonfarm Payrolls | 257K | 329K | 423K | 221K | 250K |
| Goods-Producing | 58K | 73K | 76K | 34K | 38K |
| Construction | 39K | 44K | 30K | 10K | 22K |
| Manufacturing | 22K | 26K | 45K | 23K | 9K |
| Service-Providing | 209K | 247K | 338K | 184K | 197K |
| Retail Trade | 46K | 7K | 61K | 26K | 32K |
| Financial | 26K | 9K | 28K | 7K | 10K |
| Business | 39K | 80K | 96K | 40K | 51K |
| Temporary help | -4K | 25K | 31K | 9K | 14K |
| Education/Health | 46K | 48K | 51K | 28K | 46K |
| Leisure/Hospitality | 37K | 47K | 42K | 55K | 49K |
| Government | -10K | 9K | 9K | 3K | 15K |
| Average Workweek | 34.6 | 34.6 | 34.6 | 34.6 | 34.5 |
| Production Workweek | 33.8 | 33.9 | 33.8 | 337 | 33.7 |
| Factory Overtime | 4.4 | 4.6 | 4.6 | 4.4 | 4.5 |
| Aggregate Hours Index | 0.2% | 0.3% | 0.4% | 0.55 | 0.2% |
| Avg Hourly Earnings | 0.5% | -0.2% | 0.4% | 0.2% | 0.0% |
| Household Survey | | | | | |
| Household Survey | | | | | |
| Civilian Unemp. Rate | 5.7% | 5.6% | 5.8% | 5.8% | 5.9% |
| Civilian Labor Force | 1051K | -273K | 119K | 416K | -97K |
| Civilian Employed | 759K | 111K | 4K | 683K | 232K |
| Civilian Unemployed | 291K | -383K | 115K | -267K | -329K |