Economic
Last Update: 25-Nov-15 10:37 ET
Durable Orders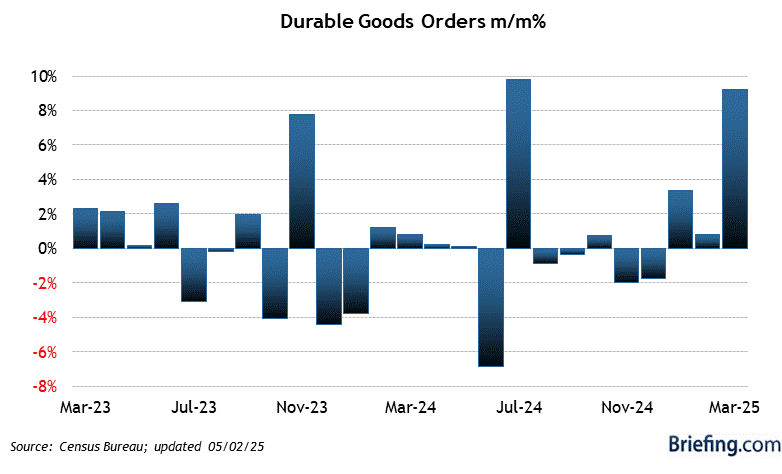 Highlights
The October Durable Goods Orders report showed a 3.0% gain in durable orders and a 0.5% increase in durable orders excluding transportation. Briefing.com consensus estimates for those measures were 1.5% and 0.5%, respectively.
Key Factors
Durable goods orders for September were revised higher to show a decline of 0.8% versus a previous estimate of a 1.2% decline. Similarly, orders excluding transportation were also revised higher, showing a decline of just 0.1% versus the prior report of a 0.6% decline.
The October report was driven primarily by transportation orders, which featured an 81% increase in nondefense aircraft and parts orders that followed on the heels of declines in both August and September.
Outside of the transportation sector, order activity was more modest but still positive. To that end, machinery orders increased 1.6% after a 0.3% decline in September, primary metals orders jumped 0.4% after falling 2.5% in September, computer and electronic products orders rose 1.8% after a 0.3% drop in September,and communication equipment orders jumped 1.8% on top of a 2.0% increase in September.
Order declines were seen for fabricated metal products (-0.8% after a 2.0% increase in September), electrical equipment, appliances and components (-1.1% after a 1.6% decline in September); and motor vehicles and part (-2.9% after a 1.0% increase in September).
Orders for nondefense capital goods, excluding aircraft, rose for the second straight month, increasing 1.3% on top of a 0.4% increase in September. That's an encouraging sign since these orders are a proxy for business investment. Shipments of these goods, though, declined 0.4% versus a 0.7% increase in September. That's a discouraging print insomuch as it relates to fourth quarter GDP since shipments factor into the nonresidential investment equipment component of the GDP report.
Big Picture
The flow of orders reflects some normal volatility for the durable goods segment as many categories bounced back from declines in the prior month while other areas that saw increases in September saw a drop in orders in October.
| Category | OCT | SEP | AUG | JUL | JUN |
| --- | --- | --- | --- | --- | --- |
| Total Durable Orders | 3.0% | -0.8% | -2.9% | 1.9% | 4.1% |
| Less Defense | 3.2% | -1.6% | -2.1% | 0.8% | 4.2% |
| Less Transport | 0.5% | -0.1% | -0.9% | 0.4% | 1.0% |
| Transportation | 8.0% | -2.2% | -6.9% | 4.9% | 10.8% |
| Capital Goods | 11.8% | -4.4% | -7.0% | 3.0% | 9.9% |
| Nondefense | 13.2% | -6.0% | -4.6% | 0.6% | 10.7% |
| Nondefense/nonaircraft (core cap gds) | 1.3% | 0.4% | -1.4% | 1.9% | 1.5% |
| Defense Cap Goods | 1.0% | 10.7% | -23.8% | 24.4% | 2.8% |