Economic
Last Update: 17-Apr-14 18:13 ET
Durable Orders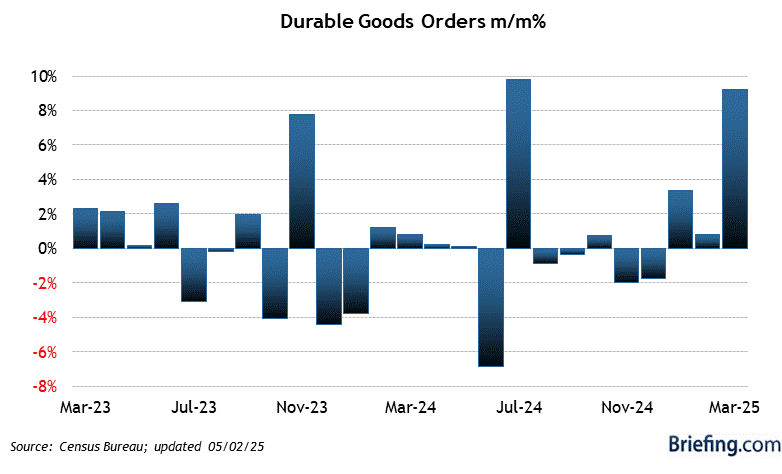 Highlights
Durable goods orders increased 2.2% in February after falling a negatively revised 1.3% (from -1.0%) in January. The Briefing.com consensus expected durable goods orders to increase 1.0%.
Excluding transportation, durable goods orders increased a minor 0.2% in February. That was down from a negatively revised 0.9% (from 1.1%) increase in January. The consensus expected these orders to increase 0.3%..
Key Factors
The upward headline surprise does not represent a strengthening in demand from the manufacturing sector. A 6.9% increase in transportation goods provided most of the increase in February demand. Much of that was already known, as Boeing (BA) reported 74 aircraft orders in February, up from 38 in January. Altogether, defense and nondefense aircraft orders increased 15.2%.
There were pockets of strong demand outside of transportation. Orders of primary metals increased 1.8% in February and orders of computers and electronics products increased 0.4%. On the whole, however, order levels were weak.
Business investment demand shrank in February. Orders of nondefense capital goods excluding aircraft fell 1.3% in February after increasing a downwardly revised 0.8% (from 1.5%) in January. Shipments of these goods, which factor into current quarter GDP growth, increased 0.5% after declining 1.4% in January.
Big Picture
Unfilled orders continue to tick up, which should bolster production over the next several months.
| Category | FEB | JAN | DEC | NOV | OCT |
| --- | --- | --- | --- | --- | --- |
| Total Durable Orders | 2.2% | -1.4% | -5.3% | 2.7% | -0.7% |
| Less Defense | 1.7% | -2.0% | -4.3% | 2.9% | 0.2% |
| Less Transport | 0.1% | 0.9% | -1.8% | 0.2% | 0.7% |
| Transportation | 7.0% | -6.2% | -12.1% | 8.1% | -3.5% |
| Capital Goods | -1.5% | -3.7% | -8.5% | 7.4% | -2.6% |
| Nondefense | -2.9% | -5.3% | -6.3% | 8.2% | -0.8% |
| Nondefense/nonaircraft (core cap gds) | -1.4% | 0.8% | -1.6% | 3.0% | -0.6% |
| Defense Cap Goods | 13.7% | 17.7% | -30.7% | -0.2% | -16.5% |