Economic
Last Update: 06-Mar-14 10:16 ET
Durable Orders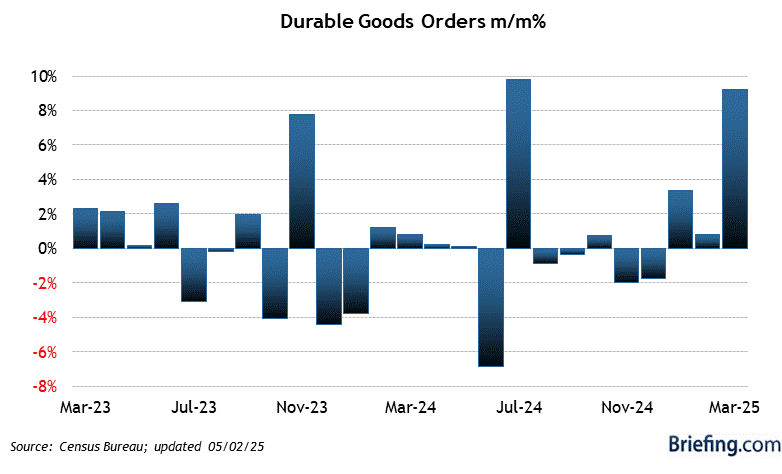 Highlights
Durable goods orders fell 1.0% in January after declining a downwardly revised 5.3% (from -4.2%) in December. The Briefing.com consensus expected durable goods orders to fall 1.0%.
Excluding transportation, orders increased 1.1% after falling a downwardly revised 1.9% (from -1.3%) in December. The consensus expected these orders to decline 0.2%.
Key Factors
A big drop in aircraft orders (-7.2%) pulled overall transportation demand down 5.6%. Most of this decline was expected as Boeing (BA) reported a large decline in January orders. The only unknown was how large the seasonal adjustments – which were responsible for the entire 12% decline in transportation orders in December – would upwardly adjust the January transportation data.
The strength in orders excluding transportation was a shock considering the national ISM orders index plummeted 13.2 points and barely remained above the expansion/contraction threshold.
The gain in these orders was mostly the result of a 7.3% increase in fabricated metals demand and a 4.7% increase in computers and electronic products. Orders for machinery (-0.4%) and electrical equipment (-2.1%) both declined.
Orders of nondefense capital goods excluding aircraft increased 1.7% in January and nearly offset the entire 1.8% December decline. The effect on GDP, however, will be limited. Shipments, which factor into GDP growth, fell 0.8% in January after increasing 0.3% in December. We are again seeing large increases in back orders in business investment goods that manufacturers are either unable or unwilling to produce.
Big Picture
Sold gains in backlogs should keep overall durable goods manufacturing production strong in the face of uncertain demand.
| Category | JAN | DEC | NOV | OCT | SEP |
| --- | --- | --- | --- | --- | --- |
| Total Durable Orders | -1.0% | -5.3% | 2.7% | -0.7% | 4.2% |
| Less Defense | -1.7% | -4.3% | 2.9% | 0.2% | 3.6% |
| Less Transport | 1.1% | -1.8% | 0.2% | 0.7% | 0.3% |
| Transportation | -5.7% | -12.1% | 8.1% | -3.5% | 13.1% |
| Capital Goods | -2.4% | -8.5% | 7.4% | -2.6% | 8.2% |
| Nondefense | -4.1% | -6.3% | 8.2% | -0.8% | 7.0% |
| Nondefense/nonaircraft (core cap gds) | 1.5% | -1.6% | 3.0% | -0.6% | -1.2% |
| Defense Cap Goods | 21.4% | -30.7% | -0.2% | -16.5% | 19.1% |