Economic
Last Update: 05-Aug-14 10:24 ET
Durable Orders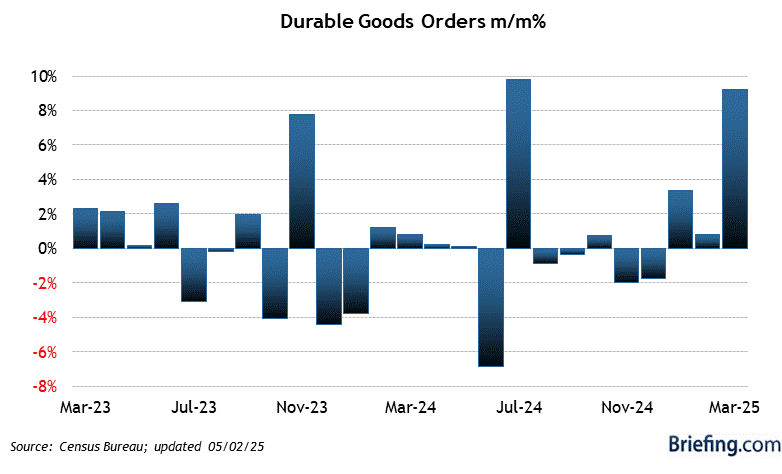 Highlights
Durable goods orders increased 0.7% in June after declining a downwardly revised 1.0% (from -0.9%) in May. The Briefing.com consensus expected durable goods orders to increase 0.3%.
Excluding transportation, durable goods orders increased 0.8% following a negatively revised 0.1% (from 0.0%) decline for May. The consensus expected these orders to increase 0.7%.
Key Factors
Transportation orders increased 0.6% in June after falling 2.8% in May. Aircraft orders rose 10.1%, in-line with the orders reports from Boeing (BA). Those gains, however, were partially offset by a 2.1% decline in motor vehicle and parts orders.
Orders demand was solid in many areas including a 2.4% increase in the machinery sector and a 0.8% increase in computer and electronic productions.
Business demand improved. Orders of nondefense capital goods excluding aircraft rose 1.4% after declining 1.2% in May. The positive effect on GDP, however, was minimal. For the third consecutive month shipments of business equipment orders declined, this time by 1.0%.
Manufacturers are continuing to stockpile orders rather than produce them. Unfilled orders of nondefense capital goods excluding aircraft increased 1.2% in June after increasing 0.5% in May.
Big Picture
For the past several months, manufacturers have stockpiled large amounts of unfilled orders. Typically, this should bolster production growth. However, manufacturers have been unwilling to produce out of the backlog.
| Category | JUN | MAY | APR | MAR | FEB |
| --- | --- | --- | --- | --- | --- |
| Total Durable Orders | 1.7% | -0.9% | 0.9% | 3.7% | 2.6% |
| Less Defense | 1.5% | 0.2% | -0.8% | 3.1% | 2.3% |
| Less Transport | 1.9% | -0.1% | 0.4% | 3.0% | 0.8% |
| Transportation | 1.3% | -2.6% | 1.8% | 5.2% | 6.9% |
| Capital Goods | 3.8% | -5.2% | 3.3% | 10.5% | -0.6% |
| Nondefense | 3.4% | -2.3% | -0.6% | 9.7% | -1.8% |
| Nondefense/nonaircraft (core cap gds) | 3.3% | -1.4% | -1.1% | 4.7% | 0.1% |
| Defense Cap Goods | 6.9% | -24.0% | 38.3% | 18.8% | 12.5% |