Economic
Last Update: 03-Sep-14 10:51 ET
Durable Orders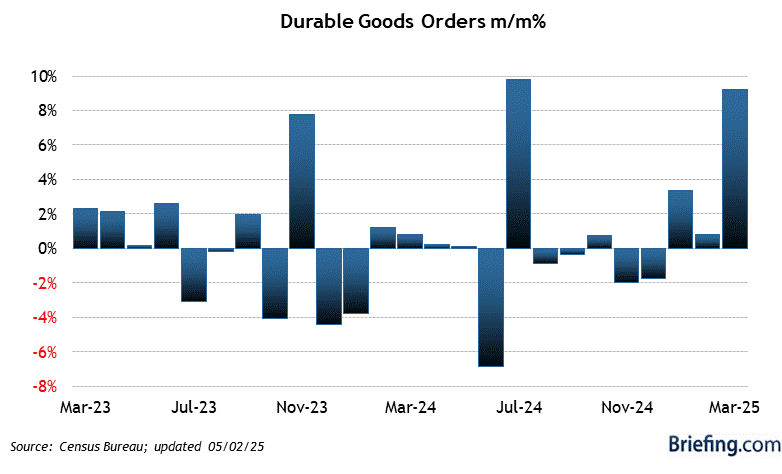 Highlights
Durable goods orders soared 22.6% in July after increasing an upwardly revised 2.7% (from 1.7%) in June. The Briefing.com consensus expected durable goods orders to increase 7.0%.
Excluding transportation, durable goods orders 0.8% in July following an upwardly revised 3.0% (from 1.9%) gain in June. The consensus expected these orders to increase 0.6%.
Key Factors
The headline increase in durable goods orders cannot be used to accurately explain current manufacturing demand conditions. Boeing (BA) reported record-setting orders in July, which resulted in a 318% increase in orders of nondefense aircraft and parts. That led to an outsized 74.2% increase in transportation orders.
Aircraft orders cannot be sustained at that rate, and transportation orders will come back down noticeably in August.
Outside of transportation, durable goods orders were actually very weak, which was very strange considering all of the regional manufacturing surveys were extremely positive. The conflicting data again point to toward the unreliability of using regional manufacturing surveys and the ISM report when gauging manufacturing growth.
With the exception of the aforementioned transportation sector and a minor 0.3% increase in miscellaneous durables, all other durable goods sectors reported declines in orders. That included a 1.6% drop in machinery and a 1.2% decline in computers and electronic products.
Business investment orders slumped, but that was likely the result of a normal pullback following above trend growth in June. Orders of nondefense capital goods excluding aircraft declined 0.5% in July after increasing 5.4% in June.
Fortunately, the drop in business investment demand will not impact GDP growth. Shipments of nondefense capital goods excluding aircraft increased a solid 1.5% in July after increasing 0.9% in June. Even after the acceleration in shipments, the level of unfilled orders of nondefense capital goods excluding aircraft continued to rise and will provide support for future shipments growth.
Big Picture
or the past several months, manufacturers have stockpiled large amounts of unfilled orders. Typically, this should bolster production growth. However, manufacturers have been unwilling to produce out of the backlog.
| Category | JUL | JUN | MAY | APR | MAR |
| --- | --- | --- | --- | --- | --- |
| Total Durable Orders | 22.6% | 2.7% | -0.9% | 0.9% | 3.7% |
| Less Defense | 24.9% | 2.7% | 0.2% | -0.8% | 3.1% |
| Less Transport | -0.7% | 3.0% | -0.1% | 0.4% | 3.0% |
| Transportation | 74.1% | 2.2% | -2.6% | 1.8% | 5.2% |
| Capital Goods | 52.5% | 4.9% | -5.2% | 3.3% | 10.5% |
| Nondefense | 60.6% | 5.1% | -2.3% | -0.6% | 9.7% |
| Nondefense/nonaircraft (core cap gds) | -0.7% | 5.4% | -1.4% | -1.1% | 4.7% |
| Defense Cap Goods | -15.5% | 4.0% | -24.0% | 38.3% | 18.8% |