Economic
Last Update: 27-Jul-15 08:55 ET
Durable Orders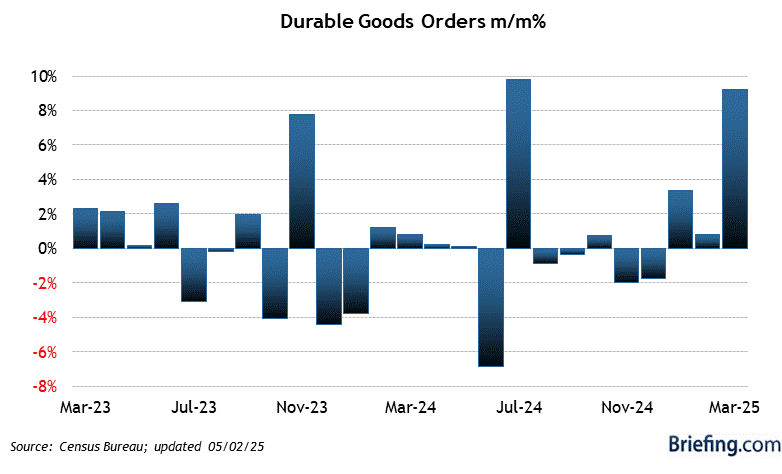 Highlights
Durable goods orders increased 3.4% in June after declining an upwardly revised 2.1% (from -2.2%) in May. The Briefing.com Consensus expected durable goods orders to increase 3.0%.
Excluding transportation, durable goods orders increased 0.8% in June after declining a negatively revised 0.1% (from 0.0%) in May. The consensus expected these orders to increase 0.5%.
Key Factors
A large portion of the increase in durables demand was the result of a significant surge in aircraft orders. Boeing (BA) reported 161 aircraft orders in June, up from just 11 in May. That gain helped push defense and nondefense aircraft orders up 52.3%.
The increase in manufacturing demand was much better than the June readings in the Federal Reserve manufacturing surveys and the national ISM New Orders Index.
With the exception of a 1.4% decline in primary metal orders, all major manufacturing sectors showed positive orders growth. That included a 1.4% increase in machinery orders and a 0.2% increase in computer and electronics product orders.
Orders of nondefense capital goods excluding aircraft increased a solid 0.9% in June. That ended five consecutive months of declines, including a 0.4% decrease in May. That is the largest increase in cap-ex orders since a 1.2% increase in November 2014.
Shipments of nondefense capital goods excluding aircraft, however, declined 0.1% in June after declining 0.3% in May. Since shipments, not orders, factor directly into GDP growth calculations, the weakness in production will have a negative impact on second quarter growth trends.
Big Picture
Despite a big increase in orders demand, manufacturers are still hesitant to produce. Shipments growth is virtually nonexistent and unfilled orders continue to rise.
| Category | JUN | MAY | APR | MAR | FEB |
| --- | --- | --- | --- | --- | --- |
| Total Durable Orders | 3.4% | -2.1% | -1.7% | 2.3% | -1.4% |
| Less Defense | 3.8% | -2.4% | -1.0% | 0.8% | -1.0% |
| Less Transport | 0.8% | -0.1% | -0.6% | -3.0% | -0.4% |
| Transportation | 8.9% | -6.1% | -4.0% | 14.8% | -3.5% |
| Capital Goods | 8.1% | -5.2% | -3.4% | 5.6% | -1.5% |
| Nondefense | 9.4% | -6.8% | -2.2% | 4.8% | -2.6% |
| Nondefense/nonaircraft (core cap gds) | 0.9% | -0.4% | -0.7% | -1.1% | -1.4% |
| Defense Cap Goods | -2.5% | 11.0% | -13.5% | 12.6% | 10.2% |