Economic
Last Update: 02-Jul-14 10:19 ET
Durable Orders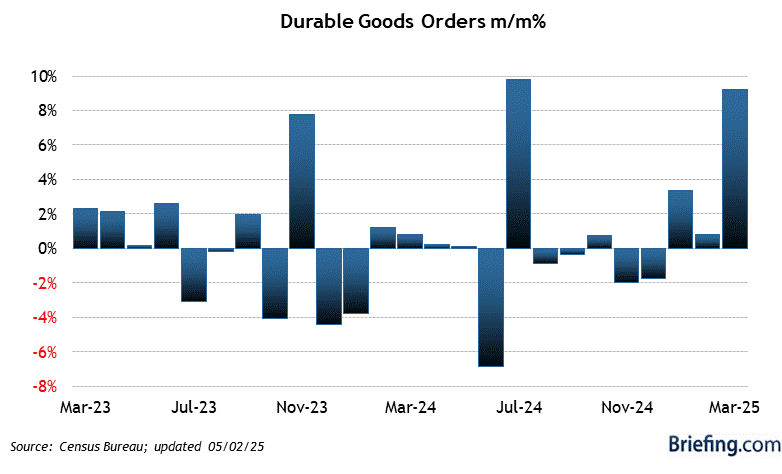 Highlights
Durable goods orders declined 1.0% in May after increasing an upwardly revised 0.8% (from 0.6%) in April. The Briefing.com consensus expected durable goods orders to increase 0.4%.
Excluding transportation, durable goods orders declined 0.1% in May following a 0.4% increase in April. The consensus expected these orders to increase 0.4%.
Key Factors
Transportation orders fell 3.0% in May as orders of nondefense aircraft and parts fell 4.0%. The drop was unusual and can be blamed on seasonal adjustments. Boeing (BA), which is heavily represented in the transportation data, reported solid gains in orders for May.
The drop was unexpected as most of the regional manufacturing surveys showed positive orders growth for May.
The headline decline is probably worse than what the actual underlying trends are suggesting. Most of the decline in orders came from the defense industry. Excluding defense and aircraft, business investment demand increased a relatively solid 0.7% in May after falling 1.1% in April. More importantly for GDP calculations, shipments of nondefense capital goods excluding aircraft increased 0.4% and offset the 0.4% decline in April.
Big Picture
For the past several months, manufacturers have stockpiled large amounts of unfilled orders. Typically, this should bolster production growth. However, manufacturers have been unwilling to produce out of the backlog.
| Category | MAY | APR | MAR | FEB | JAN |
| --- | --- | --- | --- | --- | --- |
| Total Durable Orders | -0.9% | 0.8% | 3.7% | 2.6% | -2.5% |
| Less Defense | 0.7% | -0.8% | 3.1% | 2.3% | -2.7% |
| Less Transport | 0.0% | 0.4% | 3.0% | 0.8% | -0.6% |
| Transportation | -2.9% | 1.8% | 5.2% | 6.9% | -6.9% |
| Capital Goods | -4.6% | 3.3% | 10.5% | -0.6% | -6.8% |
| Nondefense | -0.5% | -0.6% | 9.7% | -1.8% | -7.6% |
| Nondefense/nonaircraft (core cap gds) | 0.7% | -1.1% | 4.7% | 0.1% | -1.9% |
| Defense Cap Goods | -30.8% | 38.3% | 18.8% | 12.5% | 2.7% |