Economic
Last Update: 21-May-15 17:40 ET
Durable Orders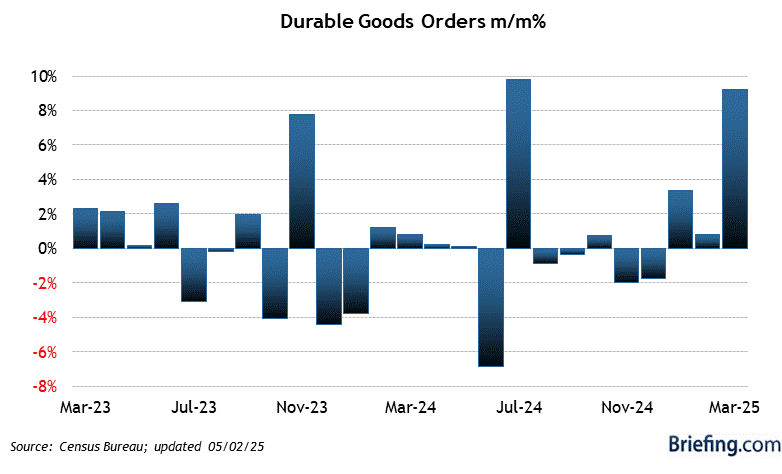 Highlights
Durable goods orders increased 4.0% in March after declining an unrevised 1.4% in February. The Briefing.com Consensus expected durable goods orders to increase 0.5%.
Excluding transportation, durable goods orders declined 0.2% in March after declining a downwardly revised 1.3% (from -0.6%) in February. The consensus expected these orders to increase 0.4%.
Key Factors
This was one report where the headline explains absolutely nothing about the intricacies of the manufacturing sector.
The entire March gain was the result of increased transportation demand, specifically from the defense-related aircraft sector. Defense aircraft orders increased 112.8% in March. Total aircraft orders increased 43.8% after declining 8.3% in February. Motor vehicle and parts orders increased 5.4%.
The drop in orders outside of transportation was more in-line with the poor results of the regional Federal Reserve manufacturing surveys. Those surveys revealed contractions in new orders in every area of the country except for Philadelphia.
Business investment was weak. After declining 2.2% in February, orders of nondefense capital goods excluding aircraft declined 0.5% in March. Shipments, which factor into first quarter GDP growth, declined 0.4% in March after increasing 0.1% in February.
Orders for new computers were strong, up 11.0% in March after increasing 0.9% in February. That gain, however, was more than offset by declines in communications equipment (-5.3%), machinery (-1.5%), and electrical equipment (-1.1%).
Big Picture
Orders of nondefense capital goods excluding aircraft, a proxy for business investment, have declined for the past 7 consecutive months.
| Category | MAR | FEB | JAN | DEC | NOV |
| --- | --- | --- | --- | --- | --- |
| Total Durable Orders | 4.4% | -1.4% | 1.9% | -3.7% | -2.2% |
| Less Defense | 2.9% | -1.0% | 2.2% | -3.2% | -1.4% |
| Less Transport | 0.4% | -1.3% | -0.9% | -0.8% | -1.3% |
| Transportation | 13.5% | -1.7% | 8.9% | -10.0% | -4.0% |
| Capital Goods | 5.6% | -1.2% | 7.1% | -10.3% | -2.7% |
| Nondefense | 4.0% | -2.0% | 8.5% | -10.1% | -1.5% |
| Nondefense/nonaircraft (core cap gds) | 0.1% | -2.0% | -0.3% | -0.5% | -0.5% |
| Defense Cap Goods | 20.4% | 7.8% | -6.3% | -11.8% | -12.2% |