Economic
Last Update: 05-Dec-14 10:49 ET
Durable Orders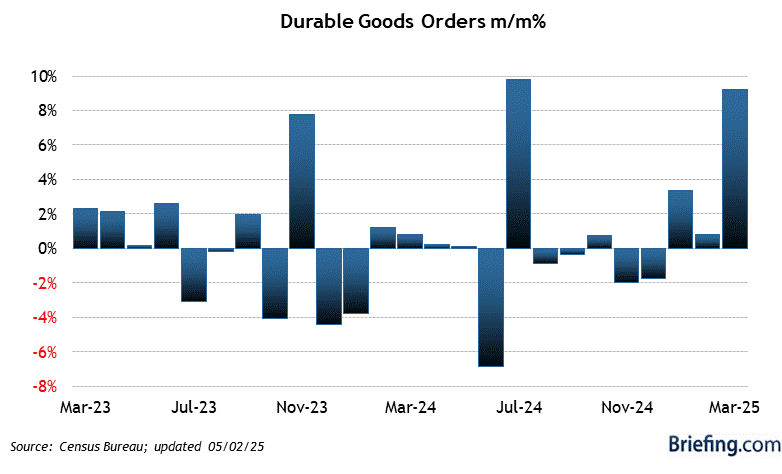 Highlights
Durable goods orders increased 0.4% in October following an upwardly revised 0.9% (from -1.3%) decline in September. The Briefing.com consensus expected durable goods orders to fall 0.6%.
Excluding transportation, durable goods orders fell 0.9% in October after increasing an upwardly revised 0.2% (from -0.2%) in September. The consensus expected these orders to increase 0.5%.
Key Factors
Boeing (BA) reported a sizable decline in aircraft orders, which were expected to weigh down overall durables demand. That did not happen. Instead, a 45.3% increase in defense aircraft orders helped boost total aircraft demand by 8.7%. The gains in aircraft orders drove overall transportation orders up 3.4% after declining 3.3% in September.
For a second consecutive month, solid improvements in manufacturing demand reported by the Fed's regional manufacturing surveys and the ISM national New Orders Index failed to predict positive demand in actual durable goods orders.
Orders declined in most sectors, including a 1.2% drop in machinery demand and a 2.4% decline in primary metals. Computers and electronic products eked out a small 0.1% increase as an 8.9% increase in communications equipment orders offset a 3.4% decline in computer and related products.
Business investment demand remained weak as orders of nondefense capital goods excluding aircraft fell 1.3% for a second consecutive month in October. Shipments, which factor into GDP, declined 0.4% in October after increasing 0.4% in September.
Big Picture
The sharp contraction in orders of nondefense capital goods excluding aircraft is worrisome for future economic growth.
| Category | OCT | SEP | AUG | JUL | JUN |
| --- | --- | --- | --- | --- | --- |
| Total Durable Orders | 0.3% | -0.7% | -18.3% | 22.5% | 2.7% |
| Less Defense | -0.7% | -1.0% | -19.0% | 24.9% | 2.7% |
| Less Transport | -1.1% | 0.3% | 0.7% | -0.6% | 3.0% |
| Transportation | 3.4% | -3.1% | -42.4% | 73.3% | 2.2% |
| Capital Goods | 0.7% | -3.7% | -34.1% | 52.5% | 4.9% |
| Nondefense | -0.4% | -4.8% | -36.5% | 60.9% | 5.1% |
| Nondefense/nonaircraft (core cap gds) | -1.6% | -1.1% | 0.4% | -0.1% | 5.4% |
| Defense Cap Goods | 10.8% | 7.9% | 4.9% | -17.9% | 4.0% |