Economic
Last Update: 05-Dec-13 10:17 ET
Durable Orders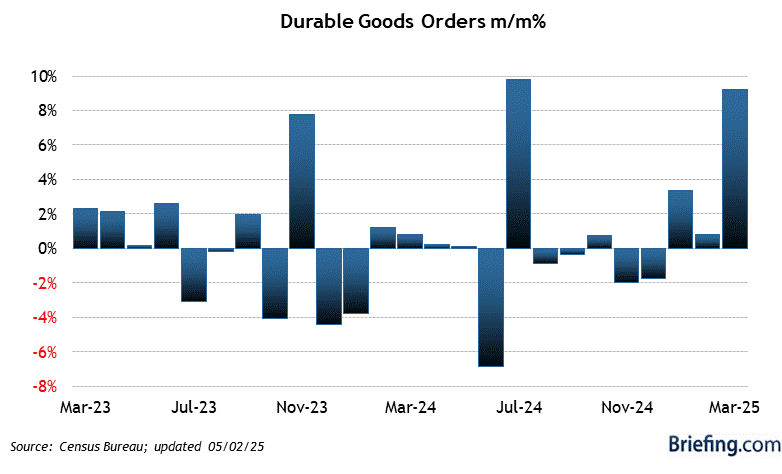 Highlights
Durable goods orders fell 2.0% in October after increasing an upwardly revised 4.1% (from 3.8%) in September. The Briefing.com consensus expected durable goods orders to decline 2.2%.
Excluding transportation, orders were down 0.1% after increasing an upwardly revised 0.2% (from -0.2%) in September. The consensus expected these orders to increase 0.2%.
Key Factors
There was some concern that the durable goods data would show a much larger decline as government orders were delayed from the shutdown. Government orders did fall 14.4%, but it was not enough to drive overall orders below expectations.
The majority of the decline was the result of a pullback in aircraft orders. After increasing by 46.4% in September, nondefense and defense aircraft demand fell 16.7% in October. That drop was in-line with weak orders reported by Boeing (BA).
Most of the regional Federal Reserve manufacturing surveys pointed toward an acceleration in orders growth in October. The downward miss was disappointing compared to the strength of those surveys.
More importantly, business capital demand weakened for a second consecutive month. Orders of nondefense capital goods excluding aircraft fell 1.2% in October after declining 1.4% in September. Businesses are clearly concerned about future demand and have cut back on capital expenditures.
Shipments of these goods, which factor into the equipment component of nonresidential investment, fell 0.2% for a second consecutive month. That will weigh down fourth quarter GDP growth.
There is still a hefty supply of unfilled orders of business capital that could result in a surge in business investment, but manufacturers remain hesitant to actually fill those orders. That hesitation has been apparent for a while and is unlikely to change in the near future.
Big Picture
Normally a big run up in unfilled orders would suggest steady production growth. In this case, however, the gains are suggesting that many of the new orders that have come in over the past few months will be canceled before they are produced.
| Category | OCT | SEP | AUG | JUL | JUN |
| --- | --- | --- | --- | --- | --- |
| Total Durable Orders | -1.6% | 4.2% | 0.5% | -8.1% | 3.9% |
| Less Defense | -0.9% | 3.6% | 0.9% | -7.5% | 2.9% |
| Less Transport | 0.4% | 0.3% | -0.1% | -0.5% | 0.1% |
| Transportation | -5.7% | 13.1% | 1.8% | -21.9% | 11.7% |
| Capital Goods | -4.8% | 8.2% | -0.4% | -18.2% | 9.0% |
| Nondefense | -3.4% | 7.0% | -0.1% | -17.5% | 6.9% |
| Nondefense/nonaircraft (core cap gds) | -0.6% | -1.2% | 1.0% | -3.5% | 1.1% |
| Defense Cap Goods | -15.8% | 19.1% | -3.3% | -23.7% | 28.6% |