Economic
Last Update: 02-Oct-15 10:14 ET
Durable Orders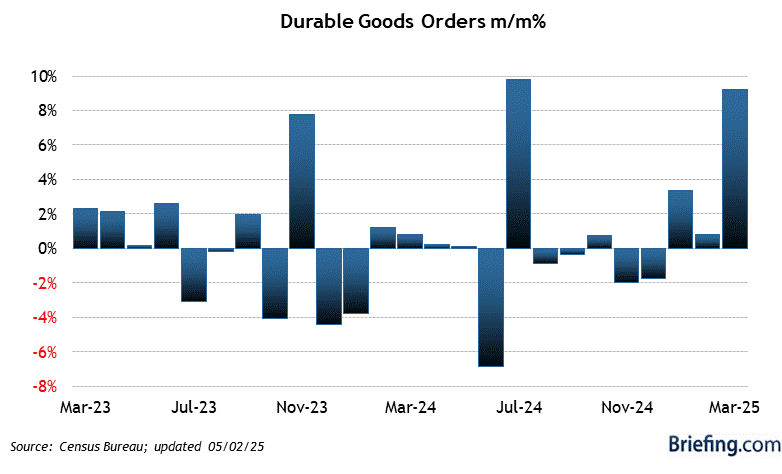 Highlights
Durable goods orders declined 2.0% in August after increasing a downwardly revised 1.9% (from 2.2%) in July. The Briefing.com Consensus expected durable goods orders to decline 2.0%.
Excluding transportation, durable goods orders were flat in August after increasing an unrevised 0.4% in July. The consensus expected these orders to increase 0.2%.
Key Factors
As expected, the transportation sector weighed down durable goods demand. Total transportation orders declined 5.8% as orders of motor vehicles (-1.6%) and aircraft (-3.5%) declined.
Downbeat regional Federal Reserve manufacturing surveys and a sharp pullback in the national ISM New Orders Index provided an accurate foreshadowing of the lackluster orders performance outside of transportation.
Gains in machinery (1.0%) and other durables (0.8%) were offset by declines in fabricated metals (-1.8%), electrical equipment (-0.6%), and computers and electronics (-0.2%).
Business capital demand was surprisingly resilient. After two months of strong gains (2.1% in July and 1.5% in June) orders of nondefense capital goods excluding aircraft dipped only 0.2% in August. A larger pullback after a couple months of strong gains is typically normal. Shipments, which factor into the investment component of GDP, declined 0.2% in August after increasing 0.5% in July.
Big Picture
Demand for business investment remains firm despite a small monthly pullback in August orders of nondefense capital goods excluding aircraft.
| Category | AUG | JUL | JUN | MAY | APR |
| --- | --- | --- | --- | --- | --- |
| Total Durable Orders | -2.3% | 1.9% | 4.1% | -2.3% | -1.7% |
| Less Defense | -1.3% | 0.8% | 4.2% | -2.5% | -1.0% |
| Less Transport | -0.2% | 0.4% | 1.0% | -0.3% | -0.6% |
| Transportation | -6.2% | 4.9% | 10.8% | -6.3% | -4.0% |
| Capital Goods | -5.1% | 3.0% | 9.9% | -5.6% | -3.4% |
| Nondefense | -2.5% | 0.6% | 10.7% | -7.1% | -2.2% |
| Nondefense/nonaircraft (core cap gds) | -0.8% | 1.9% | 1.5% | -0.8% | -0.7% |
| Defense Cap Goods | -24.1% | 24.4% | 2.8% | 9.0% | -13.5% |