Economic
Last Update: 29-Jan-15 08:51 ET
Initial Claims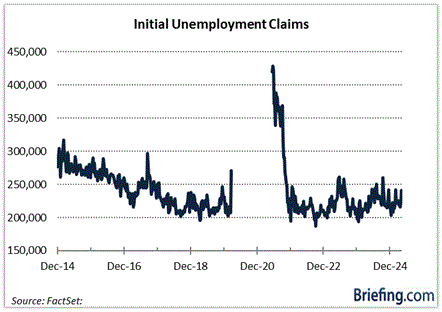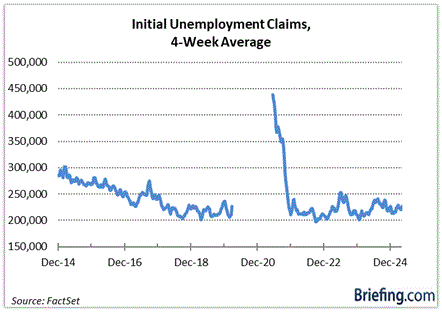 Highlights
The initial claims level dropped to 265,000 for the week ending January 24 from an upwardly revised 308,000 (from 307,000) for the week ending January 17. The Briefing.com Consensus expected the initial claims level to fall to 301,000.
The continuing claims level declined to 2.385 mln for the week ending January 17 from an upwardly revised 2.456 mln (from 2.443 mln) for the week ending January 10. The consensus expected the continuing claims level to drop to 2.429 mln.
Key Factors
Not only did the drop break three consecutive weeks above 300,000, but the initial claims level fell to its lowest level since April 2000.
As it has for the past several months, the DOL reported that there were no special factors impacting the initial claims level.
It is still unknown why the initial claims level suddenly and unexpectedly jumped above 300,000. There were reports that low oil prices were causing increased layoffs in the energy sector, but the state-specific data do not support this. For example, even though the national aggregate initial claims level was still above 300,000 for the week ending January 17, big energy producing states such as Texas and North Dakota reported that their specific initial claims levels declined by more than 1,000.
Big Picture
The initial claims level supports monthly payroll growth above 200,000.
| Category | Jan 24 | Jan 17 | Jan 10 | Jan 3 | Dec 27 |
| --- | --- | --- | --- | --- | --- |
| Initial Claims | 265K | 308K | 317K | 304K | 298K |
| 4-Wk Moving Avg | 299K | 307K | 300K | 293K | 291K |
| Continued Benefits | | 2385K | 2456K | 2428K | 2485K |
| 4-Wk Moving Avg | | 2439K | 2430K | 2418K | 2406K |