Economic
Last Update: 24-Jul-14 08:49 ET
Initial Claims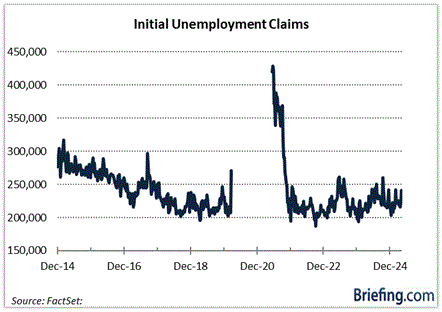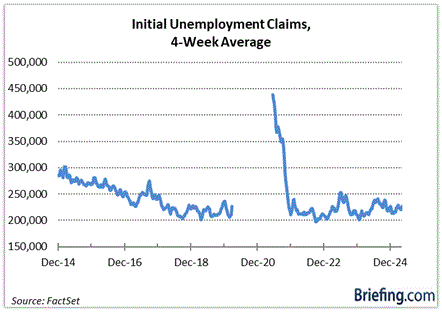 Highlights
The initial claims level fell to 284,000 for the week ending July 19 from an upwardly revised 303,000 (from 302,000) for the week ending July 12. The Briefing.com consensus expected the initial claims level to increase to 308,000.
The continuing claims level fell to 2.500 mln for the week ending July 12 from an upwardly revised 2.508 mln (from 2.507 mln) for the week ending July 5. The consensus expected the continuing claims level to increase to 2.533 mln.
Key Factors
This week's drop in claims brought the overall level to its lowest point since February 2006. The four-week moving average is now down to its lowest level since May 2006.
The DOL stated that there were no special factors that caused the initial claims level to suddenly drop over the past couple weeks. Timing wise, though, the move coincides with the auto manufacturers' normal retooling period.
It is possible that the fall in claims is simply a seasonal effect. A surge in motor vehicle demand over the past few months may have incentivized manufacturers to keep their plants open during historical shutdown periods in an effort to increase production and satiate demand.
As it stands, the current trend in the initial claims level would suggest a gain of over 300,000 jobs in the July payroll report. If the job gains come in significantly below that figure, it would suggest that the recent drop in claims has likely been a result of seasonal problems.
Big Picture
At 284,000, the initial claims level is at its lowest level since early 2006 and implies a July payroll gain in the neighborhood of 300,000.
| Category | Jul 19 | Jul 12 | Jul 5 | Jun 28 | Jun 21 |
| --- | --- | --- | --- | --- | --- |
| Initial Claims | 284K | 303K | 305K | 316K | 313K |
| 4-Wk Moving Avg | 302K | 309K | 312K | 315K | 315K |
| Continued Benefits | | 2500K | 2508K | 2586K | 2574K |
| 4-Wk Moving Avg | | 2542K | 2559K | 2572K | 2579K |