Economic
Last Update: 23-Jul-15 08:44 ET
Initial Claims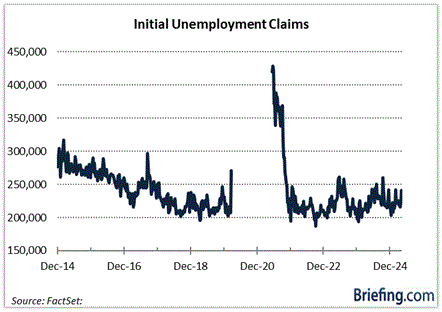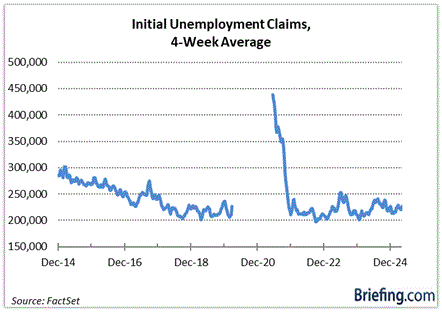 Highlights
After a few weeks of persistently climbing initial claims, the initial claims level plummeted to 255,000 for the week ending July 18 from an unrevised 281,000 for the week ending July 11. The Briefing.com Consensus expected the initial claims level to decline to 279,000.
The continuing claims level declined to 2.207 mln for the week ending July 11 from an upwardly revised 2.216 mln (from 2.215 mln) for the week ending July 4. The consensus expected the continuing claims level to decrease to 2.213 mln.
Key Factors
That is the lowest initial claims reading since November 1973 when the initial claims level dipped to 233,000.
The BLS reported that there were no special factors that impacted this week's claims reading. There weren't any economic or business reports that would explain the big decline either.
Given the historical nature of the decline, it is likely that the initial claims level will spike back up next week as a result of normal volatility before settling back into the 275,000 – 290,000 range.
Big Picture
There was no underlying factor for the big decline in the initial claims, which leads us to believe the drop will be extremely temporary.
| Category | Jul 18 | Jul 11 | Jul 4 | Jun 27 | Jun 20 |
| --- | --- | --- | --- | --- | --- |
| Initial Claims | 255K | 281K | 296K | 282K | 271K |
| 4-Wk Moving Avg | 279K | 283K | 279K | 275K | 274K |
| Continued Benefits | | 2207K | 2216K | 2327K | 2265K |
| 4-Wk Moving Avg | | 2254K | 2264K | 2267K | 2253K |