Economic
Last Update: 23-Nov-15 17:57 ET
Business Inventories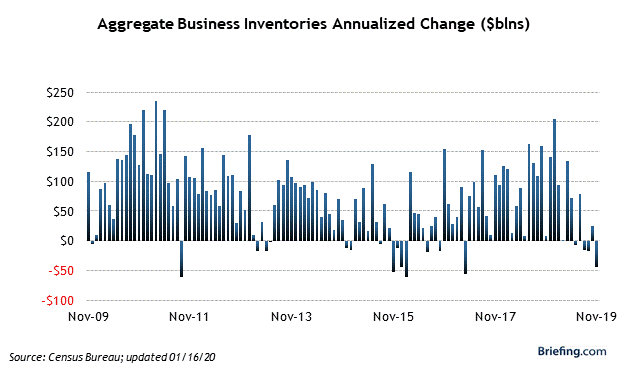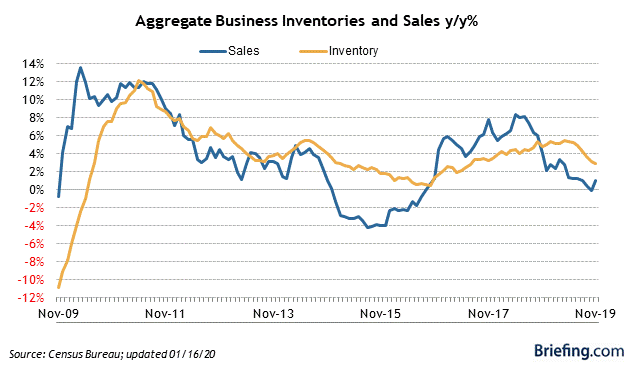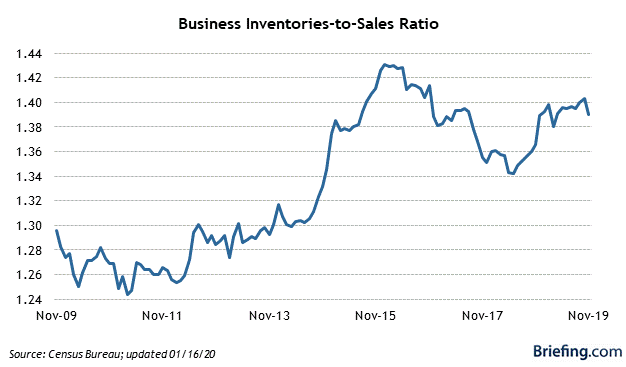 Highlights
Total business inventories increased 0.3% in September on top of an upwardly revised 0.1% increase for August (from 0.0%). The Briefing.com consensus expected inventories to be unchanged.
Key Factors
Manufacturer inventories (-0.4%) and merchant wholesaler inventories (+0.5%) were already known, so retailer inventories were the final piece of the puzzle.
Retailer inventories were up 0.8% in September versus a 0.5% jump in August.
The breakdown of retailer inventories showed inventory increases for all major retail sectors, led by motor vehicles and parts dealers (+1.4%), furniture and home furnishing stores (+1.0%), and department stores (+0.7%).
The inventory-to-sales ratio edged up to 1.38 in September from 1.37 in August. In September 2014, the inventory-to-sales ratio stood at 1.31.
Big Picture
Business inventories include wholesale inventories, manufacturing inventories, and retail inventories. Inventories are a component of GDP, and thus are of interest to economists, but the financial markets don't pay much attention to this release. Despite better inventory management techniques, inventory growth has outpaced sales for the past few years.
| Category | SEP | AUG | JUL | JUN | MAY |
| --- | --- | --- | --- | --- | --- |
| Inventories | 0.3% | 0.1% | 0.0% | 0.7% | 0.3% |
| Manufacturers | -0.4% | -0.4% | -0.3% | 0.3% | 0.1% |
| Retailers | 0.8% | 0.5% | 0.7% | 1.0% | 0.2% |
| Wholesalers | 0.5% | 0.3% | -0.3% | 0.7% | 0.6% |
| Sales | 0.0% | -0.6% | 0.1% | 0.3% | 0.4% |
| Manufacturers | -0.4% | -0.9% | -0.2% | 0.6% | -0.2% |
| Retailers | 0.0% | 0.0% | 0.8% | -0.1% | 1.3% |
| Wholesalers | 0.5% | -0.9% | -0.3% | 0.4% | 0.2% |
| Inventory/Sales | 1.38 | 1.37 | 1.36 | 1.36 | 1.36 |
| Manufacturers | 1.35 | 1.35 | 1.34 | 1.35 | 1.35 |
| Retailers | 1.48 | 1.47 | 1.46 | 1.46 | 1.45 |
| Wholesalers | 1.31 | 1.31 | 1.30 | 1.30 | 1.29 |