Economic
Last Update: 15-Jul-14 10:11 ET
Business Inventories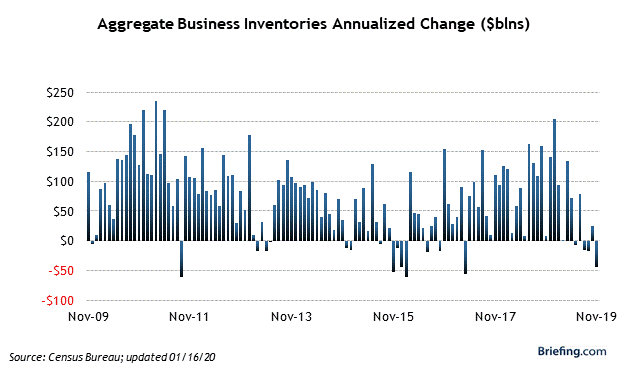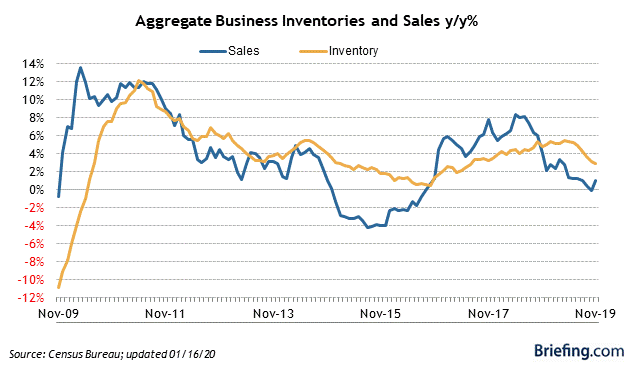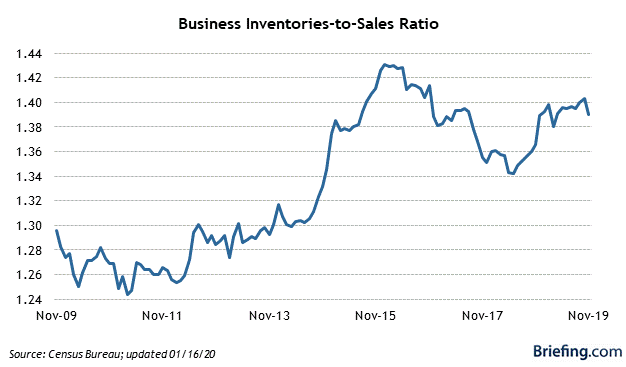 Highlights
Business inventories increased 0.5% in May following an unrevised 0.6% increase in April. The Briefing.com consensus expected business inventories to increase 0.6%.
Key Factors
Inventories for manufacturers (0.8%) and merchant wholesalers (0.5%) were known prior to the release. Only retailer inventories, which increased 0.2% in May after increasing 0.5% in April, were unknown.
Motor vehicles and parts dealer inventories increased 0.6% in May, down from a 1.2% increase in April. Furniture inventories fell 0.5% after increasing 2.2% in April. Inventories at general merchandise stores were up 0.3% after falling 0.5% in April.
Total business sales increased 0.4% in May after increasing 0.8% in April.
The inventory-to-sales ratio remained at 1.29.
Big Picture
Business inventories include wholesale inventories, manufacturing inventories, and retail inventories. Inventories are a component of GDP, and thus are of interest to economists, but the financial markets don't pay much attention to this release. Over the long term, the inventory-to-sales ratio has been declining, due to improving techniques for inventory management. Inventories are likely to decline over the near term to bring inventory-to-sales ratios back into line with company desires.
| Category | MAY | APR | MAR | FEB | JAN |
| --- | --- | --- | --- | --- | --- |
| Inventories | 0.5% | 0.6% | 0.4% | 0.5% | 0.4% |
| Manufacturers | 0.8% | 0.5% | 0.2% | 0.7% | 0.2% |
| Retailers | 0.2% | 0.5% | 0.1% | -0.1% | 0.3% |
| Wholesalers | 0.5% | 1.0% | 1.1% | 0.7% | 0.8% |
| Sales | 0.4% | 0.8% | 1.1% | 0.9% | -1.1% |
| Manufacturers | 0.1% | 0.4% | 0.4% | 1.0% | -0.7% |
| Retailers | 0.4% | 0.7% | 1.5% | 0.9% | -0.9% |
| Wholesalers | 0.7% | 1.3% | 1.6% | 0.9% | -1.8% |
| Inventory/Sales | 1.29 | 1.29 | 1.29 | 1.30 | 1.31 |
| Manufacturers | 1.31 | 1.30 | 1.30 | 1.30 | 1.30 |
| Retailers | 1.41 | 1.41 | 1.42 | 1.44 | 1.45 |
| Wholesalers | 1.18 | 1.18 | 1.18 | 1.19 | 1.19 |