Economic
Last Update: 15-Oct-14 10:15 ET
Business Inventories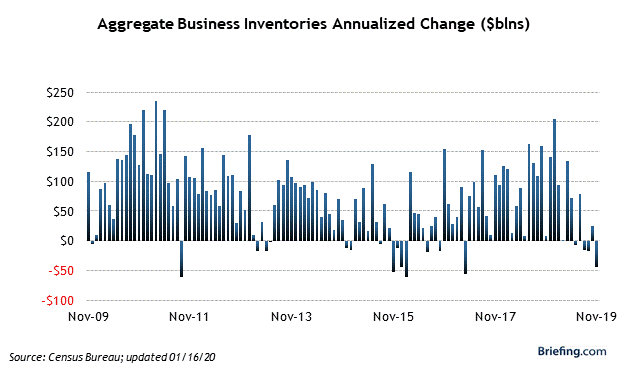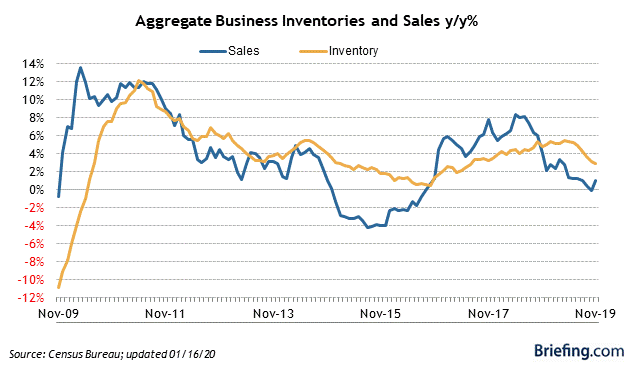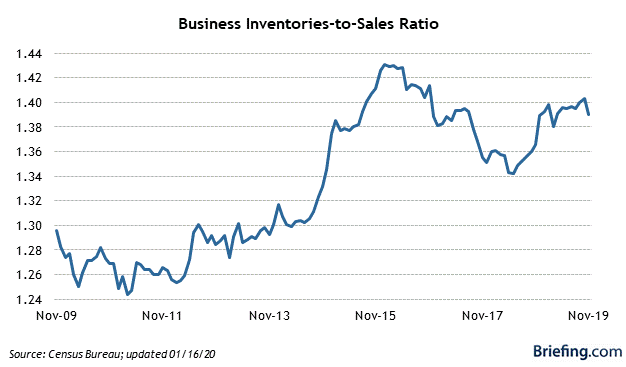 Highlights
Business inventories increased 0.2% in August after increasing an unrevised 0.4% in July. The Briefing.com consensus expected business inventories to increase 0.4%.
Key Factors
The changes in inventories for manufacturers (0.1%) and merchant wholesalers (0.7%) were known prior to the release. The only piece of new information was that retailer inventories fell 0.3% in August after increasing 0.9% in July.
The drop in retailer inventories was mostly the result of a 0.7% decline in motor vehicle and parts inventories. An unexpected surge in motor vehicle demand reduced inventory levels in August. Excluding motor vehicles, retailer inventories were flat in August.
Total business sales fell 0.4% in August after increasing 0.7% in July.
The inventory-to-sales ratio remained at 1.29.
Big Picture
Business inventories include wholesale inventories, manufacturing inventories, and retail inventories. Inventories are a component of GDP, and thus are of interest to economists, but the financial markets don't pay much attention to this release. Over the long term, the inventory-to-sales ratio has been declining, due to improving techniques for inventory management.
| Category | AUG | JUL | JUN | MAY | APR |
| --- | --- | --- | --- | --- | --- |
| Inventories | 0.2% | 0.4% | 0.4% | 0.5% | 0.6% |
| Manufacturers | 0.1% | 0.0% | 0.2% | 0.8% | 0.5% |
| Retailers | -0.3% | 0.9% | 0.7% | 0.2% | 0.5% |
| Wholesalers | 0.7% | 0.3% | 0.2% | 0.3% | 1.0% |
| Sales | -0.4% | 0.7% | 0.6% | 0.3% | 0.8% |
| Manufacturers | -1.0% | 1.4% | 0.8% | -0.1% | 0.4% |
| Retailers | 0.6% | 0.2% | 0.4% | 0.4% | 0.7% |
| Wholesalers | -0.7% | 0.4% | 0.4% | 0.7% | 1.3% |
| Inventory/Sales | 1.29 | 1.29 | 1..29 | 1.29 | 1.29 |
| Manufacturers | 1.30 | 1.29 | 1.30 | 1.31 | 1.30 |
| Retailers | 1.41 | 1.43 | 1.42 | 1.41 | 1.41 |
| Wholesalers | 1.19 | 1.17 | 1.17 | 1.17 | 1.18 |