Economic
Last Update: 17-Apr-14 18:15 ET
Treasury Budget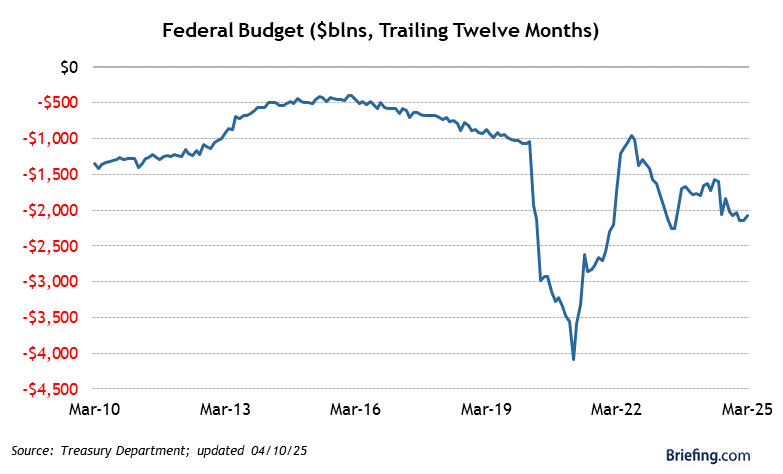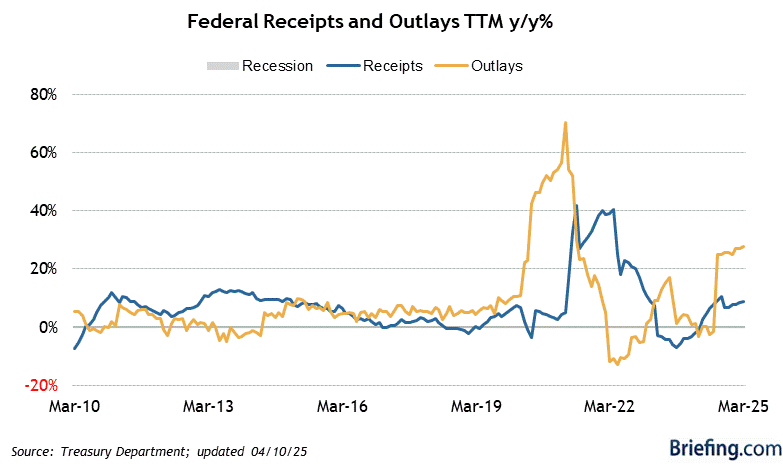 Highlights
The Treasury budget showed a deficit of $36.9 bln in March 2014 after reporting a deficit of $106.5 bln in March 2013. The Treasury data are not seasonally adjusted and the March deficit cannot be compared with the results from February. The Briefing.com consensus expected a budget deficit of $36 bln.
Key Factors
The Congressional Budget Office released their monthly budget preview earlier in the week and predicted a deficit of $36 bln. The market is well aware of the CBO's forecast and generally does not react to the actual budget release.
Total revenues increased by $29.8 bln, from $186.0 bln in March 2013 to $215.8 bln in March 2014.
Total outlays fell to 252.7 bln in March 2014 from $292.5 bln in March 2013, a drop of $39.8 bln.
Year-to-date, the deficit is $413.3 bln, $187.2 less than FY 2013.
Big Picture
Raw data available at http://www.fms.treas.gov/mts/index.htm
| Category | MAR | FEB | JAN | DEC | NOV |
| --- | --- | --- | --- | --- | --- |
| Deficit (-)/Surplus | -$36.9B | -$193.5B | -$10.4B | $53.2B | -$135.2B |
| Deficit (-)/Surplus Fiscal YTD | -$413.264 | -$377.4B | -$184.0B | -$173.6B | -$226.8B |
| Deficit (-)/Surplus over last 12 months | -$493.0B | -$563.7B | -$573.8B | -$560.5B | -$614.9B |