Economic
Last Update: 21-May-15 17:41 ET
Treasury Budget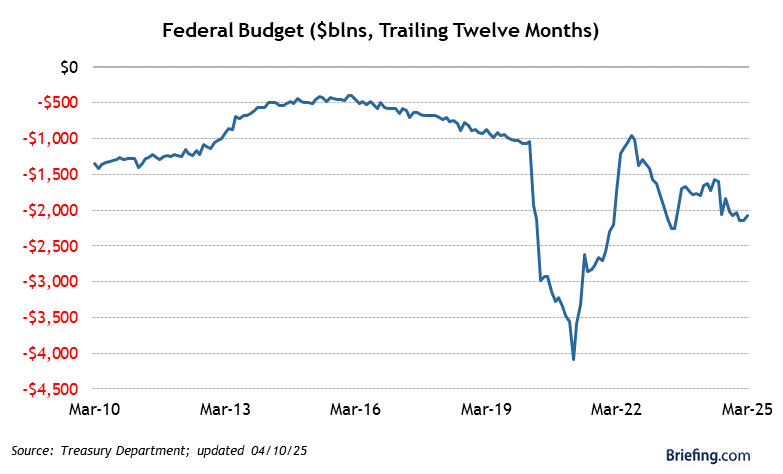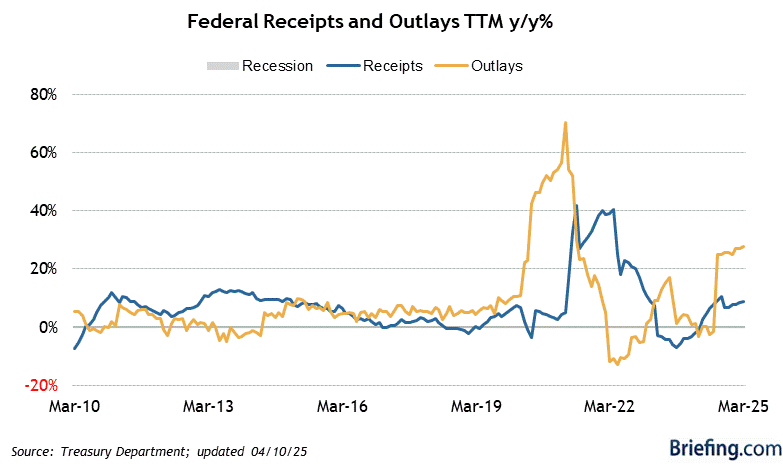 Highlights
The Treasury Budget showed a surplus of $157.0 billion in April 2015, up from a surplus of $106.9 billion in April 2014 and roughly in-line with the Briefing.com consensus estimate that called for a surplus of $155.0 billion.
Key Factors
Total outlays were $315.0 billion while total receipts were $472.0 billion.
Outlays increased by $7.7 billion from April 2014.
Receipts increased by $57.6 billion from April 2014.
Fiscal year-to-date, the deficit is is $282.8 billion versus $306.4 billion for the comparable period in FY14.
The Treasury data are not seasonally adjusted, so the April surplus cannot be compared to the $52.9 billion deficit recorded in March.
Big Picture
Raw data available at: www.fiscal.treasury.gov/fsreports/rpt/mthTreasStmt/current.htm
| Category | APR | MAR | FEB | JAN | DEC |
| --- | --- | --- | --- | --- | --- |
| Deficit (-)/Surplus | +$156.7B | -$52.9B | -$192.3B | -$17.5B | +$1.9B |
| Deficit (-)/Surplus Fiscal YTD | -$282.2B | -$439.5B | -$413.3B | -$194.2B | -$176.7B |
| Deficit (-)/Surplus over last 12 months | -$459.7B | -$509.6B | -$493.6B | -$494.7B | -$487.4B |