Economic
Last Update: 11-Sep-14 14:17 ET
Treasury Budget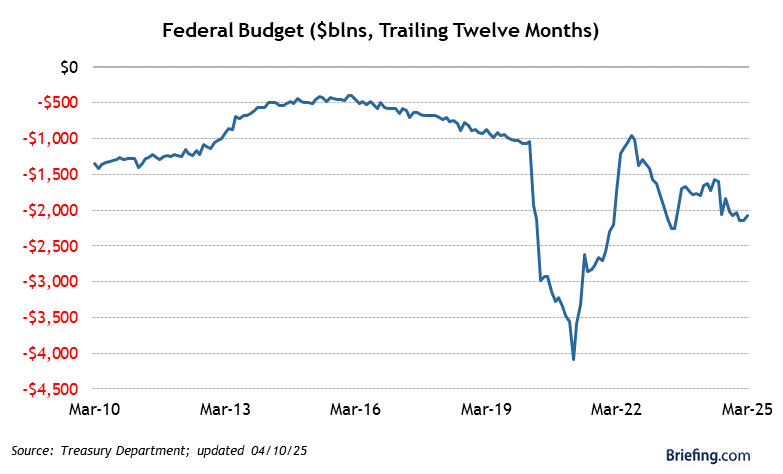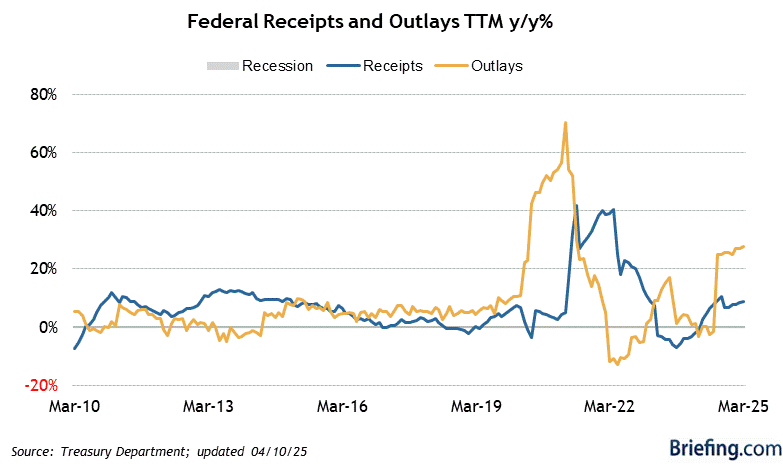 Highlights
The Treasury budget showed a deficit of $128.7 bln in August, down from a deficit of $147.9 bln in August 2013. The Treasury data are not seasonally adjusted, and the August data cannot be compared to the $94.5 bln deficit in July.
Key Factors
The reported August deficit was in-line with the CBO's forecast of a $129 bln shortfall.
Total revenues increased to $194.2 bln in August 2014 from $185.4 bln in August 2013, a gain of $8.8 bln.
Total outlays fell by $10.3 bln in August 2014, from $333.3 bln in August 2013 to $323.0 bln.
Year-to-date, the deficit is $589.2 bln, $166.2 bln less than the comparable period in FY13.
Big Picture
Raw data available at http://www.fms.treas.gov/mts/index.html
| Category | AUG | JUL | JUN | MAY | APR |
| --- | --- | --- | --- | --- | --- |
| Deficit (-)/Surplus | -$128.7B | -$94.6B | +$70.5B | -$130.0B | +$106.9B |
| Deficit (-)/Surplus Fiscal YTD | -$589.2B | -$460.5B | -$365.9B | -$436.4B | -$306.4B |
| Deficit (-)/Surplus over last 12 months | -$514.1B | -$533.2B | -$536.3B | -$490.3B | -$499.0B |