Economic
Last Update: 23-Nov-15 17:58 ET
Treasury Budget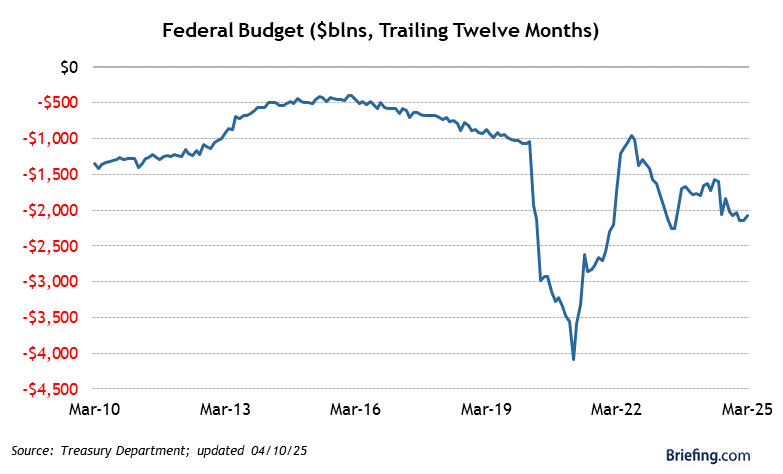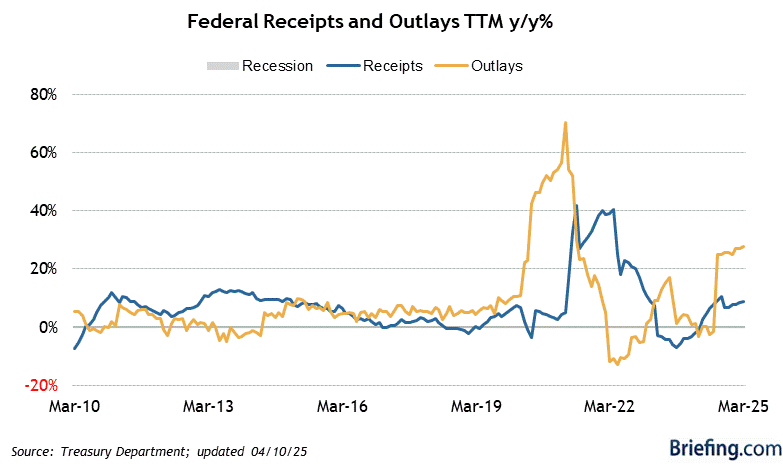 Highlights
As expected, the Treasury Budget for October showed the new fiscal year starting with a deficit. Specifically, the deficit was $136.5 billion, which was slightly worse than the Briefing.com consensus estimate, which called for a deficit of $130.0 billion.
Key Factors
The Treasury data are not seasonally adjusted, so the October deficit cannot be compared to the $91.1 billion surplus in September.
Total revenues in October were $211.0 billion while total outlays were $348 billion.
Revenues were $1.7 billion less than revenues in October 2014 while total outlays were $13.1 billion more than October 2014.
The yearly deficit shrunk by $60.8 billion to $453.7 billion.
Big Picture
Raw data available at: www.fiscal.treasury.gov/fsreports/rpt/mthTreasStmt/current.htm
| Category | OCT | SEP | AUG | JUL | JUN |
| --- | --- | --- | --- | --- | --- |
| Deficit (-)/Surplus | -$136.5B | +$91.1B | -$64.4B | -$149.2B | +$50.5B |
| Deficit (-)/Surplus Fiscal YTD | -$136.5B | -$438.9B | -$530.0B | -$465.5B | -$313.4B |
| Deficit (-)/Surplus over last 12 months | -$453.7B | -$438.9B | -$424.2B | -$488.4B | -$430.9B |