Economic
Last Update: 13-Nov-13 14:21 ET
Treasury Budget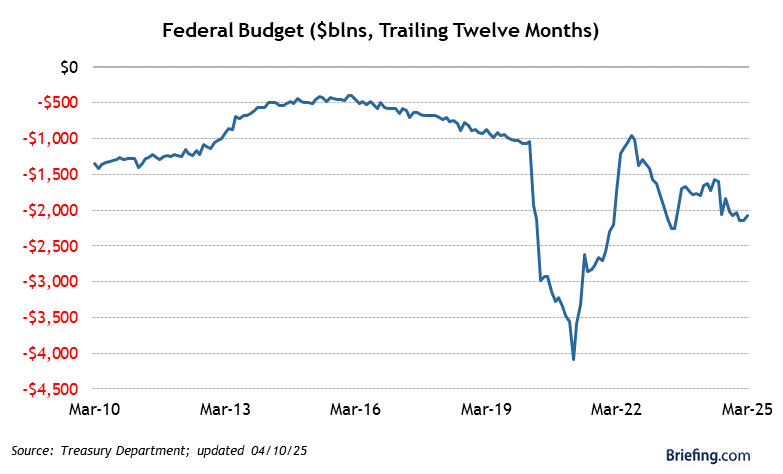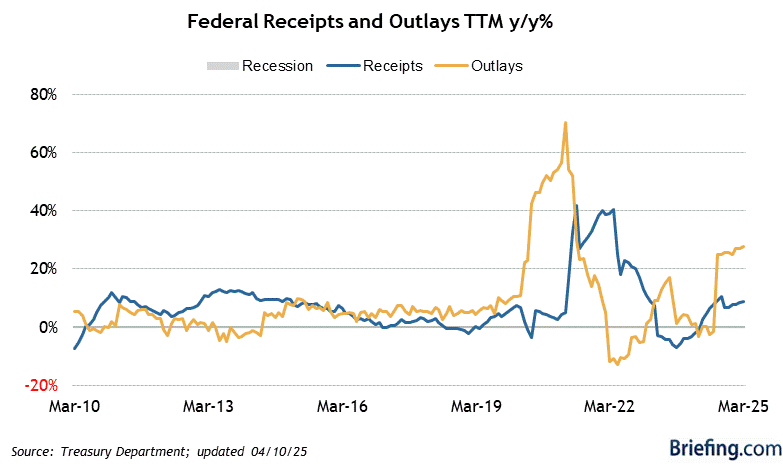 Highlights
The Treasury Budget deficit fell to $91.6 bln in October from $120.0 bln in October 2012. Since the data are not seasonally adjusted, the October budget deficit cannot be compared to the surplus in September.
Key Factors
The CBO, which typically releases its budget estimate a few days before the Treasury releases the actual numbers, did not release an advance projection for the October data.
While the government shutdown likely had an effect on the decline in the October budget deficit, the Treasury Department did not issue a statement explaining what exactly the effects were.
Total revenues increased by $14.6 bln, from $184.3 bln in October 2012 to $198.9 bln in October 2013.
Total outlays fell to $290.5 bln in October 2013 from $304.3 bln in October 2012, a drop of $13.8 bln.
Since October is the start to the 2014 fiscal year, fiscal year-to-date the deficit is $91.6 bln, $28.4 bln less than FY 2013.
Big Picture
Raw data available at http://www.fms.treas.gov/mts/index.html
| Category | OCT | SEP | AUG | JUL | JUN |
| --- | --- | --- | --- | --- | --- |
| Deficit (-)/Surplus | -$91.6B | $75.1 bln | -$147.9B | -$97.6B | $116.5B |
| Deficit (-)/Surplus Fiscal YTD | -$91.6B | -$680.3 bln | -$755.3B | -$607.4B | -$509.8B |
| Deficit (-)/Surplus over last 12 months | -$651.8B | -$680.3 bln | -$680.2B | -$722.8B | -$694.8B |